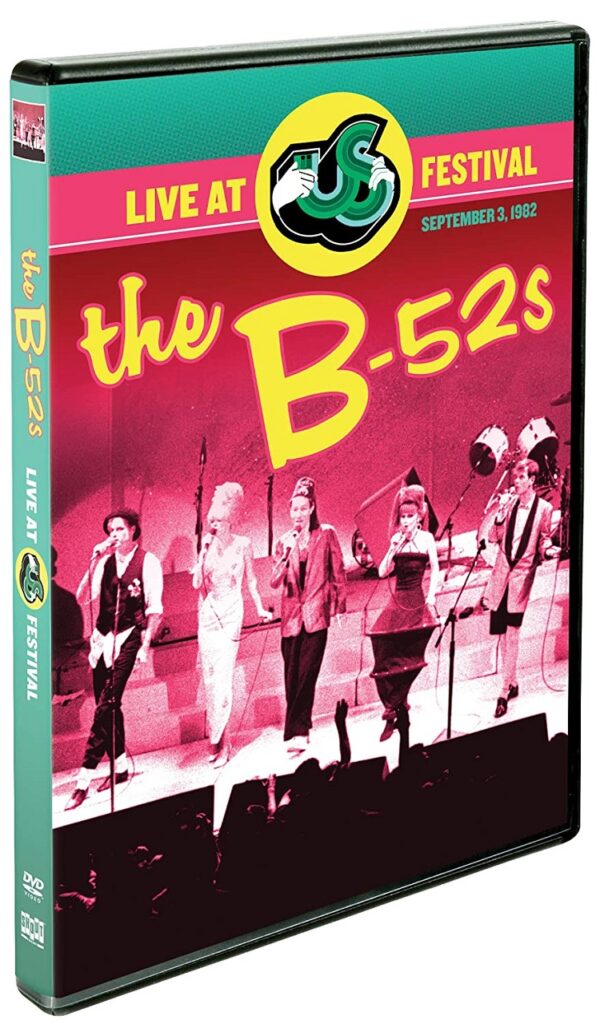 In 1982, Apple co-founder Steve Wozniak, with the help of concert impresario Bill Graham, spearheaded the US Festival, a three-day music festival held in San Bernadino, CA on September 3-5. Although it had an impressive roster of bands, it reportedly lost $12 million. On the opening day, the line-up of New Wave bands featured Gang of Four, the Ramones, the English Beat, Oingo Boingo, the B-52's, Talking Heads, and The Police. Shout Factory! is releasing the B-52's 13-song set on DVD, the first concert DVD from the band's classic era.
Like many in 1979, the B-52s' first single "Rock Lobster" is the first time I heard their appealing, idiosyncratic music, a wondrous fusion of girl groups of the past with space age sounds from the future. The founding members, who performed at the US Festival, were Fred Schneider (vocals, percussion), Kate Pierson (vocals, keyboards), Cindy Wilson (vocals, percussion), Ricky Wilson (guitar), and Keith Strickland (drums, guitar, keyboards). The Athens, Georgia quintet was backed here by a two-piece horn section run.
Running under an hour, the setlist is comprised of songs from their first two studio albums (The B-52's and Wild Planet), an EP (Mesopotamia), and one unreleased at that point ("Big Bird" would eventually appear on 1983's Whammy!). They start the party with "Party Out of Bounds". At the conclusion and to my surprise, the program cuts to a 2019 interview with Fred, Kate, and Cindy, reflecting on the festival. More clips from this session are interspersed throughout the concert. It's great to hear from them, but I would have preferred the interview included as a DVD extra rather than interrupting the flow of the concert.
Before the next song, "Give Me Back My Man," Fred announces to the audience, "This is a dance tune," a superfluous declaration as all their songs are dance tunes to one degree or another. With Ricky's unusual guitar tones and the unique trio of lead singers, especially when the ladies interact with Fred's singing/speaking, their sound remains unique nearly 40 years later.
The B-52s: Live at US Festival is a fantastic snapshot of the band's original line-up at their peak and serves as a very good entry point for those new to the band. The video shows its age with a soft focus and occasional digital artifacts appear early on in the set. The different instruments are distinct in the audio mix and the vocals are clear. The track does have a slight hiss.
Setlist:
Party Out Of Bounds
Give Me Back My Man
Planet Claire
Throw That Beat In The Garbage Can
Lava
Mesopotamia
6060-842
Big Bird
52 Girls
Dance This Mess Around
Private Idaho
Rock Lobster
Strobe Light