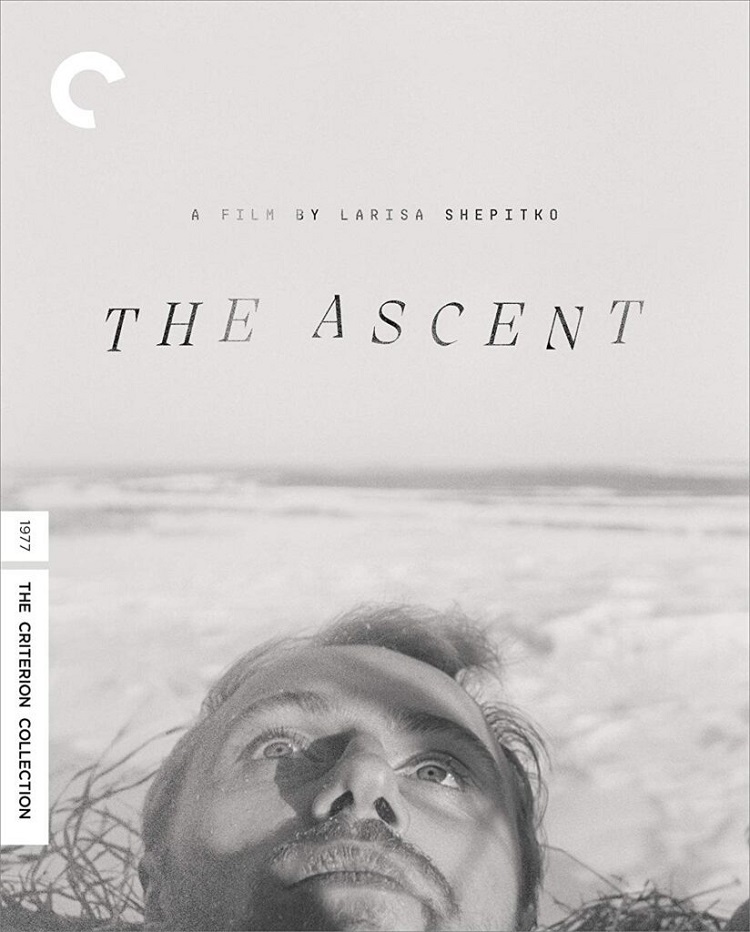 The Ukranian-born Larisa Shepitko (one of the greatest female filmmakers of all-time) had only made a few features and short films before her very untimely death at the age of 41, but now her limited, extraordinary body of work seems to have been given a new look, especially with TCM's recent 14-part documentary Woman Make Film, which showcased a few film clips that represented her bold and unselfconscious eye for humanistic truth. Her final completed film, The Ascent (1977), became her most renowned work and masterpiece. The harrowing and emotionally searing drama remains one of the most raw and successful depictions of humanity undone by war.
Based on a novella by Vasil Bykov, the film centers on two partisans: Sotnikov (Boris Plotnikov) and Rybak (Vladimir Gostyukhin), who are sent to find food for their faminished unit. They find a farm where Rybak grew up, but it is now burned to the ground. They continue on the nearest village, where they come across the village elder, whom they believe is in cahoots with the Germans. They eventually leave, and are ambushed by police. Sotnikov gets shot in the leg and attempts suicide, buy Rybak refuses to let him die and takes him to the first house they see, which is owned by a hostile mother and her three children.
When the Germans come, she hides them in her attic, where they are discovered and arrested. Sotnikov, Rybak and the mother are thrown onto a sleigh and taken to a barracks. They are interrograted by a local Russian, where Sotnikov refuses to say comply, while Rybak will do anything to save his own life. Sotnikov is brutally tortured and thrown into a pit, along with Rybak and the mother, where they discover the elder (who himself was arrested for helping them), and a very young Jewish girl (who was also arrested, for refusing to reveal who helped her into hiding). When the group is eventually brought to the gallows, Sotnikov tries to risk his life to save them, but is denied. However, Rybak, revealing his true, cowardly nature, agrees to take a job with the Germans, and ends up helping them to execute the group. Afterwards, his shame and guilt leads to attempt suicide, but fails. The final frames has him screaming and wailing as the gate of the old world closes on him, and now has to spend the rest of his life living with his betrayal and inner torment.
The film isn't about the action; its really about the emotional despair and the toll that war takes on the human psyche. When it gets too much, then the dark side of the human reveals itself, in mostly deep and dark fashion. A lot has been said about its religious over and undertones, especially where Sotnikov is concerned. During the film, he takes on a radical, but subtle transformation, with defiance and strength, even as he faces death. He becomes a martyr, and in an affecting moment just before he's hanged, he sees a young boy staring at him (with a tear streaming down his face). He accepts his fate, smiles, and raises his arms/hands as he dies. He seems to have transferred into the boy, where his spirit will live on inside of him. For Rybak, it is not as nice, because as he is walking with the Nazi Germans into new job, the boy gives him a chilling and glaring look, and this elderly woman calls him "Judas." When he tries to kill himself, the forces won't let him. They prefer for him to suffer a more sadistic fate: living in never-ending disgrace and constant indignity for the rest of his days. I don't if this was Shepitko's intention to include this particular theme, but I think it gives the film an even more resonance and reason.
Previously only available in an Eclipse set, along with Sheptiko's 1966 film, Wings, The Ascent is now available on its own standalone edition from the amazing folks at Criterion. The new 4K restoration is immaculate and has many valuable supplements, such as:
New introduction by Anton Klimov, son of Shepitko and filmmaker Elem Klimov (director of 1985's Come and See, also available from Criterion)
New selected-scene commentary by film scholar Daniel Bird
New interview with Lyudmila Polyakova (Demchikha, the mother)
The Homeland of Electricity, a 1967 short film by Shepitko
Larisa, a 1980 short tribute to Shepitko made after her death by Klimov (Elem)
Two documentaries from 2012 about Shepitko's life, career, and marriage to Klimov (Islands & More Than Love)
Program from 1999 featuring an interview with Shepitko (A Talk with Larisa)
There is also a wonderful new essay by poet Fanny Howe.
With its beautifully bleak, wintry black-and-white cinematography; spellbinding cast, especially Plotnikov with his expressive face and Christ-like features (the main reason Shepitko cast him); and Shepitko's unflinching eye for characters, story, and detail, this masterwork of Soviet cinema deserves to be regarded as not only one of the most essential/important war films of all-time, but also as one of the greatest films ever made.