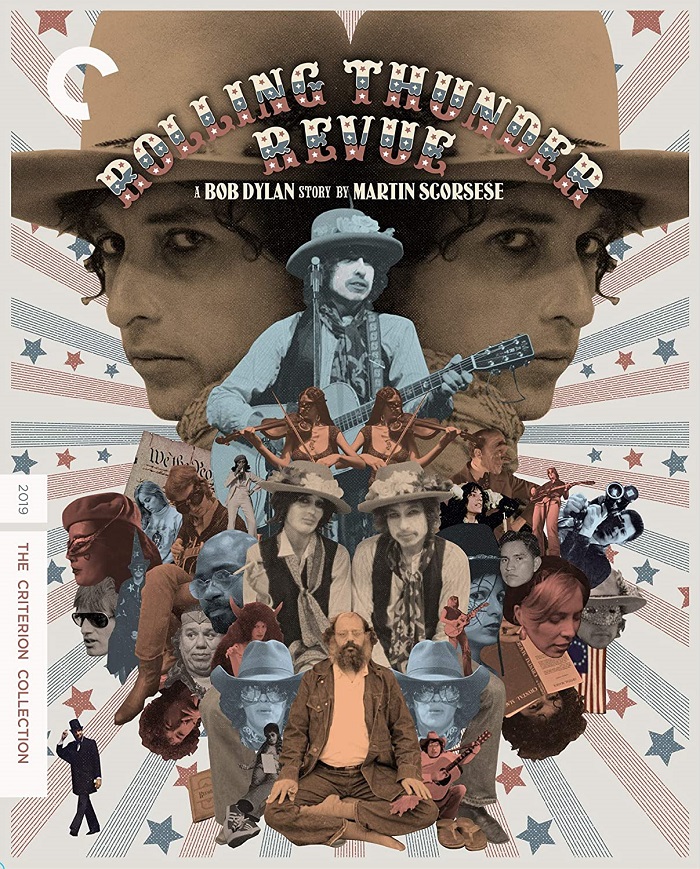 Bob Dylan's Rolling Thunder Revue tour was in support of his album Desire, released January 5, 1976 between the two legs of the tour. In addition to those who played on the album (bassist Rob Stoner, back-up vocalist Ronee Blakely, drummer Howie Wyeth, percussionist Luther Rix, and violinist Scarlet Rivera), his touring band also included multi-instrumentalist David Mansfield and guitarists T-Bone Burnett, Bob Neurwerth, Mick Ronson and Steven Soles. In contrast to Dylan's arena tour the year before with the Band, they played smaller theaters in smaller cities because "the atmosphere in small halls is more conducive to what we do," Dylan told Rolling Stone.
The tour was captured on the live album Hard Rain, recorded from the end of the second leg, and The Bootleg Series Vol. 5: Bob Dylan Live 1975, The Rolling Thunder Revue, recorded during the first leg. On different dates, their caravan was joined by musicians such as Joan Baez, Joni Mitchell, and Ramblin' Jack Elliott; poets Allen Ginsburg and Anne Waldman; and writer Sam Shepard, who was on hand to work with Dylan on the film Renaldo and Clara shot during the tour, which presented concert footage, interviews, and also fictional scenes.
Director Martin Scorsese made No Direction Home, the 2005 Dylan documentary about his rise as a folk singer, his "controversial" transition to rock singer, and retirement after a motorcycle accident in July 1966. Rolling Thunder Revue: A Bob Dylan Story by Martin Scorsese finds them reteaming on this remake of Renaldo and Clara, using its outtakes and format. "Story" in the lengthy title gives away Scorsese isn't delivering a straightforward documentary about the famed tour. To reinforce the point, he opens with a scene from The Vanishing Lady (1896) by Georges Méliès, who uses trickery to deceive the viewer, followed by titles that state this is a "conjuring" of the Rolling Thunger Revue, which changes to "Re-vue," and for some fans this is another look at the tour.
The film features modern-day interviews with tour participants mentioned above along with Ronnie Hawkins, Roger McGuinn, writer Larry Sloman, and Rubin "Hurricane" Carter, whose story of being wrongly convicted for murder inspired Dylan song's "Hurricane." Archival interviews include Ginsberg and Rivera. Early on, Dylan claims not to remember much of the tour, saying it was so long ago it was before he was even born. He goes onto to say, "Life is about creating yourself and creating things." A ethos that shaped this tour and his whole career.
Filmmaker Stefan van Dorp takes credit for Dylan holding his cigarette in a European manner and for filming the tour, which Dylan fans should know to be false. There's a powerful performance of "Isis" that showcases how great Dylan and the band are. It makes one wish to have experienced it live. Afterward, Dylan is seen backstage and van Dorp is heard offscreen interviewing him, another bit of filmmaker trickery.
Also interviewed is Jim Gianopulos, identified as The Promoter. I recognize him as Paramount's Chairman and CEO, but was he involved with the tour? Sharon Stone claims she attended a show with her mother at the age of 19 and met Dylan. Former U.S. Representative Jack Tanner (D – Mich.) talks about how President Jimmy Carter got him into a Rolling Thunder show, setting up a segment about Carter and Dylan. This is more Scorsese sleight of hand as Tanner is a character played Michael Murphy from Tanner '88, a political mockumentary TV series written by Garry Trudeau and directed by Robert Altman.
This documentary also offers another look at America, which was preparing and celebrating its Bicentennial in 1976. In (presumably) archival footage, a New York City street performer dressed as Uncle Sam sings "The Star-Spangled Banner" while holding Confederate flags. More commentary about the country's contradictions are suggested when Dylan performs for members of the Tuscarora Reservation. He sings "The Ballad of Ira Hayes" about a marine who helped hoist the flag at Iwo Jima, yet came home to rediscover how his people were treated.
The video is displayed at an aspect ratio of 1.33:1 for the 1975 tour footage and 1.78:1 for the newly shot footage. The liner notes reveal, "a 16 mm workprint of the tour footage was scanned and restored in 4K resolution at Cineric in New York using the facility's wetgate film scanner. The tour footage exhibits film grain. Clarity, depth, and color density vary depending on how well lit the scenes are. The footage of the band playing on stage looks very good while milling backstage or hanging at parties, can suffer.
Also in the notes, "the two-inch multitrack analog tapes from the 1975 tour were remastered for the 5.1 surround soundtrack, along with the digital audio files for the newly shot interviews." The dialogue is clear. The band sounds robust and the instruments are distinct in the arrangement. Dylan's vocals and the music are mixed well together and reveal a wide dynamic range has been captured.
The Special Features in HD are:
New interviews with Martin Scorsese (17 min), editor David Tedeschi (12 min), and writer Larry "Ratso" Sloman (19 min). Scorsese didn't just want to present the concert but tell a story that the tour told. Dylan is interspersed unsure of what Scorsese was up to (allegedly).
Additional never-before-seen performances (14 min) of "Tonight I'll Be Staying Here with You" from 12/4/75, "Romance in Durango" from 11/20/75, and "Tangled Up in Blue" from 11/21/75, which were released on The Bootleg Series Vol. 5.
Restoration demonstration (3 min)
Trailer
An essay by novelist Dana Spiotta and writing from the Rolling Thunder Revue tour by author Sam Shepard and poets Allen Ginsberg and Anne Waldman
Rolling Thunder Revue: A Bob Dylan Story by Martin Scorsese takes viewers on a journey to the past to tell a story of America that remains relevant today. It's also a great scrapbook of Dylan and those in his orbit at that time, seeing him offstage and, more importantly, on stage with rousing performances of songs that "A Hard Rain's A-Gonna Fall," "One More Cup of Coffee," and "The Lonesome Death of Hattie Carroll." There is also Patti Smith singing "Archer's Song" in a small club and Joni Mitchell's and others playing "Coyote" in an apartment. The Blu-ray presents a pleasing high-definition experience and the special features augment what is already a wonderful adventure.