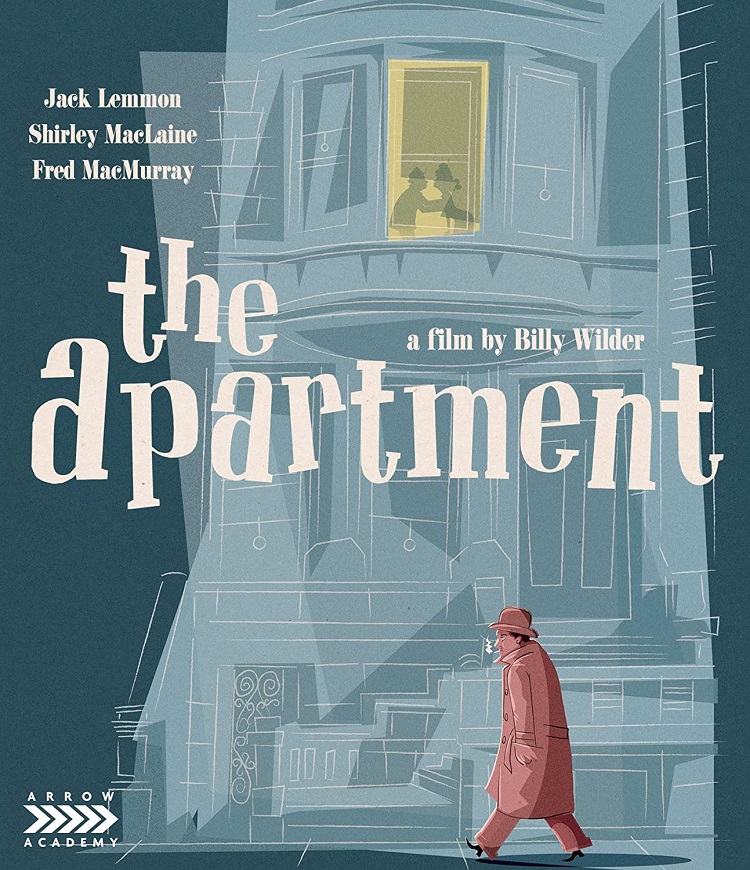 When talking about the greatest director-actor collaborations in film history, you usually here of Ford & Wayne, Scorsese & DeNiro, and Herzog & Kinski. However, you can't forget the work of (Billy) Wilder & (Jack) Lemmon, who crafted some of the most popular comedies ever made: Some Like It Hot, The Fortune Cookie, Irma La Dolce, and Avanti. But The Apartment, the cynical 1960 classic, represented both of them at their apex. It's more than just an uber quotable and beautifully shot film; it's an extremely revelant tale of corporate and social malaise.
Lemmon, in one of his many signature roles, plays C.C. "Bud" Baxter, a lowly Manhattan office drone working for an insurance company with a lowly sideline where he lends his apartment to adulterous bosses and their mistresses. He suddenly finds himself in a similar deal with the company lead personnel director, J.D. Sheldrake (Fred MacMurray), which causes his career to get a pretty huge boost. However, when Sheldrake's mistress turns out to be none other than the lovely elevator girl, Fran Kubelik (Shirley MacLaine), who happens to the girl of Bud's dreams, he is forced to make a drastic decision: give up his dream job or his dream girl.
What can you say about this film that hasn't been said already? It's a near perfect blend of comedy, drama, and human pathos that continues to be very influential to this day. When you watch it now, you get the reason why the film is pretty important. It's take on higher corporate power and how it can corrupt the most innocent of souls is nothing short of bold. It tells you that when someone is given a little piece of pie, they're set to lose more than just their paychecks.
There are so many classic scenes that come to mind: Bud forced to sleep on a cold park bench after a cheating boss takes it for the night; Bud preparing spaghetti dinner for himself and Fran with a tennis racket; the 'letter to Castro' scene in a bar; and perhaps the most heartbreaking, Bud's discovering that Fran is Mr. Sheldrake's mistress. These moments, and also the line "that's the way it crumbles, cookie-wise", create a film that's as iconic since the year of its release.
Lemmon is wonderful as Baxter, the man who loses his conscience but gains it back at the end; MacLaine is utterly heartbreaking as Fran, the woman who feels that love has given her a pretty raw deal; and Fred MacMurray brilliantly plays against type as the conniving Sheldrake, the unscrupulous boss who briefly comes between them. There is also great supporting players: Ray Walston, Jack Kruschen, Edie Adams, Naomi Stevens, and especially Hope Holiday.
Arrow, again, proving that they can rival Criterion in releasing pristine editions of classic and contemporary films, has given this incredibly timeless landmark the edition it truly deserves, with a stunning restoration and amazing special features:
Audio commentary by film producer and historian Bruce Block
The Key to the Apartment – a new appreciation of the film by film historian Philip Kemp
Select scene commentary by Kemp
The Flawed Couple – a new video essay by filmmaker David Cairns on the collaborations between Wilder and Lemmon.
A Letter to Castro – a new interview with Hope Holiday
The Writer Speaks: Billy Wilder – an archival interview from the Writers Guild of America's Oral Histories series
Inside the Apartment – a half-hour "making of" featurette from 2007 including interviews with MacLaine, executive producer Walter Mirisch, and others
Magic Time: The Art of Jack Lemmon, an archive profile of the actor from 2007
Restoration showreel
Theatrical trailer
Original screenplay by Wilder and writer I.A.L. Diamond (BD-ROM Content)
Rounding this stacked release is special collector's packaging featuring new artwork by Ignatius Fitzpatrick, and a 150-page collector's souvenir hardcover book featuring new writing by Neil Sinyard, Kat Ellinger, Travis Crawford, and Heather Hyche illustrated with rare stills and behind-the-scenes images.
If you love movies and collecting them, you really need to add this to your collection. The Apartment continues to stand the test of time and is a testament to the power of social, humanistic, and cultural filmmaking. It's no wonder why it won Best Picture of 1960 and the hearts of critics and audiences everywhere.