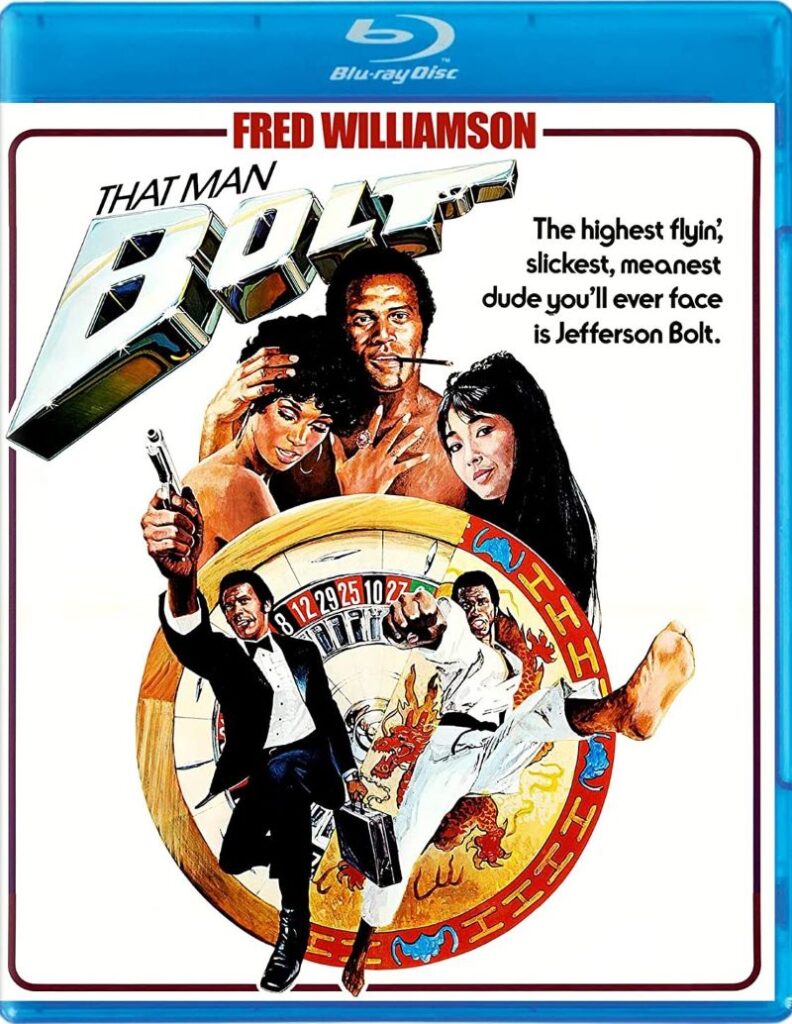 At first glance, this movie seems to bear all the hallmarks of a blaxploitation classic: its prime 1973 release date, its well-known blaxploitation star, and its poster art promising girls, money, and violence. The one big clue that it isn't blaxploitation business as usual is its mainstream studio, Universal.
Rather than churn out a copycat of the sleazy, low-budget films driving the blaxploitation market, Universal treated this more like a Bond film, with multiple shooting locations and minimal seedy material. In just the first half hour, the story moves from Macau to Hong Kong to Las Vegas to Los Angeles, a dizzying pace that thankfully slows down for the remainder of the film. The production makes excellent use of its locations, especially in Hong Kong, capturing star Fred "The Hammer" Williamson (Black Caesar) in action against the scenic local backdrops.
Williamson's character, Jefferson Bolt, is recruited by a wealthy Brit with an offer to transport $1 million in cash from Hong Kong to Mexico City or be sent to prison on phony charges. He's immediately a target for all kinds of henchmen gunning for him, even midway through his mission when he discovers that the money is counterfeit and he's been set up to take the fall. Thankfully, he's a karate master in the streets and irresistible in the sheets, seducing the ladies nearly as fast as he incapacitates the baddies.
The plot is mostly a loose framework to get Williamson into the action in each city, with his immense charisma carrying the film far more than its story. He gets ample opportunity to show off his imposing martial arts skills and other stuntwork, his appeal to the ladies, and his fine acting skills, making a strong case for his billing as the leading man. In fact, there's nothing about the role that even draws attention to his race, making this a refreshing record that Hollywood was able to make colorblind casting 50 years ago.
The Blu-ray is the product of a brand new 2K master, showing a bit of debris in the early going but eventually settling into a pristine, superb 1.85:1 presentation. In addition to a handful of trailers for other movies, the bonus features include a fantastic new interview with Williamson. In a free-wheeling 15 minutes, the still-charming and lucid star dishes on his recollections of the film production as well as its acceptance in the market. Among other enlightening tidbits, he recounts that Universal signed him for three films and this first one was successful enough to continue, but they decided not to proceed so ended up paying out his contract.
If you're looking for a prime example of a blaxploitation film, That Man Bolt isn't it. Buoyed by a decent studio budget, a conventional action script with no racial overtones, and a winning star turn by Williamson, the film is more mainstream action than exploitation.