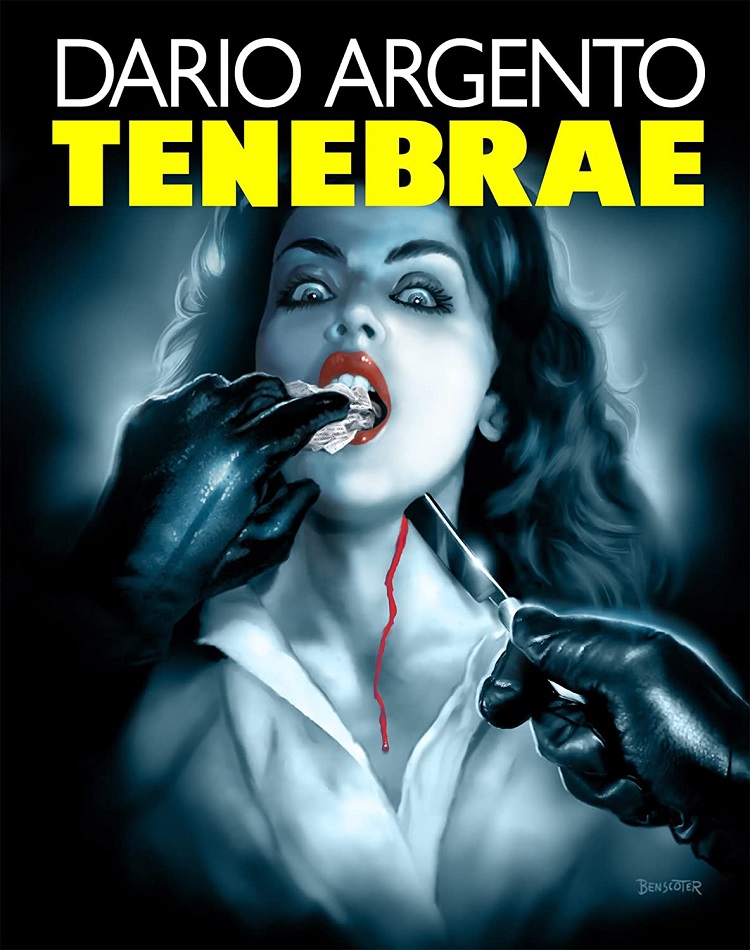 Of course, Dario Argento is one the great Italian masters of horror. His films are usually light of plot and acting, but they really do possess style and visual flair that makes them so endlessly watchable and influential. Tenebrae, his 1983 classic, remains one of his most celebrated and rightly so.
Co-starring the late John Saxon, the film's pretty simple plot has American mystery novelist Peter Neal (Anthony Franciosa) traveling to Italy to tour his newest thriller novel. But the promotion/celebration ends abruptly as a sadistic razor-wielding psycho stalks him and brutally murders everyone around him just like characters in his book. As the death toll mounts, so does Neal's obsession, as he decides to investigate on his own the reason and the killer behind the crimes, which obviously puts him and his beautiful assistant (the late Daria Nicolodi) in serious danger.
Let's not delve into the plot because it's not the reason why this film is justly acclaimed as one Argento's superior masterworks. It's the cinematography by Luciano Tovoli, the grisly murder scenes (the double murder of a lesbian couple and Jane's gory axe-chopping are two standout ones), the very ambitious two-and-a half minute tracking shot leading the double murder scene, and Nicolodi's spectacular scream at the ending. It's elements like this and more that contribute to Argento's legendary mastery of giallo filmmaking and make Tenebrae an all-time great.
Making its 4K UHD debut from Synapse Films (the same with Arrow's new release in the UK), it's incredibly stacked with not just both the original Italian and the U.S. "Unsane" cut, but also commentaries by authors/critics Alan Jones, Kim Newman, and Maitland McDonagh; Yellow Fever: The Rise and Fall of the Giallo, a feature-length documentary charting the genre's beginnings to its influence on modern slasher films; new and archival interviews with actors Nicolodi and John Steiner, composer Claudio Simonetti, and assistant director Lamberto Bava; trailers; and much, much more!
It also comes with limited edition packaging newly commissioned artwork by Wes Benscoter and original Italian art, an illustrated booklet featuring new essays by Peter Strickland and Argento biographer Alan Jones, an interview with cinematographer Luciano Tovoli, a new, in-depth analysis of the film by critic Ashley Lane; a double-sided poster, and six postcards of film stills.
If you're a diehard Argento fan, as well as a fan of this particular film and giallo in general, then this is definitely a big must-have for your collection, depending on your budget.
Other releases:
Cow: Filmmaker Andrea Arnold's newest film is an intimate non-fiction portrait of the life of a dairy cow.
Shortbus (Oscilloscope): Gay filmmaker John Cameron Mitchell's sexually explicit film about the diverse and complicated sex lives of several New Yorkers clashing together in an exclusive club where people attend to work out their issues. (mentioned in a previous Pick of the Week).
Apples (Cohen Media): In a worldwide pandemic that causes sudden memory loss, a middle-aged man finds himself enrolled in a recovery designed to help marginalized patients develop new identities.