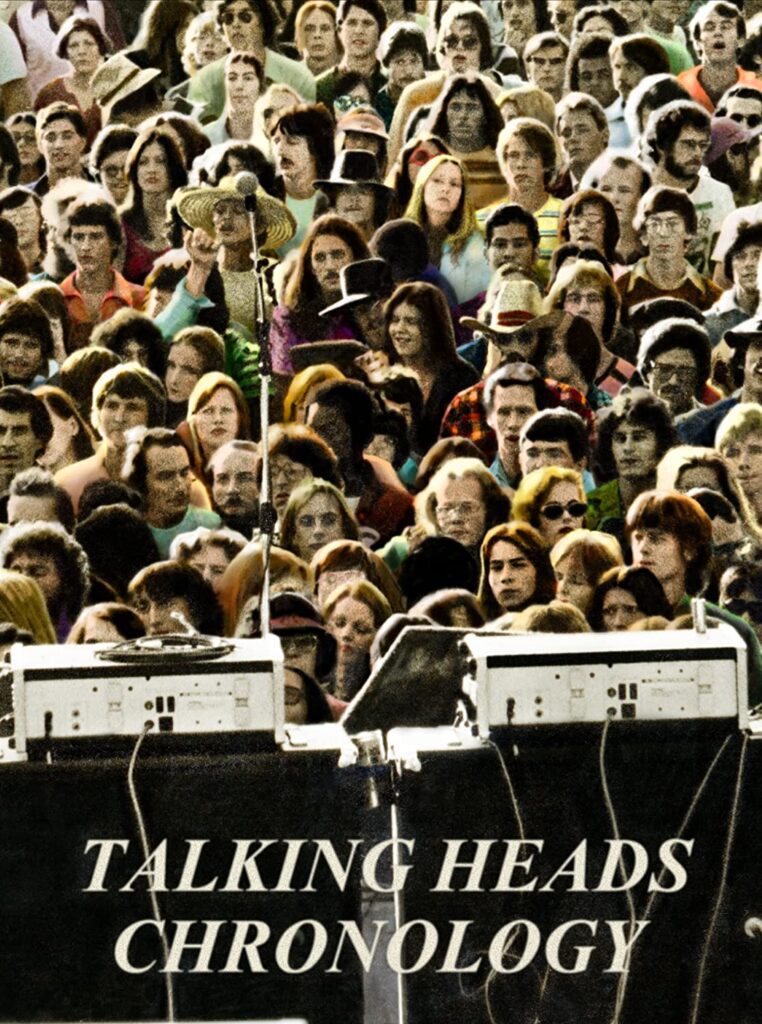 Since the mid-'70s, Talking Heads have defied easy categorization. Are they rock? Punk? Avant-garde? The band raised themselves above labels and existed on another sonic plane, one which blended all the aforementioned sounds as well as African rhythms, funk, and even a touch of country. No one before or since has surpassed the band visually and musically, and these talents are prominently displayed in the DVD Chronology. Live shows from 1975-1983, along with one of their performances at their 2002 induction into the Rock and Roll Hall of Fame, offer a rare glimpse at their formative years. Stripping away their later Stop Making Sense theatrics also reveals a first-rate rock band.
The Chronology collection begins with Talking Heads' earliest appearances at CBGB, the famed New York club that launched the careers of many punk and new wave bands. Watching the painfully shy and awkward David Byrne mutter song names in a monotone voice, it's hard to believe that he would eventually become the oversized suit-wearing, spasmodically dancing frontman. However, his rhythmic guitar playing stands out on cuts like 1975's "I'm Not in Love" (Byrne wryly discloses that the song has "nothing to do with the other one," referring to the 10CC hit). Tina Weymouth's intricate bass work shines on their live version of "Psycho Killer," also from the CBGB show.
As buzz grew about their offbeat lyrics and minimalist rock, their performance style clearly evolved. Their 1978 appearance on the Old Grey Whistle Test features a more confident Byrne leading their rendition of "Don't Worry About the Government." Listen for hints of Afropop elements, which they would explore fully a year later on their album Fear of Music. Chronology contains some unintentionally funny moments as well; the Whistle Test host introduces the Heads by stating that they are "hoping to introduce new wave to Eastern Europe." As Byrne, Weymouth, Chris Frantz (drums), and Jerry Harrison (keyboards and guitar) would say in numerous interviews, they disliked the new wave and punk titles due to their implicit limitations.
The most bizarre–and humorous–moment of the DVD is Talking Heads' 1979 appearance on American Bandstand. As Byrne contorts his face during "Take Me to the River," fresh-faced teenagers scream and clap along, mostly off-rhythm. When Dick Clark tries to interview the group, Byrne provides mostly one-word answers and stares at the floor. The other bemused members try to fill in, but clearly feel uncomfortable in such a mainstream setting. It also must have been quite a shock for 1979 middle America to view them on Saturday Night Live, with Byrne chanting "I'm cleaning my brain!" during "Artists Only." Their later instrumental jam showcases their prowess as a hard rocking band, proving they were more than just an "art rock," intellectual group.
By the early '80s, Talking Heads' fascination with African rhythms were in full effect. Watching them perform the psuedo-dance track "Crosseyed and Painless" at New Jersey's Capitol Theatre in 1980 reveals how the group had become more comfortable onstage, embracing funk as well as world music. By this time they had expanded the group to encompass additional percussionists, guitarists (look for a young Adrian Belew in some of the clips), and backing vocalists (namely Nona Hendryx and Dolette McDonald, the latter working with top artists such as Sting). This led to exciting moments such as watching Frantz and the additional percussionists work closely together. Their spirited version almost surpasses the studio recording.
Fast forward just a few years to 1983, when Talking Heads stood on the brink of mainstream success. They played their biggest hit, "Burning Down the House," on the relatively new Late Night with David Letterman show. Featuring the Stop Making Sense lineup, the band requested that Letterman's producers film them in black and white with some saturated color, and asked for a unique introduction (which ended up being the individual letters of "Talking Heads" crawling across the screen). An audio commentary featuring Byrne, Harrison, Frantz, and Weymouth explains that they wanted to create a memorable impression; while the effects are psychedelic, it's the funk-filled performance that really stands out. Like "Crosseyed and Painless," the live version ranks above the studio recording.
Bonus features include the aforementioned audio commentary, the complete 1979 South Bank Show showing the band promoting Fear of Music, and an odd 1978 interview with Byrne. Still in his awkward phase, Byrne rarely makes eye contact with the interviewer, although he does provide some interesting answers. When asked how he feels before taking the stage, Byrne admits to stage fright and "taking a couple of shits" before the show. Too much information, Mr. Byrne.
Chronology is a must-own for any Talking Heads fan, but casual listeners should also find the DVD a fascinating study of how a band gradually develops its sound and stage presence. Some live clips are too short, particularly a 1975 CBGB version of "With Our Love." Backstage fan footage accompanies an abbreviated "Found A Job"; while seeing them play the track would have been preferable, it does provide a glimpse into the band's life during 1978 (blink and you'll miss a glimpse of Andy Warhol wandering around). In addition, why are a montage of Byrne introductions from 1975 and a 1976 mic test included? They certainly do not reveal anything about the band, other than the fact that Byrne definitely had a nerdy image at the time. Overall the sound quality of most clips is pristine, and the footage does not show signs of deterioration. Stop Making Sense remains one of the best rock concert films ever made, but Chronology provides a glimpse of a band in transition, and how Talking Heads eventually became one of the most influential bands of the late '70s and '80s.