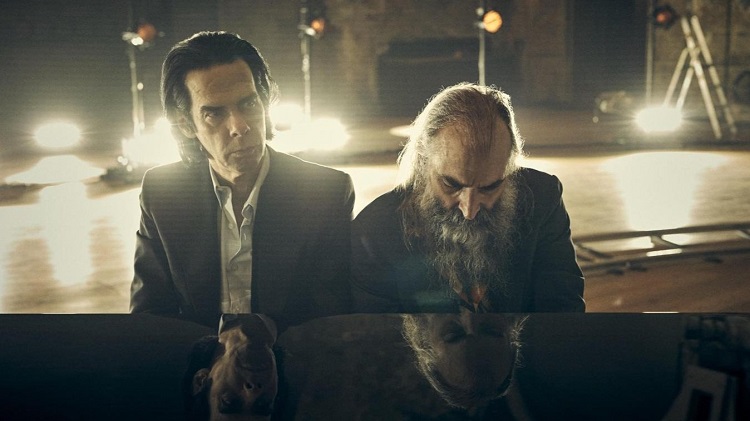 Months ahead of its cinematic release in theaters, the SXSW audience had the opportunity to view the new music documentary This Much I Know to Be True. This film captures the extraordinary and long-standing creative relationship between Nick Cave and Warren Ellis who have worked together for over 25 years.
Directed by Andrew Dominik, This Much I Know to Be True is the second documentary that Dominik and Cave have made together. The first being, One More Time With Feeling, which explored Cave making his 2016 album Skeleton Tree after the tragic death of his 15-year-old son, Arthur. This Much I Know to Be True was filmed over five days at the Battersea Arts Centre in London along with some other behind-the-scenes footage shot in London and Brighton as Cave and Ellis prepared for their 2021 UK tour which had been postponed due to the pandemic.
Beginning with a cheeky nod to his creative endeavor in the world of ceramics, Cave sets the stage for the intimate concert experience that unfolds throughout the film which is comprised of twelve songs from the Ghosteen and Carnage albums by Nick Cave and the Bad Seeds. And while there are some interspersed scenes of Cave and Ellis off stage, the focus of the doc is truly on the sonic, emotional, and visual experience of Cave and Ellis's first performances of these songs. However, this documentary is not a tour rehearsal film. It is a deliberately crafted sonic experience that is captured through incredible sound, beautiful cinematography, and stunning lighting design. This film gives the audience an up close and immersive seat to the songs Cave and Ellis perform in the film.
This Much I Know to Be True features seven songs from the 2019 album Ghosteen: "Spinning Song," "Bright Horses," "Galleon Ship," "Ghosteen," "Waiting for You," "Ghosteen Speaks," and "Hollywood." And five songs from the 2021 album Carnage: "Hand of God," "White Elephant," "Albuquerque," "Lavender Fields," and "Balcony Man."
Fans of Cave and Ellis will easily engage with all aspects of this film and hopefully love it as much as I did. And while people new to their work might not understand all the nuances of the non-musical aspects of the doc, hopefully the haunting lyrics and layered sounds will make them want to investigate more.
This Much I Know to Be True has a runtime of one 1 hour 45 minutes and will be in theaters worldwide on May 11th, 2022.