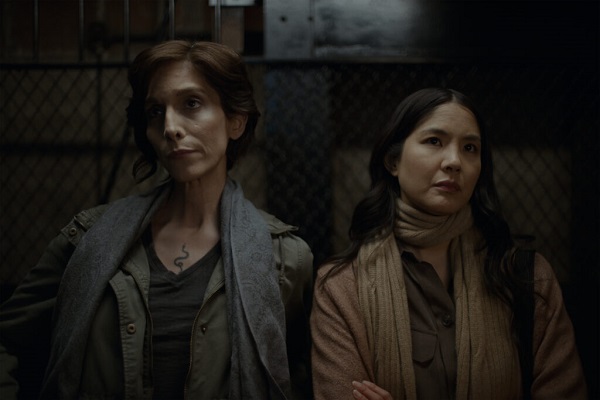 For a short, 74-minute movie about two old flames reuniting over the course of one night, See You Then manages to be a rather gripping experience. Partially because the feeling of meeting up with your ex can be quite tense. There's having to listen to what their lives have been like since splitting up as well as having to find proper closure if your break-up was messy. But the film is also quite tense due to how it provides insight into the struggles often felt by the trans community.
Once Naomi (Lynn Chen) and Kris (Pooya Mohseni) meet for dinner to reconnect, Kris reveals to Naomi that after disappearing on her, she transitioned into a woman. Right after that big reveal is when the film grips you as Pooya Mohseni delivers a heart-wrenching monologue with searing delivery about the hardships of her transition since their awful separation. The fact that Mohseni herself is trans only makes that monologue even more compelling and proves the necessity of casting trans actors in trans roles. To let those who've lived through the experiences that filmmakers are presenting on screen tell their own stories. Plus, screenwriters Kristen Uno and Mari Walker, who also serves as the director, find a successfully delicate balance between letting Kris' trans identity be essential to her narrative without letting it be a primary character trait.
Mohseni is utterly transcendent as she plays Kris as a woman of tenacious optimism. Even if Kris looks at the bright side of life too often, she does it as a way to persistently leave her troubled past behind and build a better present. Meanwhile, Lynn Chen is a pitch-perfect scene partner for Mohseni as the uptight Naomi. Her taut exterior becomes a way of conveying Naomi's attempts to shield herself from her dissatisfaction with her life's direction along with the pain Kris' sudden absence caused her. During Kris' big reveal in the beginning, Naomi's mix of anger and shock becomes written on Chen's face. It's clear that Naomi is reluctant to hastily forgive Kris after her long absence, yet the look Chen eventually gives that suggests Naomi's willingness to pick up where they left off paints her in a more practical light.
One could say that between this and I Will Make You Mine, her unsung directorial debut which she also wrote and starred in, Lynn Chen has carved out a decent niche in 80-minutes-or-under indie gems about trying to repair broken relationships. One key difference is, other than the fact that Chen only serves as a star, See You Then has a more suitable length.
In addition, Naomi's initial non-verbal monologue is an atypical moment in what is essentially a feature-length conversation where our protagonists bare out their thoughts and feelings in order to move forward, having occasional laughs along the way as well as a heated argument that contradicts Mari Walker's unassuming filmmaking approach as it's accompanied by kaleidoscopic lighting and dizzying camera work from DP Jordan T. Parrott. If anything, the cinematography does its job at symbolizing the spectrum of emotions that Kris and Naomi experience during that sequence.
As it possesses strong moments of directorial verve, See You Then thrives mostly on its dual performances and layered, unsentimental telling of womanhood. Just like life itself, it involves humor, heartbreak, and healing and is a promising feature directorial debut from Mari Walker.