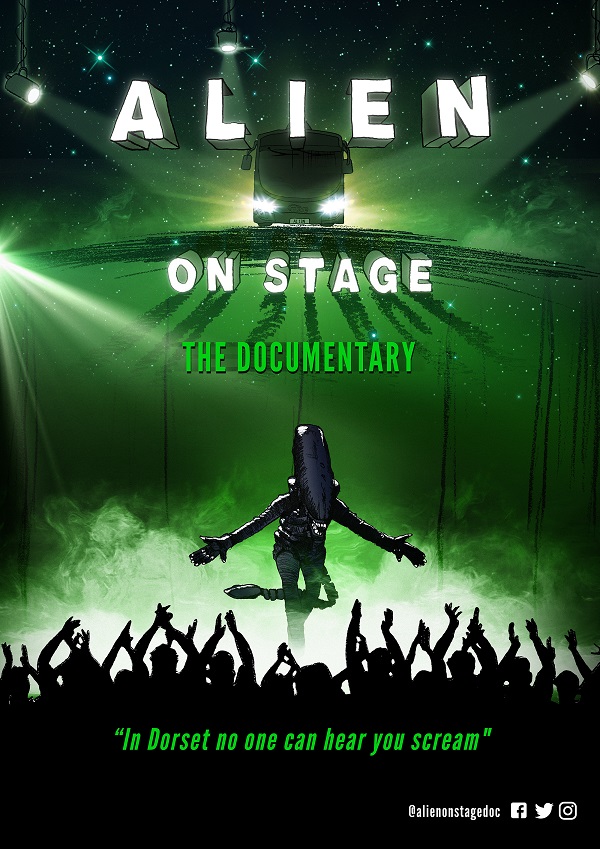 The movie Alien is defined by a number of characteristics — high tension, elaborate special effects, a grim tone, and grisly violence. What happens when you remove all of those elements? Does it still work? Can it still work? That's what a group of bus drivers in Britain decided to find out.
Alien On Stage is an 86-minute documentary by Lucy Harvey and Danielle Kummer that chronicles the journey of a squad of amateur actors (known as Paranoid Dramatics) previously experienced in pantomime who opted to put aside musical numbers and levity to bring Alien to a small community stage in Dorset, England for their annual show. This was no small undertaking — they had to learn material that was older than some of the actors, shift their dramatic tone, find an audience, and build all new props and sets without much of a budget. Viewers get a glimpse at all these aspects of production and see the tricks used to solve some difficult challenges in clever ways.
Production components slowly started coming together but weren't quite as polished as they wanted for opening night. Regardless, the show garnered neither the attendance they'd hoped for nor what they'd had with other potentially less ambitious shows in previous years. The crew gave it their all and they had a good time, but this seemed like the end of the journey, save for one plucky member of the audience who had come down from London and saw serious potential for the show to reach a broader audience, if only it had the proper venue. Initially it seemed like a joke or pipe dream, but when given the opportunity to take their production on the road to the Leicester Square Theater in London's West End — their equivalent of New York City's Broadway — the troupe figured it was a once in a lifetime chance, so they went for it.
Alien On Stage really is an uplifting underdog tale, showing the benefit of giving someone a chance, of recognizing potential, and helping it find the right following. More footage captures the preparations and pitfalls leading up to the trek to London, the nerves and anticipation everyone feels as they get ready for their big shot, expecting little more attention than they got at the first run. The outcome could not have been more different. Watch and see. The documentary features several scenes from the West End performance, so you can get a good sense of the delivery and reception. Nothing was quite what anyone expected on or off stage, and it was so much better for it.
The documentary itself is sprinkled with visuals and effects very true to the source material, some in a literal way and others in a tongue-in-cheek sense, but it helps maintain the overall Alien theme. I enjoyed the music throughout as well, keeping the mood light as the cast and crew work through the unlikeliness of the situation in which they find themselves. From building the costumes and working through rehearsals, it's just a fun watch from beginning to end. If you have even the slightest interest in prop crafting, theatre, or Alien, you owe it to yourself to give Alien On Stage a watch.