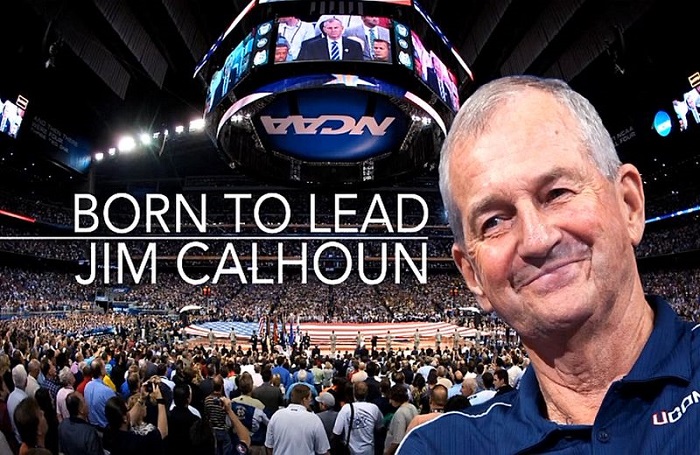 As we head into the 2021 NCAA Men's basketball tournament, it seems like a perfect time for the documentary, Born to Lead: Jim Calhoun now available for streaming on Amazon and GooglePlay.
From producer Lauren Cragg, director and writer (with Pat Smith) Chris Martens, a look into not only the career of one of the most successful coaches in college basketball history, but a look into his life as well. Calhoun, currently the coach at the University of Saint Joseph, previously coached at the University of Connecticut where he won three national championships and established himself as one of the premier coaches and leaders in college basketball.
This well-crafted documentary on his life raises the age-old question: are leaders born or made? Using the information provided in Born to Lead: Jim Calhoun, an argument could be made for both. The loss of his father at a young age created the need and opportunity for Jim to step up and lead. A job his father had clearly prepared him for. Yet, from watching the documentary; one might conclude that he must have been born to be a college basketball coach since he never played college basketball. Yes, there is not a single mention of Jim Calhoun playing college basketball in Born to Lead: Jim Calhoun. Why? Well, since it comes in at 58 minutes, perhaps the information was edited out to keep it under an hour. Less is more? I don't know. According to Wikipedia, Jim received a basketball scholarship from American International College in Springfield, Massachusetts, and was the leading scorer his junior and senior year as well as the team captain. Part of the story I certainly wish had been included. How he was coached must have played a part in his success as a coach.
What is included are insightful interviews with his former players and peers, highlights of some his shining moments, and most importantly, insight from the man himself. It is said insight that truly brings this story to life as it adds an element often unavailable for biographical documentaries. Jim Calhoun has a great passion for the game of basketball, for his players, and for making young men better men. A passion that was instilled in him at a young age.
Recommendation: Sadly, the exclusion of his time playing college basketball served as a huge distraction that first led me to rewind and then to Google. The last thing any producer wants is to create a situation where the audience stops watching and starts searching for information. Once you've done that, come back and watch the rest of the documentary. It is informative, entertaining, and sure to get you in the mood for March Madness!