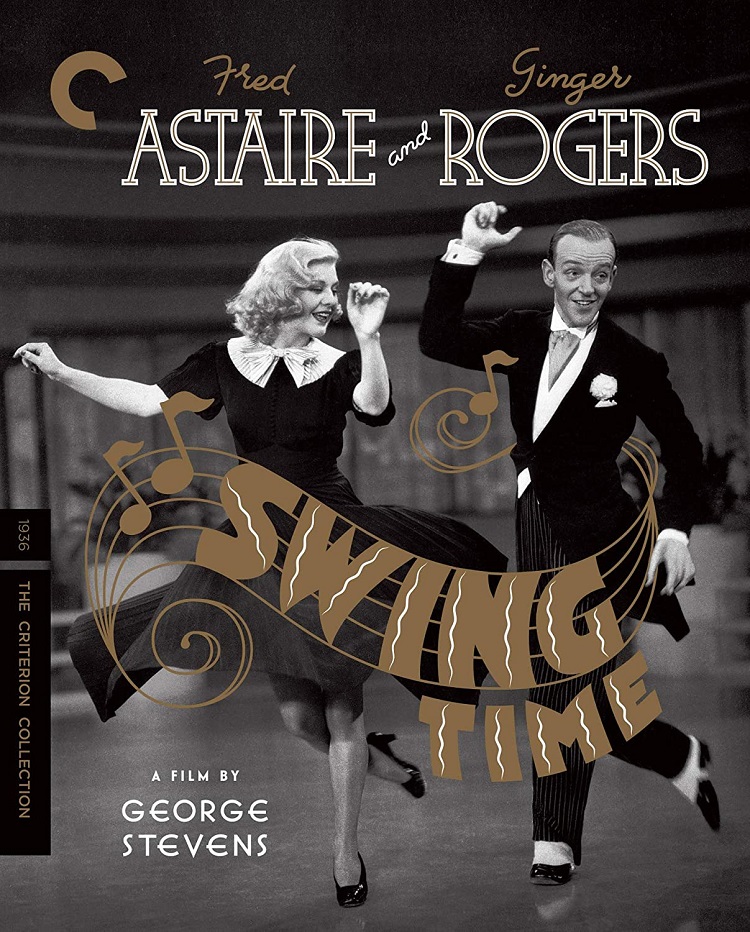 Swing Time is the sixth of ten films that Fred Astaire and Ginger Rogers appeared in together. It has great songs by composer Jerome Kern and lyricist Dorothy Fields, great dance performances by Astaire and Rogers, and a plot that will make you tell others the film has great songs and great dance performances.
Swing Time opens with John "Lucky" Garnett (Astaire) about to get married and leave show business for hometown sweetheart Margaret (Betty Furness), but manager Pop (Victor Moore) and the other fellas in his dance act are against it. They distract Lucky long enough so the wedding gets canceled. Margaret's father is furious, but offers Lucky another chance at his daughter's hand if he proves he can make $25,000.
Off to New York Lucky goes to find his fortune. He encounters Penny (Rogers) Carroll, a dance instructor, who is kind enough to make change for his lucky quarter until it is stolen back by Pop, which infuriates her. Lucky follows her into her studio and pretends he needs lessons. They start to bond while singing and later dancing to "Pick Yourself Up", the latter done to impress her boss. They execute an absolutely delightful display of footwork, but make sure to ignore how nonsensical it is they could perform such a coordinated dance number on the spot. The boss sets them up with an audition, but they have to deal with Ricardo the band leader, who fancies Penny, but they get him in line after Pop cheats at cutting cards.
They become a successful night club act and when Lucky sings the Oscar-winning "The Way You Look Tonight," Penny's heart melts. On a country getaway, she tries to make her intentions known. Lucky finds himself in a pickle due to his fiancee waiting back home, although whenever he gets close to the $25k, he pulls back so it's clear he is in no hurry to get to her. Penny complains about "A Fine Romance" she finds lacking. Lucky decides to go for it, but Pop breaks the news about the fiancee, causing Penny to change her mind, which she does a few more times.
At the night club, Lucky performs in the most elaborate number of the film, "Bojangles of Harlem" which sees him in blackface. As sincere as his intentions may have been, it is still startling to see. And it's not just the makeup that's insulting and racist, so are the lyrics: "Ask anyone up Harlem way/…They may not know who's president". Considering FDR had been President at least three years in 1936, what is the presumption that no one in Harlem would know "who's president" based on?
But it is a well-choreographed and -executed number. In addition to the dancers, there's is an impressive trick-photography sequence that makes it look like Lucky is dancing with his shadows. According to the AFI catalog listing for the film:
Astaire used trick photography in the "Bojangles" routine for the first time in his film career. To achieve the effect of the number, in which Astaire appears to be dancing simultaneously with three larger-than-life shadows of himself, Astaire first danced in front of a blank white screen onto which a strong Sun Arc lamp projected a single shadow. Then he performed the "foreground" dance under normal lighting and in front of another blank screen. This dance was combined optically with the shadow dance, which had been tripled optically in the lab. Simultaneity was achieved by having Astaire watch a projected version of the shadow dance while he was performing the foreground dance.
The film concludes with writing reminiscent of a simple sitcom. Penny sees Lucky with Margaret after the "Bojangles" number and figures it's time to move so she quickly gets engaged to Ricardo. No idea why he's willing to settle for second place, but even more curious is how much did she actually love Lucky if she can so easily move on and take a proposal. However, Margaret had come to New York to tell Lucky she was engaged to another fellow, but after another song by Lucky and dance together, their fates are sealed to the surprise of no one. Even weirder is Pop revealing to the guys he cheated for Ricardo's contract how he tricked them.
The video has been given a 1080p/AVC-MPEG-4 encoded transfer displayed at an aspect ratio of 1.37:1. The liner notes reveal "this new digital transfer was created in 2K resolution on a Lasergraphics Director film scanner from two 35 mm fine-grains and a 35mm duplicate negative. The original camera negative has been lost. Thousands of instances of dirt, debris, scratches, splices, and warps, were manually removed using MTI's DRS while Digital Vision's Phoenix was used for jitter, flicker, small dirt, grain, and noise management."
The blacks are inky and the whites bright, contributing to an array of gray shades. The image can look soft on the side of frames like when Lucky changes into his wedding suit and the other dancers are out of focus. A two shot of the Astaire and Rogers sitting together out in the snow also has a soft focus, but that was likely intentional. There are faint scratches and the film grain, which is light, can be a little busy.
The audio is available in LPCM 1.0 and "was remastered from a 35 mm fine-grain. Clicks, thumps, hiss, hum, and crackle were manually removed using Pro Tools HD and iZotope RX." The dialogue is clear and the song vocals stay above the music. On occasion, the music distorts when it gets too loud like moments during "Waltz in Swing Time". A slight hiss is noticeable.
The extras are:
Audio commentary – Recorded for Criterion in 1986, author John Mueller (Astaire Dancing: The Musical Films) gives an authoritative, albeit a little dry, commentary.
Ginger Rogers – a 1980 interview (audio, 21 min) and a 1982 interview (SD, 4 min) conducted by Stevens Jr.
In Full Swing (HD, 42 min) – Film and jazz critic Gary Giddins, dance critic Brian Seibert, lyricist Dorothy Fields's biographer Deborah Grace Winer are interview separately about
George Stevens Jr. (HD, 42 min) – Son of the director and founder of the American Film Institute talks about this film and his dad's career.
Fred Astaire (SD, 2 min) – Interviewed by Stevens Jr. in 1982, this is way too short to spend with the star.
Hermes Pan (SD, 5 min) – Also from 1982, Stevens Jr. interviews the film's choreographer.
Mia Mask (HD, 9 min) – Recorded in 2019, the film scholar discusses blackface and the "Bojangles of Harlem" number.
Swing Time is a charming film that gets so many things right it's easy to overlook its flaws and just enjoy it. When they are on screen together, it's no wonder Astaire and Rogers were so beloved by audiences. They are wonderful to watch whether floating across the dance floor or bickering with one another. The new digital restoration is pleasing, and while there are a good amount of extras, they left me wanting to learn even more about the film and its creators.