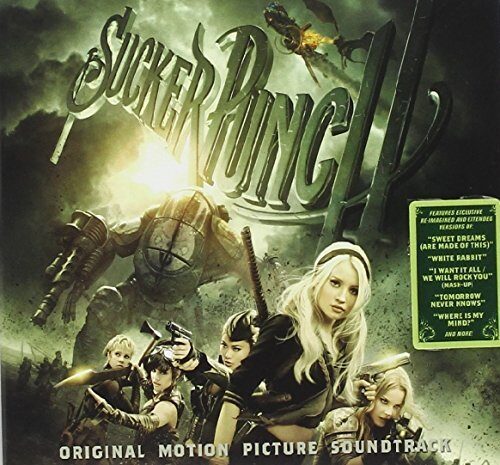 Zach Snyder's latest directorial effort has had a heavy marketing effort touting its impressive visuals in advance of its theatrical release this week, but far less publicized is the film's intriguing soundtrack. It's not an orchestral score, it's not a collection of new radio-friendly songs, and it's not even an array of classic artist recordings. Instead, it's reimagined and extended cover versions of familiar songs originally performed by artists that most sane people wouldn't dare to cover, including Roxy Music, The Pixies, and The Smiths. The songs were apparently selected for their lyrical relevancy to the project, but listeners fond of the originals will undoubtedly cringe at first at these new reworkings.
Since the songs aren't new, the soundtrack's biggest revelation is that the film's star Emily Browning makes for a pretty convincing singer, as she takes the lead on a beguiling cover of Eurythmics' "Sweet Dreams (Are Made Of This)" and a suitably dreamy and reverential take on The Smiths' "Asleep", as well as lending backup assistance to Yoav on a nearly unrecognizable version of The Pixies' "Where Is My Mind?". Unfortunately, fellow co-star Carla Gugino doesn't reach the same heights, instead remaining in the background on a freewheeling cabaret romp through Roxy Music's "Love Is The Drug" led by co-star Oscar Isaac in full lounge lizard mode.
Elsewhere, the only original artist version of a song appearing on the album is Bjork's "Army of Me", getting an extended Sucker Punch Remix featuring Skunk Anansie that basically leaves the primary song intact until its normal end before launching into a rocked-out extended jam that adds nothing to the greatness of the original. I found the worst song in the collection to be the "I Want It All/We Will Rock You Mash-Up" that grafted snippets of those two Queen classics onto a nondescript and unnecessary rap by someone named Armageddon aka Geddy.
The album is rounded out by competent takes on Jefferson Airplane's "White Rabbit" by Emiliana Torrini, Iggy and the Stooges' "Search And Destroy" by Skunk Anansie, and another nearly unrecognizable cover of The Beatles' "Tomorrow Never Knows" by Alison Mosshart and Carla Azar. They're intriguing versions, but hardly worth being extended.
Although the album looks a little light at only nine tracks, the extended nature of all of them ensures that the album doesn't feel like an EP. It's not really clear what prompted the decision to craft extended versions of the songs, as it would seem that a film soundtrack would tend to utilize only brief song cues to set the tone in the movie rather than rely on any lengthy versions, but hopefully that will be explained at the cineplex this weekend.