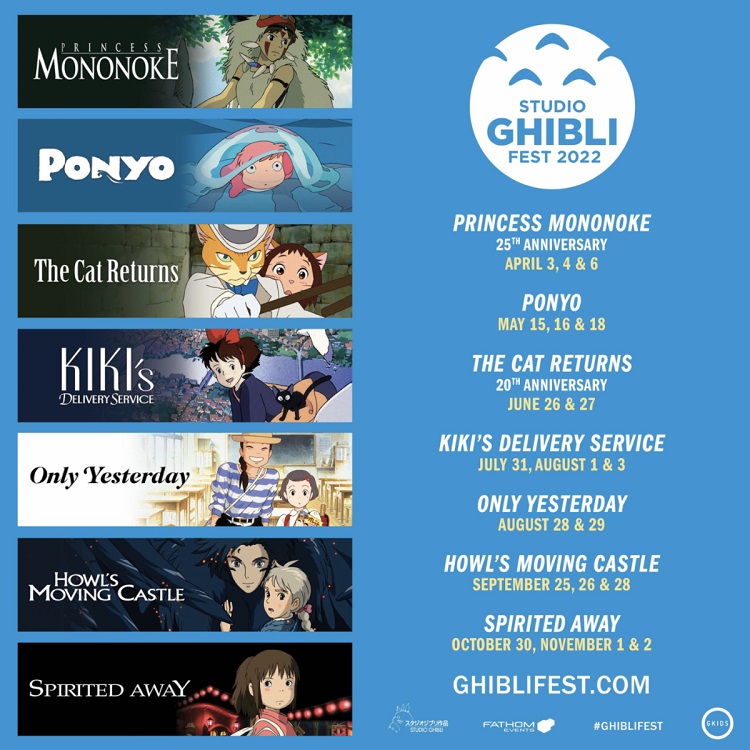 Studio Ghibli Fest is back in theaters this spring with a new slate of timeless animated classics for 2022 – kicking off with 25th-anniversary screenings of the epic historical fantasy Princess Mononoke. Written and directed by Academy Award-winner Hayao Miyazaki, Princess Mononoke held Japan's box office record for domestic films for four years until it was unseated by another Studio Ghibli Fest film, Spirited Away.
Studio Ghibli Fest 2022 will highlight seven beloved films from the acclaimed studio, including the aforementioned Academy Award-winning masterpiece Spirited Away,the Oscar- nominated fantasy epic Howl's Moving Castle, and the critically acclaimed Ponyo. Celebrating its 20th anniversary, The Cat Returns, the fantastical adventure where the Baron from Whisper of the Heart returns to the big screen. Rounding out the series, the intimate and timeless drama Only Yesterday, from Academy Award-nominated director and Studio Ghibli co-founder Isao Takahata joins this year's spectacular lineup, in its first-ever nationwide theatrical release in North America. Studio Ghibli Fest 2022 will run in U.S. cinemas throughout the fall.
"The team at Fathom Events is thrilled to kick off Studio Ghibli Fest for the fifth time," said Fathom Events CEO Ray Nutt. "We're not only excited to bring these cherished films to the big screen for dedicated fans of animation but we're also proud of our long-standing relationship with GKIDS. It's going to be a great series!"
Each event will be shown in both original Japanese and English dubbed versions and will include exclusive bonus content. Tickets for Studio Ghibli Fest 2022 can be purchased online by visiting FathomEvents.com, GhibliFest.com or at participating theater box offices. (Theaters and participants are subject to change).
STUDIO GHIBLI FEST 2022 SCHEDULE:
All event listings are in local time
Princess Mononoke 25th Anniversary
Sunday, April 3, 2022 – 3:00 PM Local Time (English Dubbed)
Monday, April 4, 2022 – 7:00 PM Local Time (Japanese with Subtitles)
Wednesday, April 6, 2022 – 7:00 PM Local Time (English Dubbed)
Ponyo
Sunday, May 15, 2022 – 3:00 PM Local Time (English Dubbed)
Monday, May 16, 2022 – 7:00 PM Local Time (Japanese with Subtitles)
Wednesday, May 18, 2022 – 7:00 PM Local Time (English Dubbed)
The Cat Returns 20th Anniversary
Sunday, June 26, 2022 – 3:00 PM and 7:00 PM Local Time (English Dubbed)
Monday, June 27, 2022 – 7:00 PM Local Time (Japanese with Subtitles)
Kiki's Delivery Service
Sunday, July 31, 2022 – 3:00 PM Local Time (English Dubbed)
Monday, August 1, 2022 – 7:00 PM Local Time (Japanese with Subtitles)
Wednesday, August 3, 2022, 7:00 PM Local Time (English Dubbed)
Only Yesterday
Sunday, August 28, 2022 – 3:00 PM and 7:00 PM Local Time (English Dubbed)
Monday, August 29, 2022 – 7:00 PM Local Time (Japanese with Subtitles)
Howl's Moving Castle
Sunday, September 25, 2022 – 3:00 PM Local Time (English Dubbed)
Monday, September 26, 2022 – 7:00 PM Local Time (Japanese with Subtitles)
Wednesday, September 28, 2022 – 7:00 PM Local Time (English Dubbed)
Spirited Away
Sunday, October 30, 2022 – 3:00 PM Local Time (English Dubbed)
Tuesday, November 1, 2022 – 7:00 PM Local Time (Japanese with Subtitles)
Wednesday, November 2, 2022, 7:00 PM Local Time (English Dubbed)