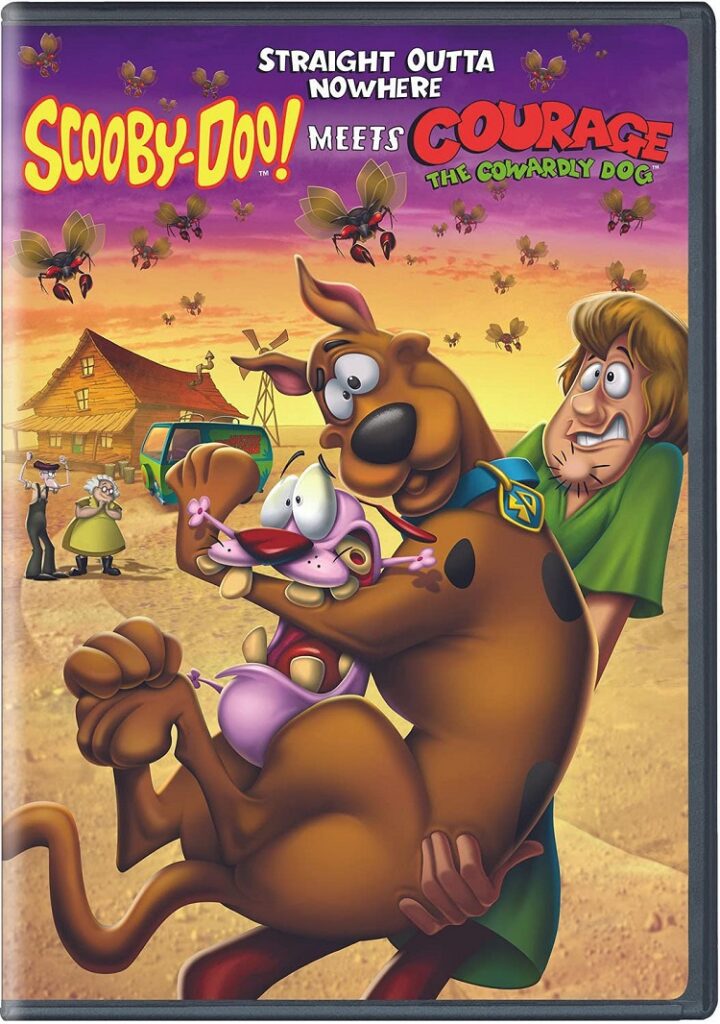 Warner Bros. Home Entertainment provided the writer with a free copy of the DVD reviewed in this Blog Post. The opinions shared are his own.
The traditional fall release of a Scooby-Doo direct-to-video film comes out on 9/14 this year. The 33rd release is a crossover, which in and of itself, isn't unique for the Scooby Gang. They have crossed over with KISS, WWE wrestlers and famous chefs recently. This time they crossover with Cartoon Cartoon show, Courage the Cowardly Dog (1999-2002). The choice isn't as random as it might seem on the surface to fans not familiar with the show. Courage was a show set in Nowhere, Kansas where Courage lives with Muriel and Eustace Bagge. The show owed a thematic debt to Scooby-Doo: Where Are You? and never shied away from the more surreal and horror elements. Courage episodes have appeared on previous Scooby-Doo direct-to-video discs.
The crossover of Mystery Inc. and the Courage family presented an animation quandary. Both series are traditionally animated but with distinctly different styles. This production manages to keep the basic character designs of both shows even as they interact together. The supporting characters remain true to their setting – Courage-style in Nowhere and Scooby-style outside of Nowhere. The Mystery Inc. voices are the ones we have come to love the past years – Frank Welker is Scooby-Doo and Fred Jones in my mind. Matthew Lillard as Shaggy, Kate Micucci as Velma, and Grey Griffin as Daphne fill out the voices the same as they've been. Jeff Bergman is great as the voice of cranky Eustice Bagge. Marty Grabstein as Courage and Thea White as Muriel fill out the cast.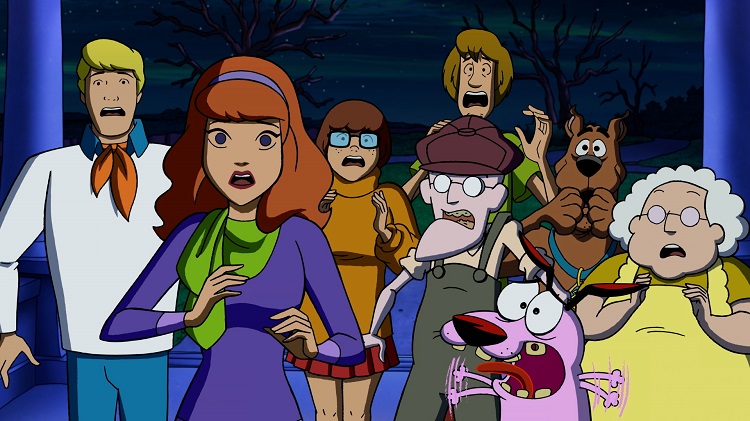 The plot is simple as works best in these films. There's no need to introduce characters and Scooby is quickly "led by voices" to Nowhere where we meet up with Courage who is also hearing voices. The basic premise deals with a giant cicada and her minions attacking the town. All of the tropes that you have come to expect from a Scooby-Doo film are present. There's a fun car chase scene early on in the film. Scooby-Doo says "Who?" when someone refers to a "pet". Scooby and Shaggy dress up as exterminators to fool the cicada at one point. And there's even some Courage Snacks to get the dogs to do a task. I won't reveal the surprise of the "unmasking". Fans of Courage will be amused at an extended rap song by Eustice.
Fans of both series have lots to love here. There's a good mystery with doses of humor and some safe elements of horror. It feels like two separate generations that were destined to come together have finally found their proper crossover. The film is a slim 72 minutes but that fits the story without feeling padded or dragged out. I only wish this had been a Blu-ray release.
The extras are three episodes of classic episodes. Scooby-Doo, Where Are You! "Decoy for a Dognapper" is serviceable. The inclusion of two episodes from the often overlooked Scooby-Doo / Dynomutt Hour is a welcome addition. "The Gruesome Game of the Gator Ghoul" and "Chiller Diller Movie Thriller" are two great samples of that series and fit nicely with the two dog theme of this release.
This is a fun Halloween season release. Two scared dogs, a rapping grumpy old man, creepy cicadas, and compelling animation make for worthwhile release. Don't be scared to take the leap – have courage.