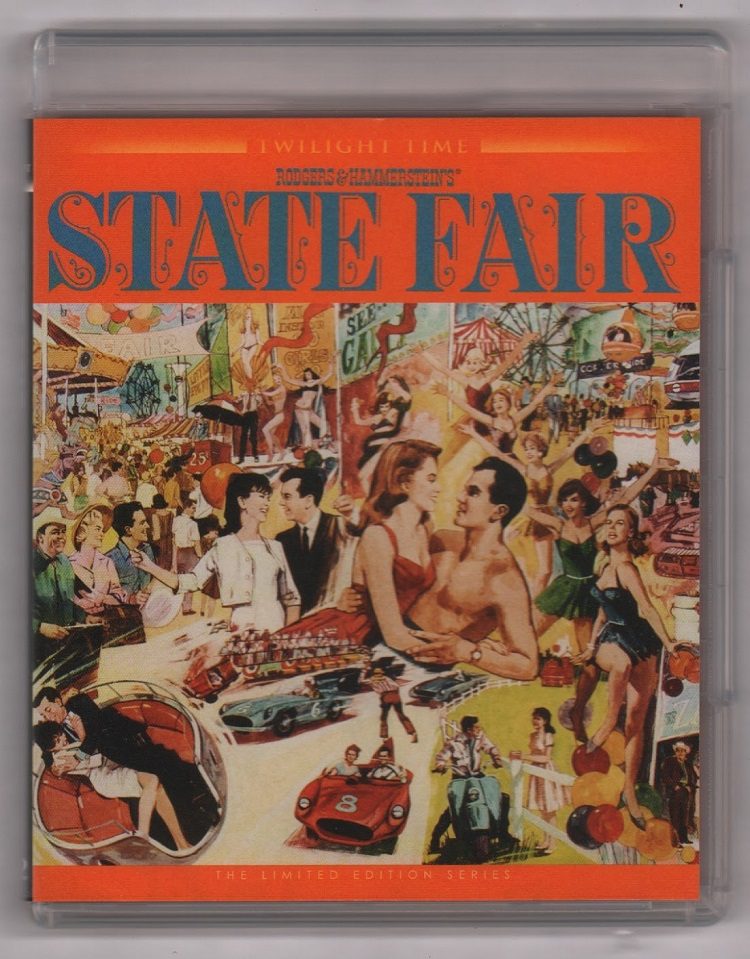 Were Twilight Time's double-bill of the Reader's Digest-produced early '70s musical adaptations of Mark Twain's Tom Sawyer and Huckleberry Finn just not enough to satisfy the song-and-dance movie lover in you, don't worry. Because now they've added another musical remake of a classic tale to their lineup with Rodgers and Hammerstein's State Fair. But this isn't the famous 1945 musical remake of the original non-musical 1933 pre-Code film State Fair, boys and girls. Rather, this particular version is the (hold onto your straw hats, kids) musical remake of the musical remake of the original non-musical movie.
You may take a moment to scratch your head until all of that settles in if you need to. Please, take all the time you need.
Now then, today, unless it has the Disney brand stamped on it someplace, musical remakes of musical remakes are generally reserved for awkward live network television productions featuring dazed Christopher Walkens adored in copious amount of eyeliner (look, don't even pretend to not know what I'm talking about). In was slightly less weird in the '60s, however, as Hollywood was quite busy experimenting with new treatments of old tales left and right (see: that amazing 1966 version of Stagecoach, also available from Twilight Time). I'm sure it goes without saying that Tinseltown's precarious fascination with the movie musical during this particular era would almost destroy the film industry altogether a few years later.
But at least we got another State Fair out of the deal, right?
Like most remakes, things are slightly different this time around. In fact, anyone who is well-versed (if you'll pardon the pun) in the "original" musical version might be in for a shock or two. First off, this remake stars both Pat Boone and Bobby Darin, so make sure you fasten your safety belts for this ride. Additionally, shortly after 20th Century Fox head Buddy Adler announced this remake was in the works in 1960, both he and lyricist Oscar Hammerstein dropped dead before the proverbial fairgrounds could even be cleaned up. This, in-turn, opened up an amazing [er, citation needed] opportunity for the remaining composer Richard Rodgers to do something he had so longed to do: write a couple damn songs of his own.
Ultimately, however, I think the most peculiar slice of trivia pertaining to this film is its director: actor José Ferrer. While he may be best known to the more "legitimate" film scholars as the Oscar-winning star of John Huston's Moulin Rouge (which received a musical remake of its own years later), Ferrer happens to be one of a select group of performers whose eventual fall from grace within the industry resulted in his appearing in a variety of weird and wild cult movies. Beginning with the next decade, Ferrer would have his marquee-valued name featured alongside promotional offerings for movies such as Dracula's Dog, Bloody Birthday, and even something called Dune, thus solidifying him as a true cult movie actor for the rest of time.
It probably wasn't what he wanted. Then again, judging how his 1962 version of State Fair bombed out at the box office with audiences and critics alike (much in the same way many ill-advised deep fried "specialties" at state fairs tend to do each and every year) and would prove to be the last movie he ever directed might indicate it wasn't the only thing in his career that didn't quite work out the way he had intended. But that's just one of the gambles people frequently take in Hollywood (just like when you order anything deep-fried at a fair).
Set in Texas this time (presumably so co-star Tom Ewell's tender love song to his prized pig would seem less cumbersome), but filmed in California (presumably to spare Bobby Darin from receiving nightly beatings from Texans), Ferrer's State Fair retains the basic storyline: a family of four ‒ as portrayed by Pat Boone, Pamela Tiffin, Tom Ewell, and Alice Faye (after a 17-year absence from film) ‒ goes to the fair. There, the kids wander off in search of something interesting to do (a favorite pastime of younglings at fairgrounds) while they're parents engage in different forms of midlife crises. But it's the '60s, back when people couldn't confront their own feelings just yet, so they break out in song instead.
Speaking of weird family outings, Bobby Darin co-stars here as a sleazy TV host after young Miss Tiffin, whose naïvety is just the thing his jailbait-lovin' character is looking for (you know, much like the creepy carnies of today). The great Ann-Margret, no stranger to musicals, especially ones made in the '60s, plays Pat Boone's love interest. Mister Peepers' own Wally Cox is also featured, and ‒ if you look close enough ‒ you might spot a young Meat Loaf as a young boy in the stands. Like most fairs, there isn't much to really revel in at this State Fair. If you're in the market for something perfectly palatable, that is. Film aficionados with a passion for films that are slightly "off" in taste, on the other hand, may enjoy this funky deep-fried treat.
Preserved for all time so that future generations will hopefully begin to confuse the 1962 version with the 1945 one (and we'll be laughing at you when you do), José Ferrer's Rodgers and (partly) Hammerstein's musical remake of their musical remake of State Fair hits Blu-ray from the 20th Century Fox vaults and Twilight Time. While this mostly-forgotten CinemaScope title shows some signs of damage from over the years, the 1080p MPEG-4 AVC transfer presents us with what is undoubtedly the best home video release of the film, having only ever seen a limited videocassette run here in the States. Presented in its original 2.35:1 aspect ratio, Twilight Time's Blu-ray features English DTS-HD MA 4.0 and 2.0 soundtracks and English (SDH) subtitles.
It's nice to know even the least-remembered (or least-appreciated) movies can sometimes receive a venerable assortment of special features. And Twilight Time certainly doesn't skimp on the extras with this trip to the State Fair, beginning with a new audio commentary featuring Pat Boone himself! Also on-deck is the usual isolated score (Alfred Newman was the film's uncredited incidental score composer) in DTS-HD MA 2.0, a featurette from the 2005 DVD of the 1945 musical (which covers fair ground on all accounts), and several trailers. But it's the inclusion of a failed 1976 TV pilot from ill-fated attempt to turn the property into a series (this time with Vera Miles and Tim O'Connor!) that really takes the grand prize for mind-numbing mincemeat here.
Recommended to all of the right people for all of the wrong reasons.