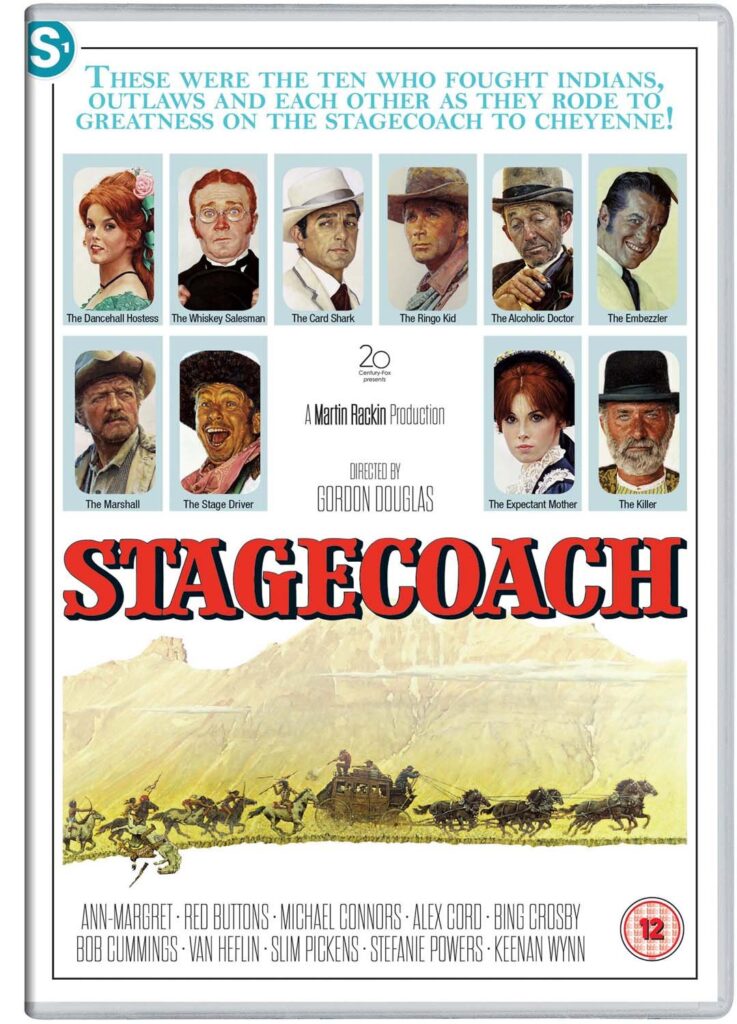 There's just something about redheaded women that make men want to fight over 'em. Within the first few minutes of the 1966 version of Stagecoach, we witness two Calvary soldiers fight each other to the death over a young ginger named Dallas (Ann-Margret). Just then, Calvary Captain Mallory (John Gabriel, who was the Professor in the original Gilligan's Island pilot) jaunts in and recommends the dancing girl of ill repute leave town on the next available stagecoach.
The angry Calvary leader advises the same of several prominent witnesses to the double murder, as well — including a white-suited gambler (and Southern gentleman) named Hatfield (Mike Mannix Connors) and a boozing physician (no, he's not called McCoy!) named Dr. Boone (played to the hilt by Bing Crosby — talk about method acting, eh!).
The next day, the three borderline fugitives are loading up in the coach, along with a whiny embezzler (Bob Cummings, in one of his most "serious" rolls), a traveling whisky salesman (Red Buttons) who quickly becomes the doc's most favorite person in the whole wide world ever, and an extremely pregnant woman (Stefanie Powers) — who just happens to be Capt. Mallory's wife!
And so, with trusty stagecoach driver Buck (Slim Pickens) piloting the coach, they set out for Cheyenne, each with their own objectives in hand. Tired old Marshall Curly Wilcox (Van Heflin) also joins in — riding shotgun and with a plan of his own: to catch up with an escaped convict known as the Ringo Kid (Alex Cord).
But there are still more folks eager to crash the party: there's a tribe of bloodthirsty Indians on the warpath, and who not only slaughter a Calvary troop in the film's surprisingly bloody (for conventional mid '60s cinema, that is) beginning, but also lay waste to another regiment at a camp the Stagecoach is heading for. With the threat of a disgruntled Native American attack looming every inch of the way, our passengers must make their way to Cheyenne without giving in to the rising tensions amongst them.
Keenan Wynn makes a brief appearance at the finale of the movie as the foul-tempered villain whom the Ringo Kid has a score to settle with in this remake of the 1939 John Ford classic with John Wayne, which — while it isn't as acclaimed or magnificent as the original — stands on its own two feet remarkably well with a fine cast (Crosby in particular is outstanding here in what would be his final film role, and his scenes interacting with comic relief Buttons are a highlight).
Stagecoach also separates itself from its forerunner (to even try to compare the two would be unfair to both incarnations) with some lush cinematography courtesy of William H. Clothier, who returned to Cheyenne four years later to film The Cheyenne Social Club, and photographed many of John Wayne's movies), and a wonderful score by Jerry Goldsmith.
Joseph Landon's script (which was also his last) comes to life via Gordon Douglas, who not only directed a Sidney Poitier movie (in 1970's They Call Me MISTER Tibbs!) and made a Bela Lugosi flick (1945's Zombie on Broadway), but also instructed the Our Gang kids around for a couple of shorts in the '30s — all of which must have looked damn impressive on a résumé.
Oddly enough, despite the numerous home video releases of the original 1939 classic and the less-appreciated 1986 TV version, this particular film called Stagecoach never saw the light of day to small-screen audiences aside from the occasional television broadcast. Thankfully, the folks at Twilight Time have made up for that oversight, and given Gordon Douglas' Stagecoach a long overdue DVD release.
It's a pity they didn't opt to release this underrated gem on Blu-ray while they were at it, as the transfer here is so beautiful, that I can only imagine what it would have looked like in High-Def. The movie is presented in its original 2.35:1 aspect ratio, and the colors, contrast and black levels here are so pristine, that they're almost unfit to grace just a regular ol' Standard Definition disc. It's that beautiful.
The spectacular video presentation is accompanied by a mono English soundtrack — which, since I'm not a fan of the whole "let's re-do the old 1-track audio into a 5.1 mix and add all kinds of new and superfluous effects" thing most major studios tend to do with catalogue releases, is quite amiable for my tastes.
Like all their releases (to date), Twilight Time presents has included an isolated music score with this release, so that music aficionados can enjoy Jerry Goldsmith's score all by its lonesome. The release includes a four-page booklet expertly written by Julie Kirgo, wherein she talks in depth about the film's production, its cast and crew, and quips that star Alex Cord looks like a mixture of Daniel Craig and Richard Mulligan (I thought Bob Cummings looked like the lovechild of Tony Randall and Jack Lord as soon as he popped up on screen).
Both the cover art, main menu and booklet include the original promotional artwork by Norman Rockwell (who also has a cameo in the movie).