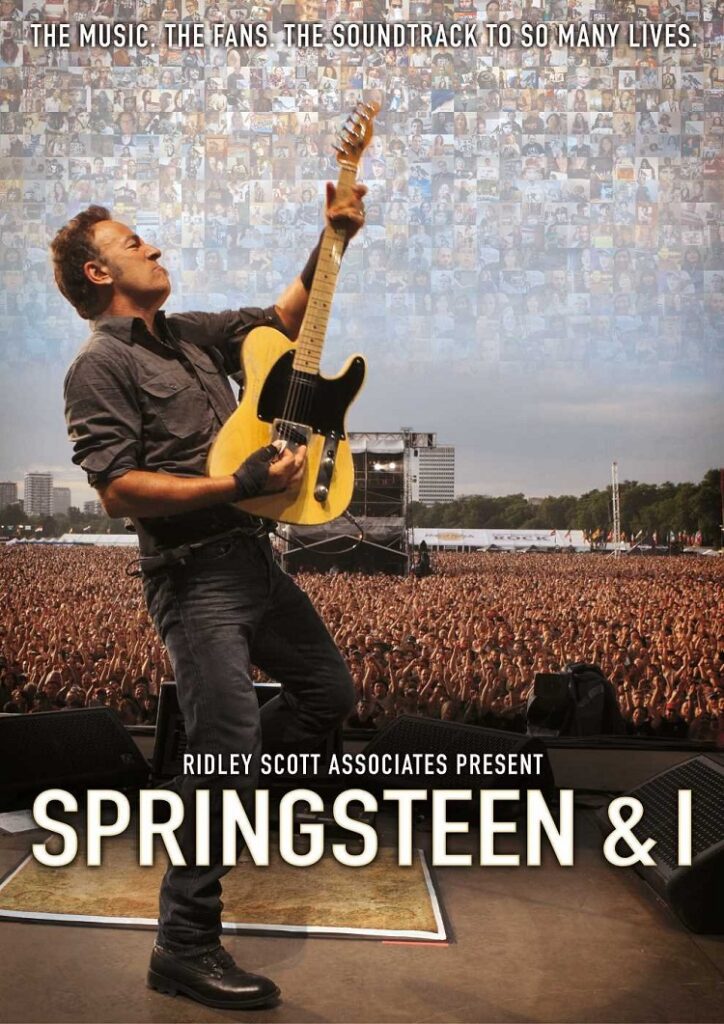 Written by Lisa McKay
One theory of the etymology of the word "fan" is that it derives from "fanatic," a fact that's probably worth keeping in mind when viewing Springsteen & I, a fan-made documentary that purports to explain the relationship between an artist (in this case Bruce Springsteen, still going strong some 40-odd years into his career) and an audience. Released under the auspices of Ridley Scott's production company and directed by Baillie Walsh, the film is a sometimes interesting, sometimes touching, and sometimes weird collage of fan-made tributes that attempt to explain the meaning of Boss fandom, interspersed with previously unseen archival concert footage that spans the entire length of Springsteen's career.
The fan-made segments of the film vary wildly in quality and effectiveness. I consider myself among the Springsteen faithful (going all the way back to the beginning and having attended my fair share of shows), but the woman who displayed a photo of Bruce and related a story of teaching her infant son to look at the picture and say "daddy" just struck me as off-the-wall sad. Similarly, the man who filmed himself talking about what Bruce means to him while driving his car starts out well enough but he eventually chokes up and begins to sob. And then the camera stays with him for an uncomfortably long few moments. A little judicious editing might have kept this segment from veering off the road. Faring better are segments featuring a middle-aged couple who talk about Bruce while entwined comfortably on their couch and dancing together in their kitchen, and a segment filmed by a young woman who actually does the best job of articulating why Bruce's music is so important to the people who follow him.
Anyone who's been to a show in recent years knows that Springsteen, who turned 64 this year, has legions of young fans, and this film showcases that fact by including tributes from young and old. It's also refreshingly not US-centric; there are contributions from fans around the world. The closing credits roll over what is possibly the best part of the DVD: a live performance of "Born to Run" that's made up of filmed performances done over the decades, stitched together as one piece. As the song progresses, you can watch the E Street Band age; Bruce changes from hungry young artist to elder statesman of rock; you can see Clarence Clemons in his prime, and by the song's end you can see Jake Clemons finding his own place in the band. While the band's physical presence changes over time, what doesn't change is the intensity of the performance.
In addition to the film itself, the DVD contains some bonus materials. The best of it consists of six songs from the band's set from the 2012 Hard Rock Calling festival in London, two of them featuring Sir Paul McCartney. There are four short fan films, and a "Meet the Fans" featurette.
The DVD slip case says that this is "a film by the fans for the fans." I'm not quite sure it's going to appeal to every fan — the segments are uneven enough that I found myself much more interested in the concert footage, which, come to think of it, does a better job of explaining this symbiotic relationship than anything else I can think of. As someone who's spent a fair amount of time and money to see Bruce — including hours on end of standing in line for pit lotteries — I think it's fair to say that you either get it or you don't. If you already get it, this film might bring a smile or two, but it's not likely to tell you anything you don't already know. If you don't get it, I'm not sure this film will enlighten you. In order for that to happen, well … you're just gonna have to go to a show.