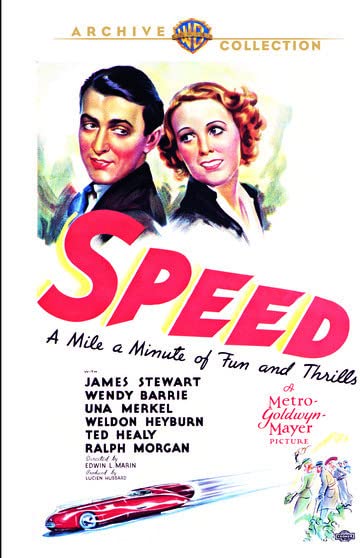 In-between the vast unnecessary space taken up within the confines of the virtual world by loving tributes to reality-TV celebrities and the hateful comments left behind by internet users who are an entirely different waste of space, there are a few really cool things on the web. One thing I occasionally grin with delight at are the sight of re-imagined artwork for movies – such as the fan-made poster artwork for Ghostbusters starring iconic British horror legends Christopher Lee, Peter Cushing, and Vincent Price (with Woody Strode jokingly tossed in as the token black guy) – and even records (a Charles Bronson Christmas album quickly comes to mind). When one first glances at the artwork for Speed starring James Stewart, it seems as if it could be a re-imagined poster for that one Keanu Reeves film of the same name.
With the smiling kissers of the film's promoted stars, James Stewart and Wendy Barrie, and a speeding bullet of a vehicle that resembles a funky-looking art deco-like death trap of a streamliner, it's easy to pass this off as someone's fanciful re-imagining of a much more popular movie. As it turns out, however, the 1936 MGM B movie Speed is very much a real motion picture. Perhaps "was" would be a more appropriate verb used to describe said motion picture in question, as the movie wound up becoming buried over the passing decades. However, thanks to a recent home video release by the folks at the Warner Archive Collection, James Stewart has returned to reclaim his title. And my bad little quip right there should set the tone for Speed itself.
A lighthearted little minor ditty from yesteryear, Speed was James Stewart's first starring role, having made his feature film debut just ten months and six movies before in the Spencer Tracy film, The Murder Man. Here, Stewart plays Terry Martin: a mechanic/test driver for the Emery Motors manufacturing plant, where he gets paid to crash cars all the livelong day. When he's not endangering his life for fun (and pay), he's trying to perfect a new carburetor of his own design along with his wise-cracking, goofy sidekick, Gadget – as played by Ted Healy (yes, that Ted Healy), who essentially plays Ted Healy in the film, though he does get a chance to do a little serious acting around the film's third act. When the pair of grease monkeys aren't on the field or under a hood, they're busy making fun of the plant's college boy engineers.
But once a new recruit for the company's publicity department, a dame named Jane Mitchell (Wendy Barrie), shows up, Terry finds another item to add to his list of favorite things. Alas, the ensuing wooing becomes complicated when well-dressed (and better mannered) engineer Frank Lawson (forgotten actor Weldon Heyburn) begins to vie for the young lady's attention. As if a simple love triangle mixed into a story of racing and various other automotive things I don't understand wasn't enough, Frank is constantly trying to duck the affections of recently-promoted executive Jo Sanderson (Una Merkel; the writers get props for assigning a woman of the 1930s such a position, although they're instantly revoked once her character questions her own gender having power).
Things grow more tense between our two male leads once word gets around that Terry and Gadget are struggling to get their newfangled auto part to function properly, and the plant director (the great Ralph Morgan) assigns Frank to work with the pair of mechanics. This leads to a test race at the Indianapolis 500 (brought to life via a heavy employment of stock footage and good editing), and eventually to the moment featuring the weird-looking race car that inspired the movie's artwork. The finale, filmed in the forgotten community of Muroc, California, features a speed record test that was inspired by the previous year's established speed record at Bonneville Salt Flats. Amazingly, the lengthy and bizarre-looking Emery "Falcon" test car – built especially for the film – actually succeeds at making a turn.
For the most part, Speed sorely lacks a pace car. It's what you'd expect from a low-budget picture made during the mid '30s: routine, ebullient, and with far too much focus on dull romances. (I like how Mr. Heyburn finally decides to give Ms. Merkel a chance at the climax of the feature and she gleefully accepts, despite her having recently learned he's been trying to avoid her up until then; but hey, if some people think Fifty Shades of Grey is a good love story, who am I to draw the line?) That said, it's still a fun little B picture. Stewart and Healy make a pretty good comic pair (they probably have the most chemistry out of all of the movie's assorted, sordid couplings). Cute-as-a-button Patricia Wilder makes the debut of her short-lived film career as the receptionist Gadget keeps trying to get with.
Like The Murder Man, another of Warner Archive's James Stewart-themed titles released on the same week, Speed has usually only found a modern audience by way of late-night TV showings (and a bootleg disc). For this, the film's first official home video release, the forgotten feature is presented in its intended Academy aspect ratio of 1.37:1, complete with the original, delightful "look, we're still getting the hang of this whole sound thing" mono audio track in accompaniment. Like most WAC titles, there are no subtitles to be found here with this presentation, although the movie's theatrical trailer – which pretty much condenses the entire feature into about two-and-a-half minutes (so don't watch it first if you're really that interested in the title!) – is included.