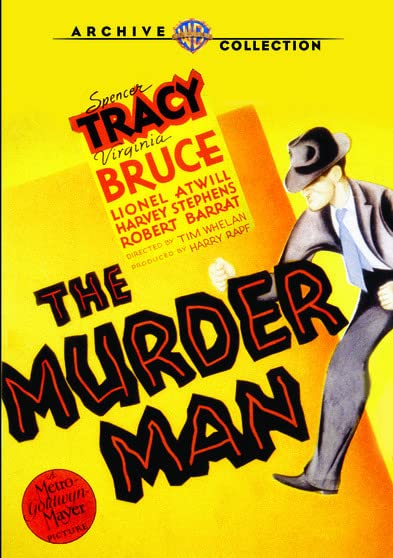 It was 1935. The Hays Office had recently begun to enforce their code of morals in film. Meanwhile, film itself was finally getting used to the whole sound thing. Projects were practically bursting from the seems of studios all around town, be it over on Poverty Row or on the lot of the more prestigious outlets. And one such outlet was MGM, where a modest murder mystery was being manufactured under the direction the man who would later bring us The Thief of Bagdad – Tim Whelan – with a script written by he and future Robinson Crusoe on Mars scriber John C. Higgins. The fairly new to the screen lead performer, a man named Spencer Tracy, was beginning the first of twenty years he spent under contract to the studio.
Eighty years later, The Murder Man certainly doesn't have quite the same resonance to it as Tracy's better-known (and slightly more memorable) film outings he would later make for MGM, but it certainly makes for interesting viewing. Here, the formidable Mr. Tracy – already a force to reckon – stars as Steve Grey a tortured hotshot reporter whom the masses have come to nickname "The Murder Man" on account of his sensational stories covering various homicides. Though he is always a step ahead of newspaper men and the police (as led by horror legend Lionel Atwill – also see The RKO Brown and Carney Collection) alike, Mr. Grey naturally has a good fifty shades of darkness that are always looming over his head and brooding within his mind.
For starters, there's the drinking. He's prone to disappearing for days on a bender once an assignment is completed. There's that proverbial lost love in his life, as well, whom gossip columnist Mary (Virginia Bruce) is terribly eager to replace. And there's also a host of other reporters keen to replace Grey should he finally drop the ball (or bottle) for good, including a relatively minor character named Shorty – who is played by an up-and-coming James Stewart. Stewart, who had previously made his film debut in a short with Shemp Howard (hence making Stewart's entire career even holier than you may have already believed possible), pops up in a few scenes here and there, mostly to play the part of a lanky flunky of editor Robert Barrat.
Anyway, the big to-do in The Murder Man concerns the assassination of a shady investor, and the investigation that follows as Grey leads the police to the deceased's business partner (Harvey Stephens, who turns into a Warren Oates prototype towards the end of the film). While we, the audience, know the accused is in the right straight from the opening of the film, the actual assailant is unknown to us. What's more, the crooked money man's lack of scruples do not warrant the usual formula we're accustomed to seeing in stories along these lines. In fact, it's so depressing in that respect that it's almost exactly like real life itself, right down to the downer, "Well, why doesn't that surprise me?" finale. But it works, kids. Rather well, at that.
William Collier, Sr. co-stars as Tracy's father (who also works at the paper), while additional small roles are filled by William Demarest, John Sheehan, Lucien Littlefield, George Chandler, Stanley Andrews, Irving Bacon, Charles Delaney, and forgotten starlets Lita Chevret and Jeanie Roberts – the latter of whom is perhaps best known as the squeaky-voiced nurse with a bad case of hiccups in The Three Stooges' short Men in Black. Mostly seen on late night TV over the years, The Murder Man finally gets a home video debut via the Warner Archive Collection that looks and sounds quite well (although my disc skipped twice, which has never happened before) and the original theatrical trailer accompanying.