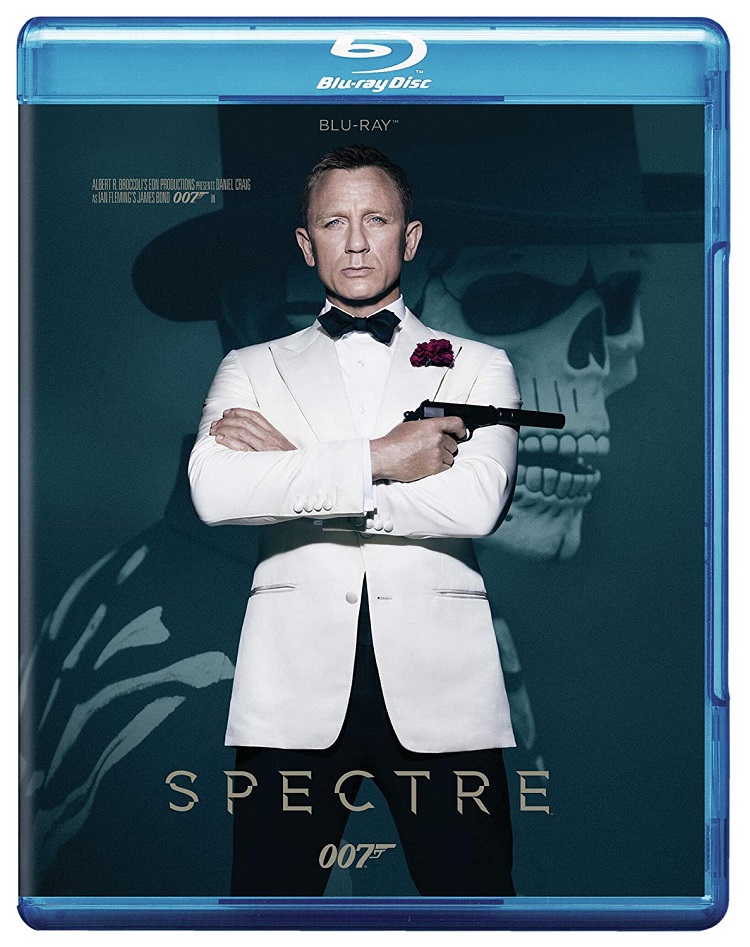 After the nearly universal acclaim and gigantic box office for the previous Bond outing, Skyfall, any follow-up was likely to suffer in comparison, even with the same creative team largely intact. Sure enough, the general consensus upon Spectre's release seemed to be a resounding "meh" and lower ticket sales, but what all of that apathy masked was that judged on its own merits it's still one of the strongest Bond films ever. Does the story make complete sense? Nope, but that's never really been a drawback in this series. Sam Mendes returns to direct an ambitious tale that features the emergence of intriguing new threats at home and abroad, as well as callbacks to previous Bond films that help to make the film feel like part of a whole rather than a solitary effort.
For my money, this is the best-filmed Bond ever, with every shot a carefully framed and beautifully lit work of art courtesy of first-time Bond director of photography Hoyte Van Hoytema, a name I never noticed before although I've seen and enjoyed five of his previous films. Pretty pictures only get a film so far, and this one backs them up with stunning locations in Mexico City, Rome, Morocco, Austria, and London, their ancient and decaying environments providing intriguing counterpoints to Bond's hi-tech shenanigans. Although the story doesn't carry quite the same weight as Skyfall's personal and professional Bond family dynamics, it is still far better than most and weaves in threads from Craig's previous outings all the way back to Casino Royale, while also reintroducing a classic foe and criminal organization that made my fanboy heart leap for joy.
The film's dizzying opening stunt sequence features Bond's battle with and on a helicopter soaring over a crowded Mexico City plaza, an opening I found somewhat lacking in comparison to other big-budget films but clearly ambitious and well within expectations for a Bond film. Elsewhere, Bond gets to borrow a futuristic car from Q branch, embarking on a thrilling chase scene that finds him struggling with the gadgets, a humanizing script touch for the usually unflappable, unstoppable character. The film winds down with an actual bang, an explosion so huge that it set a world record.
Craig closes out the film and what may be his final Bond outing in style, his Bond still a deadly force of nature but showing signs of fatigue, more than capable of still playing the game but increasingly less interested in doing so. Bond's supporting co-workers are more directly involved than usual, with M (Ralph Fiennes), Q (Ben Whishaw), and Moneypenny (Naomie Harris) all helping him out in secret and in direct opposition to their marching orders from a new force above. Although the characters don't really grow much, it's refreshing to see them operating as rogues fighting outside of the system.
Much ado was made about the casting of 51-year-old Monica Bellucci as a Bond girl, but in the final cut, she's barely in the film, lasting only one brief sequence before disappearing for good. That's a real shame, and probably my biggest gripe, as I was looking forward to the impact her considerable assets could have had on the project. Instead, 30-year-old Lea Seydoux takes the alpha girl role as the age-appropriate (for Bond) counterpart to the master spy. She's a competent and interesting choice, but also isn't given much room to really demonstrate her strengths in her ultimately forgettable role.
As for the baddies, Christoph Waltz contributes a suitably menacing performance as the evil mastermind, all controlled mayhem beneath his steely exterior. Dave Bautista is the film's muscle, a big scary villain who controls via brute force to such an extent that he's entirely mute save for one word of monologue. Bond also has a fight within his branch of the service, as another branch led by C (Andrew Scott) attempts to take over the spy trade. Scott dials back the psycho tendencies of his most famous role, Sherlock's Moriarty, but there's still enough similarity that I almost expected Cumberbatch to appear to match wits with him.
The expert photography looks fantastic on Blu-ray, all saturated colors and deep blacks delivered in superb precision. The sound mix fully immerses listeners in the film's exotic locales in DTS-HD Master Audio 7.1. Bonus features include video blogs focused on Mendes, Bond's cars, Mexico City's Day of the Dead Festival, the new Bond girls, the film's action scenes, music, and Guinness World Record for largest film stunt explosion. Blu-ray exclusive features add a look at Bond's biggest opening sequence and a gallery.
Operation: BOND will return with No Time to Die.