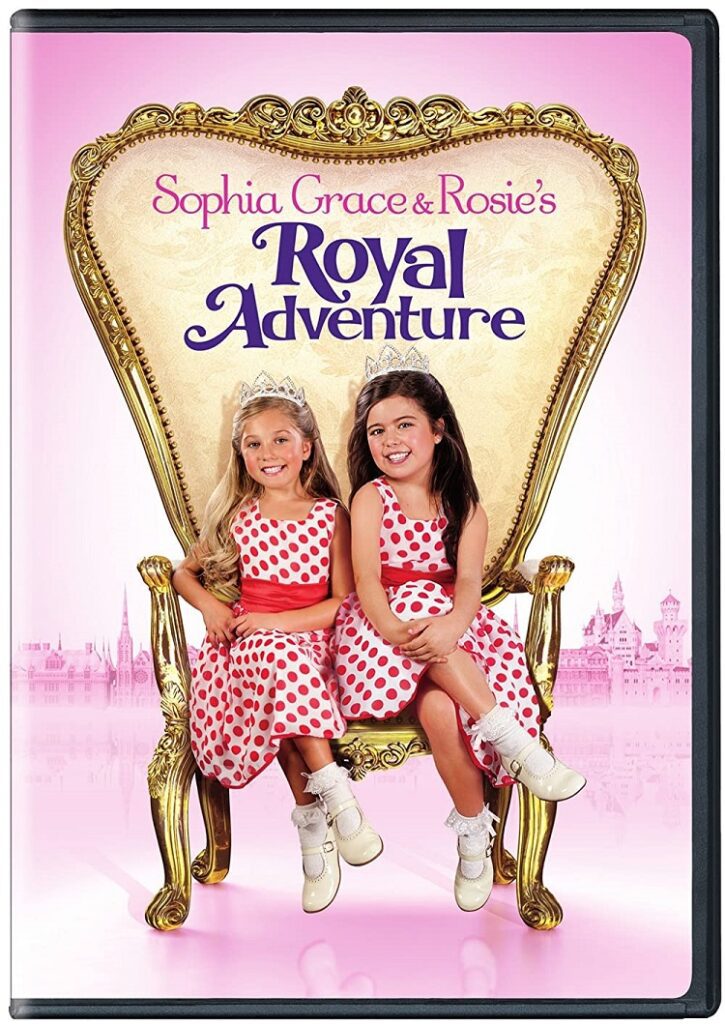 If you've watched Ellen, you have more than likely seen these YouTube sensations who have become tiny stars. (If you haven't, they are cute, funny, and talented, so you should probably watch some of their videos.) These two adorable Brits have won the hearts of people all around the country and they have just starred in their first film.
In Sophia Grace & Rosie's Royal Adventure, the two princess-loving girls are sent by the Ellen show to Switzelvania to be correspondents for the crowning of the country's new queen. On the way, a series of missteps separates them from their chaperone who just can't keep up with the excited duo. The girls end up sneaking into the royal palace where they are mistaken for extended members of the royal family as they meet all three princesses who are competing to be the next queen of Switzelvania. They soon realize which one of the three should be the new queen and put in motion a plan to help the right candidate win.
This is a cute, fun, family film. Although it is rated G, it has some good jokes for adults and plenty of silly antics and zaniness for kids. While it may be more geared towards little girls, there is plenty for boys to like as well. Some of the plot devices used in the movie are far from new, but overall, I really enjoyed this movie. Sophia Grace and Rosie are fun to watch and deliver their jokes very well. Both girls seem like naturals at being in front of the camera.
This DVD comes with special features that are mostly geared towards its younger audience. The girls love a certain color and share fun facts about it in "Pink! Pink! Pink! the Story of Pink". Viewers can sing along with the duo on five different songs from the movie during "The Royal Music Jam: Laying Down the Beats with Sophia Grace and Rosie". Sophia Grace and Rosie share some of their "Favorite Moments From The Ellen DeGeneres Show." And finally, a blooper real features flubbed outtakes from the girls and the rest of the cast in the film. As a special bonus, the Tea Time with Sophia Grace and Rosie activity booklet is included inside the DVD case.
The running time on the movie is 75 minutes, and I can only imagine that plenty of kids who love this pink-loving, princess-loving duo will be begging for their parents to let them watch this movie time and time again.