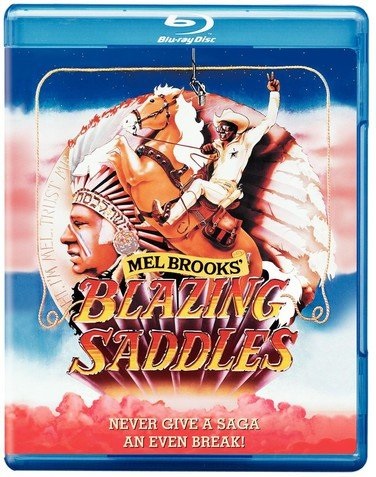 Although I prefer Mel Brooks' other masterpiece, 1974's Young Frankenstein, it took some time for me to warm to his raunchy, bold, and controversial landmark, Blazing Saddles. What hasn't been said about this uproarious send-up of the Hollywood western, and Archie Bunker politics with a little bodily humor put into the mix? Let's say Mel Brooks knows how to make spoofs that are really funny, and turn that genre on its head, and Blazing is no exception.
Many people have seen it and still laugh at the jokes, so I will try to be brief. The story centers on Hedley Lamarr (Harvey Korman), a conniving Attorney General who wants to buy land for a new railroad, and quickly drive away the townspeople who inhabit Rock Ridge, a frontier town where everyone's last name is "Johnson." So, he sends Taggart (Slim Pickens) to drive them all away, which angers and panics the folks into asking Governor William J. Le Petoman (Brooks) to appoint a sheriff. Little do they know, that Lamarr has persuaded Petoman into getting Bart (Cleavon Little), a black railroad worker who is about to be hanged, to offend everyone so that they will leave Rock Ridge and then Lamarr can buy the town. But, in humorous fashion Bart has help from a white, drunken gunslinger named Jim (Gene Wilder) to ruin Lamarr's plans and save the day.
It was pretty risque for a film of this period to be released, so when it was, some people were outraged, while other were laughing until they cried. The jokes come fast and furious, the lines (which are still quotable to this day) have the power to turn your frowns upside down, and the characters are some of the funniest people you'll ever see on the big screen. Could you imagine in this PC world, the fireworks that would be unleashed if this film was made today?
There is one famous sequence, dubbed the "Fart Symphony" that must be seen to believed. It's brutal but still very, very funny. Not to ruin the ending, but there is a surprising twist that turns the entire moviemaking process of its ear. I know film buffs and Brook fans know what I'm talking about, but for those who still haven't seen, please let them be shocked and surprised.
With this film, Brooks gathered an ensemble of comedy legends: himself, Korman, Wilder, the great Madeline Kahn as Marlene-Dietrich-like Lili von Shtupp, and Dom DeLuise as Buddy Bizarre. Also showing a talent for getting laughs was Alex Karras as Mongo, Robyn Hilton as busty Miss Stein, and in a revelatory performance, the late Cleavon Little as Bart. If you look closely at the church congregation scene, you will find Brooks' wife, the great Anne Bancroft as an extra. What a cast!
Although there is a new 40th anniversary Blu-ray released now, the special features of the original Blu-ray include additional scenes, the theatrical trailer, the 1975 pilot spinoff episode "Black Bart", and Brooks' great selected scene commentary. So whichever version you own, you will not be disappointed.
So just remember one thing: Never give a saga an even break!