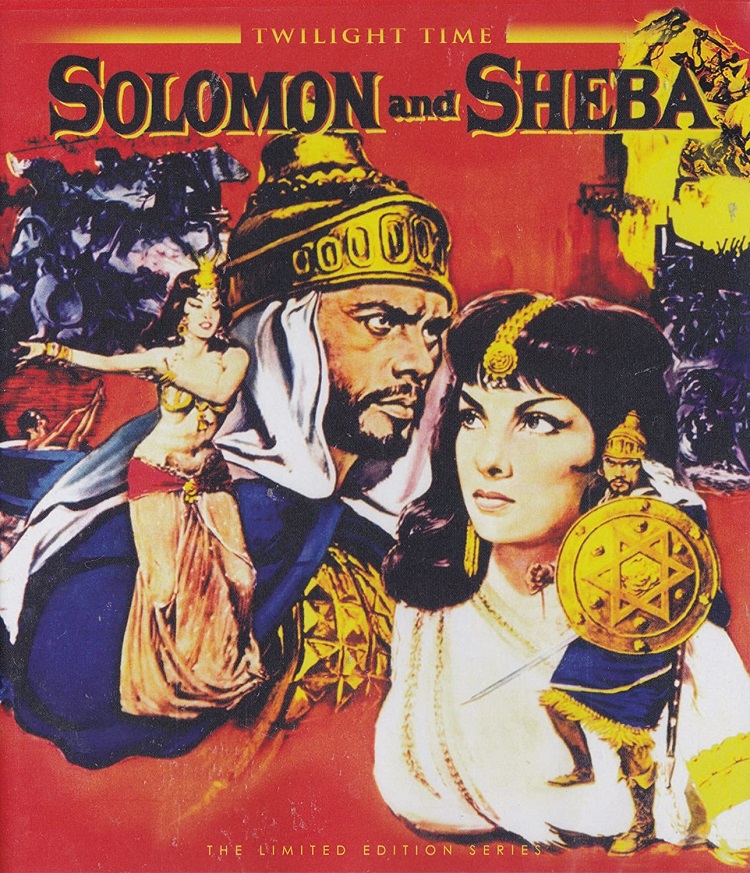 The year 1959. It was a time of luscious, extravagant widescreen productions – fueled by luscious, extravagant budgets beget by big men who were in-turn fueled by luscious, extravagant proportions of booze. As television lured audiences away from the cinemas in large droves, studios made sure to promise them the moon in exchange for their hard-earned money. And, as anyone who has ever been to the moon knows, the best way to deliver it is to not deliver it, and instead remind mankind that God really doesn't want him toying around out there in the vacuum of space like that. You're a molecule of dust in this great big cosmos, for God's sake, so stay true to the Lord and His word and all will be good.
Hopefully Tyrone Power heeded such advice, especially seeing as how he dropped dead following filming two-thirds of this King Vidor epic. After initially refusing the film's script, the late actor reconsidered once it was rewritten for him, with his production company becoming involved in the making of the picture as a result. Alas, it was not to be: the film would prove to be his final project, and – following his death by heart attack at 44 – the producers of Solomon and Sheba sat around much like the investors in All That Jazz, wondering if they should scrap the whole thing and collect even more of the insurance money they were living high off of (wait, isn't there some passage in the Bible about greed being bad or something?), or just bite the bullet, recast the lead, and pray to, well, you know.
And so, Yul Brynner – who had made for a most formidable foe in Cecil B. DeMille's 1956 remake of The Ten Commandments – became a hero for the very sort of people he enslaved in the previous picture. Sadly, the Russian-born lead took the part of Solomon too seriously, particularly when you consider English George Sanders – the very man who would commit suicide later in life when he became bored with the "sweet cesspool" the world had become in his eyes, and who was always as nonchalant as could be – was cast as his bitter brother, Adonijah (although, interestingly, both actors actually were born in Russia), in this very loosely adapted tale from a book that is already open to interpretation anyway.
When their dying father, King David (Finlay Currie, one of the lesser-popular items on a Thai restaurant menu), appoints poet Solomon as the new ruler of Israel, his warrior sibling takes great offense, thus taking the concept of sibling rivalry to a level even Cain and Abel would have blushed at. But the scholarly Solomon is taken in by the beguiling talents and traits of the Queen of Sheba herself (played here by Gina Lollobrigida), as he finds the concept of unbridled sex orgies under the supervision of a very Italian Sheban ruler highly appealing. God, on the other hand, disapproves. Soon, the newly-appointed king falls from the grace of all – most notably with the critics and even director Vidor himself, all of whom panned Brynner and his performance.
Frankly, the whole film is worthy of a good stoning, but it was a large enough attraction to make its money back at the box office – something that is probably attributable to the movie's famous G-rated sex orgy. And now you can witness the entire, entirely interminable, and entirely, thoroughly, unequivocally boring affair in sparkling High-Definition, thanks to this Blu-ray from Twilight Time. Here, the ill-fated maiden voyage of the Super Technirama 70 process (a byproduct of Technirama, a competitor of the more successful CinemaScope) receives an above-average presentation (even if I think the movie itself is sub-par) in this 1080p/MPEG-4 AVC transfer that is as easy on the eyes as Gina Lollobrigida overseeing an endless sex party.
While the United Artists film reportedly offered up both 4-track stereo and 6-track soundtracks for its respective 35mm and 70mm screenings back in the day, MGM/UA only provided Twilight Time with a 2.0 audio master, which is presented here in a DTS-HD MA fashion. And it's not all that bad, either. In fact – the movie's terrible dialogue aside, which you can truly let sink in with the optional English (SDH) subtitles, should you want to – it's pretty darn good! Also on hand here is a DTS-HD MA 2.0 track which presents us with an isolated score of '60s adventure and eurospy composer Mario Nascimbene's contributions along with sound effects. The Blu-ray wraps up with two theatrical trailers and liner notes by the one and only Julie Kirgo. Solomon and Sheba is limited to 3,000 copies.