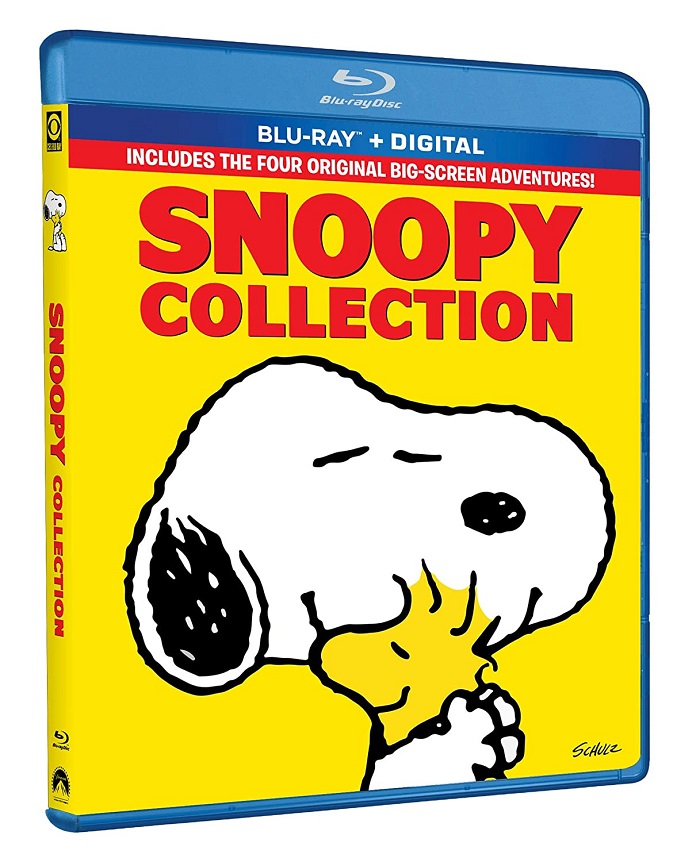 Charles Schulz's iconic comic strip Peanuts ran in newspapers for nearly 50 years. It became a multimedia sensation because Schulz did more than simply write gags. Within the humorous stories, he explored facets of life through the personalities of his indelible characters with whom readers and viewers could identify.
Previously released on DVD as Peanuts 4-Movie Collection, the newly titled Snoopy Collection presents on Blu-ray the four feature-length Peanuts movies: A Boy Named Charlie Brown (1969); Snoopy, Come Home (1972); Race for Your Life, Charlie Brown (1977); and Bon Voyage, Charlie Brown (and Don't Come Back!!) (1980) with the latter two making their debuts on the HD format. The team behind the TV specials (writer Schulz, director Bill Melendez, and producer Lee Mendelson) created them all.
A Boy Named Charlie Brown centers around perpetual loser Charlie Brown finding something he's good at: spelling. After studying with Linus and Snoopy, he wins the school spelling bee championship. He must then head to NYC for the National Spelling Bee. The movie features familiar running gags, such as Snoopy fighting the Red Baron, a visit to Lucy's psychiatric booth, and an attempt at kicking Lucy's football. It's very funny and the characters stay consistent.
Snoopy, Come Home expands on Snoopy's history. His previous owner Lila is sick in the hospital and sends for him. Accompanied by Woodstock, he ventures out to see her, much to Charlie Brown's worry, which is justified. Not only are Snoopy and Woodstock captured by Clara, Snoopy is torn about which owner to stay with. Throughout the movie, Snoopy has to deal with places where "No Dogs [are] Allowed," a phrase repeated by Thurl Ravenscroft.
In Race for Your Life, Charlie Brown, the gang goes to summer camp where they have to deal with a group of bullies and their cat. The big event is a river race against the bullies, known cheaters. The gang is divided into three boats: Charlie Brown leads the boys, Peppermint Patty leads the girls, and Snoopy and Woodstock. Schulz has the race leader continue to change and the eventual winner is a fun surprise. It was also nice to see Charlie Brown gain some confidence.
In Bon Voyage, Charlie Brown (and Don't Come Back!!), he, Linus, Peppermint Patty, and Marcie are selected to be exchange students in France. Charlie Brown invites Snoopy and Woodstock to join them. Charlie Brown receives a letter to stay at a chateau that translates into "House of the Bad Neighbor." Mystery abounds when they don't encounter anyone and have to sleep outside in a stable. It's a rather odd story that falters because the motivation of a couple of the French characters make no sense. Also, odd is adults speaking, which doesn't usually happen in Peanuts. Snoopy playing at Wimbledon and yelling at French drivers is fun, as is Peppermint Patty's cluelessness as she mistakenly thinks a boy who is into Marcie is into her.
Boy and Snoopy are presented in a 4:3 aspect ratio while Race and Voyage are in 16:9. The colors come through well with strong primary hues and lighter shades on the back grounds. Blacks are inky and whites are brights. There are occasional spots and marks from the animation cels. The audio for Boy and Snoopy are available in 5.1 DTS-HD Master Audio. Neither make much use of the surround sound system, delivering a front-center experience. Dialogue is clear, the scores have good fidelity, and the effects come through with adequate clarity. Race and Voyage are available in Dolby TrueHD 2.0 mono so the tracks' front-center focus is more expected. The only extras are the trailers for Race and Voyage, and "Travels with Charlie: The Makings of Bon Voyage, Charlie Brown" (20 min), which covers both Voyage and Race.
The first three movies in the Snoopy Collection are very entertaining, and while the fourth has a weak story, there are still some delightful bits in it. The high-def presentation is satisfactory, although the video could be cleaner. Some might want an expanded audio field but the limited tracks are more in tune with the TV specials. I could have used more extras about the making of the movies and those involved. Yet with all my criticisms, this set is a must-own, particularly for Peanuts fans.