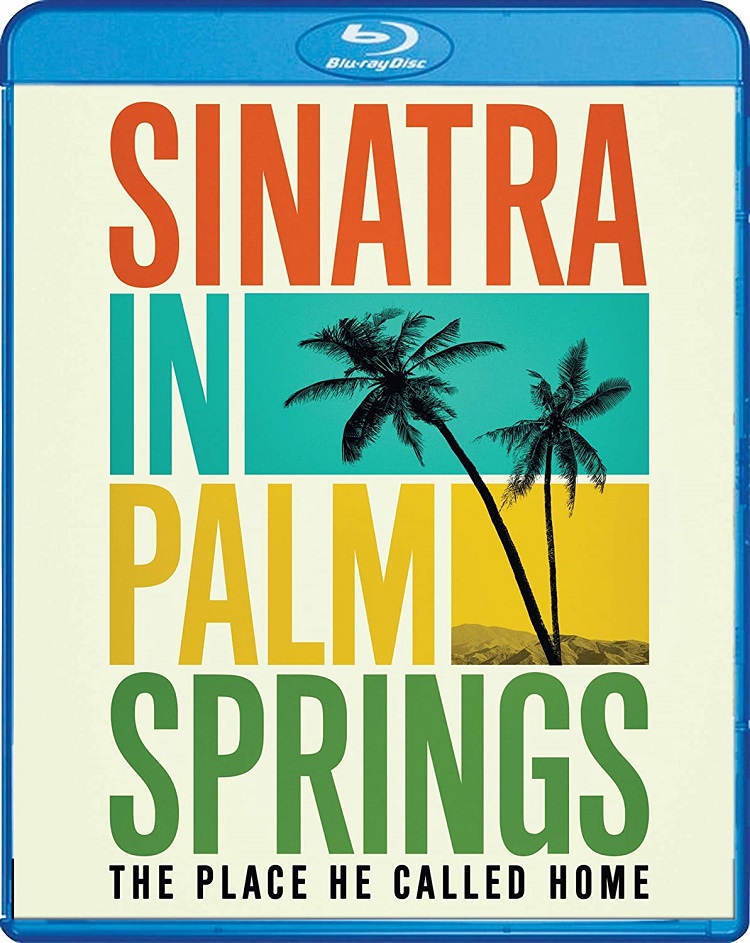 Frank Sinatra was born in New Jersey and synonymous with New York City. He also defined what a Las Vegas entertainer could be. The place where he made his home, however, where he could be himself, was Palm Springs. Sinatra in Palm Springs: The Place He Called Home takes an excellent look at the California city where Sinatra spent the last half-century of his life.
Directed by Leo Zahn, Sinatra in Palm Springs mixes archival footage with present-day interviews with many of the people who were around Sinatra during his time in Palm Springs. Sinatra's third wife, Barbara, is interviewed extensively. As she has since passed away, this is invaluable information about the man she knew better than anyone. The documentary also interviews, among others, comedian Tom Dreesen, who toured with Sinatra as his opening act; singer Trini Lopez, who was friends with Sinatra and recorded on his Reprise record label; Mel Haber (who has also since passed away), the owner of Melvyn's and the Ingleside Inn; newspaper writer Bruce Fessier; and Nelda Linsk, a personal friend of Barbara Sinatra's. All offer fond memories of the man, but who also pull no punches at some of the negative aspects of his life. It is in this way that Sinatra in Palm Springs presents a balanced account of the man.
Sinatra was first introduced to Palm Springs by songwriter Jimmy Van Heusen in the 1940s and he quickly fell in love with the area and the idea that he could be out of the Hollywood spotlight. E. Stewart Williams designed his modern-style home, and Sinatra insisted it be ready for his 1947 Christmas party. Sinatra later let his home be used for a Joan Crawford movie. Ironically, in addition to the privacy it offered, Sinatra envisioned it as a family home, but he met Ava Gardner soon after and that changed all of that.
After Sinatra's split with Gardner, he moved 10 miles east to Rancho Mirage, to be near the Tamarisk golf course that had less membership restrictions than the one in Palm Springs. Sinatra decided to build a compound in the area and arranged so if people became a member of the course, they received a plot of land in the area. This was a way to bring his friends and business associates to him. Sinatra used his celebrity clout to get famed golfer Ben Hogan to help sell memberships. Through the years, countless famous friends of Sinatra's, such as Gregory Peck, Clint Eastwood, and Angie Dickinson stayed at the compound, which had homes named after Sinatra's songs.
Many of the restaurants Sinatra frequented are featured in the documentary, including: Lord Fletcher's, Melvyn's, The Ingleside Inn, Club Trinidad, and the Purple Room. People were often shocked how Sinatra would dine in the open with the regulars and, for the most part, most of them respected his privacy. The Palm Springs area adopted him as one of their own and he them. It was one of many reasons he loved the area.
Sinatra's good and bad character traits are also discussed at length. Lopez mentions how he always called him Mr. Sinatra out of respect and how Sinatra never said, "Call me Frank." His temper (he had been known to occasionally throw a plate of food at a wall if it wasn't too his liking) could cause problems too, but his charitable acts far outweighed them. Sinatra paid the full medical expenses of a busboy at Lord Fletcher's who was robbed and beaten for instance and he liked to peruse the newspaper to look for people in need he could help anonymously. Sinatra in Palm Springs offers a Sinatra who was a complicated, but generally generous man.
The video is presented in 1080p Widescreen (1.78:1) and looks great. There are numerous archival clips in the form of still photos, home movies, concert footage, and movie clips and the producers have done a good job of making them all fit in seamlessly. Audio options include DTS-HD Master Audio 5.1. The Blu-ray also includes several interview snippets that did not make the final cut, but remain interesting nonetheless and further complete the picture of Sinatra the film is trying to make.
Sinatra in Palm Springs: The Place He Called Home does a good job of showing the mutual love affair Sinatra and the city had for each other. With modern interviews and archival footage, one feels as if they are getting to know the man himself. The documentary is worth watching for sure.