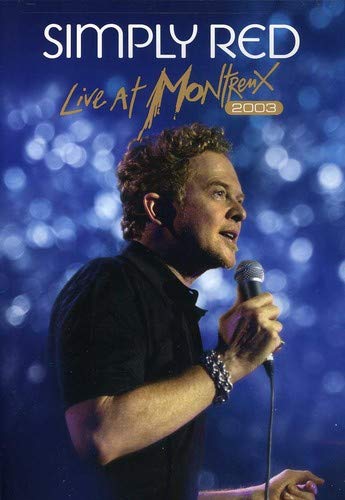 For most Americans, the words "Simply Red" conjure images of a man bearing a shock of red, curly hair, earnestly belting out the soulful ballad "Holding Back the Years" back in 1985. In reality, the band (whose only consistent member is lead singer Mick Hucknall) has since produced a steady stream of solid blue-eyed soul, eventually leading to Hucknall dissolving the group in 2010 to pursue a full-time solo career. While Simply Red may have ended, fans can appreciate and rediscover them through the DVD Simply Red Live at Montreux 2003, a showcase for Hucknall's still-intact voice as well as his then-latest lineup of talented musicians.
The year 2003 finds the group touring behind their first independent label release, Home, which scored the international hit "Sunrise." Clearly buoyed by this success, the youthful Hucknall smiles and shimmies through a mixture of hits, Home tracks, and R&B covers. Keenly aware of the venue, Simply Red emphasizes jazz re-arrangements and collaborations with other jazz artists such as pianist Joe Sample. Sample's influence is most evident on "Lost Weekend," which bears Sample's lush chord changes that effectively cushion Hucknall's falsetto. In addition to jazz, the group ventures into reggae with "Night Nurse," their collaboration with top reggae producers Sly and Robbie.
But Hucknall really impresses on his soaring rendition of the Stylistics' "You Make Me Feel Brand New." Here he shows the full range of his vocal chops, seemingly effortlessly singing three different parts in wildly varying keys. His debt to '70s soul shines through, reflecting Britain's enduring love of R&B. As the concert continues, the songs proudly wear the '70s flag: 1985's "Come to My Aid" excites the crowd with Hucknall's vocal acrobatics, while he convincingly amps the sex appeal on "Thrill Me." As he alternately croons, growls, and yells, the wah-wah pedaled guitar and funky bass line propel this slow burner. "The Right Thing," the internationally successful single from 1987's Men and Women album, is simply English blue-eyed soul personified.
Moving to the '90s, Hucknall yowls through the funky "Something Got Me Started" from the underrated (in America) album Stars. His highly professional band should also receive kudos, as their jam during this uptempo track illustrates that Hucknall wanted only the best musicians for this Montreux appearance. But the '80s returns for the first encore, with Hucknall at first playing an "unplugged" version of "Holding Back the Years." The full band arrangement appears about halfway through the tune, but Hucknall's rendition featuring him singing while playing acoustic guitar should have comprised the entire song. The delicate ballad is immediately followed by the oddly prescient "Money's Too Tight (to Mention)," which name-checks Reaganomics but could just as well apply to today's economic crisis: "Oh lord down in the Congress/ They're passing all kinds – of bills/ From down Capitol Hill – (we've tried them)," he bemoans as the band jams behind him. "Money's too tight to men­tion/ I can't get an unemployment extension." By the time Simply Red reaches their final encore, the midtempo track "Sunrise" (which is built around a sample of Hall and Oates' "I Can't Go for That [No Can Do]"), the audience dances and wave their hands in the air, apparently enchanted with Hucknall's impish grin and high-energy vocals.
As a bonus, seven tracks from Simply Red's 2010 farewell concert at Montreux are included. Despite being only seven years after their last appearance, Hucknall seems to have rapidly aged. Nonetheless, his vocals still radiate on David Byrne's "Heaven," lending a gospel quality to the track. The soul covers continue with "Ain't That A Lot of Love," the 1966 Homer Banks classic to which Simply Red lends a slight house-music sheen. While the electronic, pulsating percussion may be an unnecessary touch, Hucknall's strong voice and the hard-playing band rescue the track from generic dance oblivion. The bonus feature concludes with their hit cover of Harold Melvin and the Blue Notes' "If You Don't Know Me by Now"; while Hucknall cannot match Teddy Pendergrass' husky sensuality, he still captures the plaintive quality of the song's heartbreaking lyrics.
Shot in high definition and boasting high-quality audio, Simply Red Live in Montreux chronicles a band at the peak of their creativity. It also presents a convincing argument that Simply Red should have achieved more success in America. Nevertheless, fans of blue-eyed, English soul as well as Simply Red enthusiasts should add this DVD to their collection.