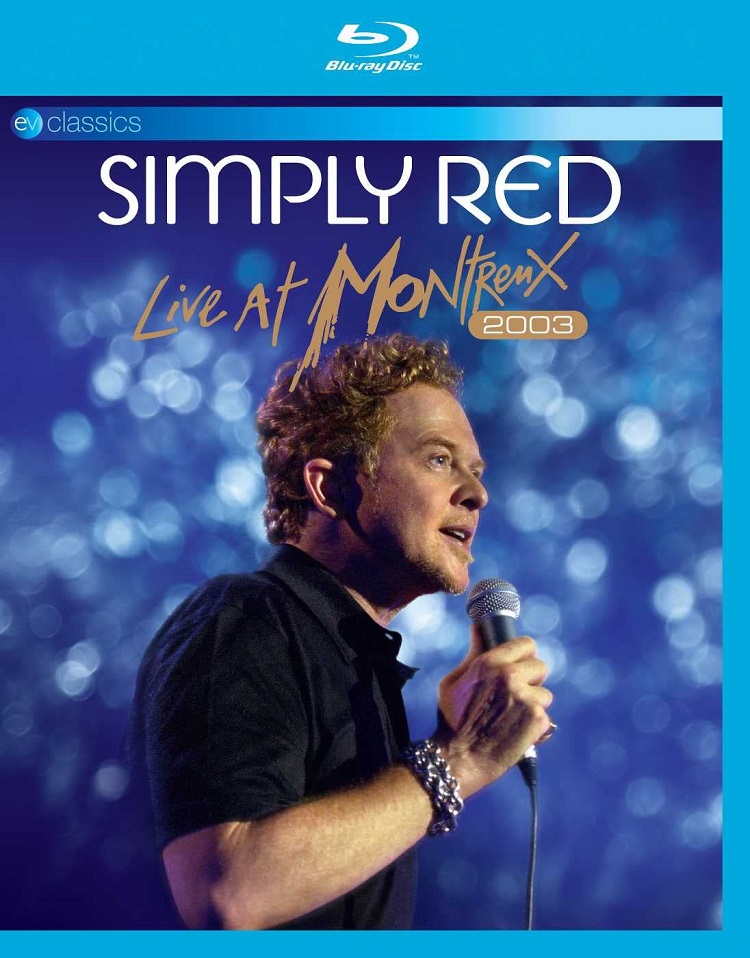 For 25 years, Simply Red offered their British take on American bluesy, blue-eyed soul. Driven by the powerhouse vocals of leader Mick Hucknall, the band was a popular visitor to the Montreux Jazz Festival stage. Their performance at the 2003 festival, along with selected tracks from a 2010 appearance on their farewell tour make up the Blu-ray Simply Red: Live at Montreux 2003.
The show opens with "Sad Old Red," from the band's debut album, Picture Book. The track's jazzy, walking bassline and subtle piano provide stark contrast to Hucknall's impressive vocals and help set the tone for the rest of the show. The band then offers a breezy rendition of "Enough," with some fine, rhythmic guitar playing from Kenji Suzuki.
"Holding Back The Years" features Hucknall on solo acoustic guitar for the first part of the song, giving it a slightly different feel. The band later joins in and Kevin Robinson's muted trumpet helps color this signature song. Robinson's trumpet is piercing on the brassy, confident "The Right Thing," with the whole track recalling the glory years of Stax while Hucknall delivers a spirited, soulful version of "Money's Too Tight To Mention."
It wasn't all old songs in the show, however. Six songs featured from their then-new album, Home, including "Home Loan Blues" a funky, horn-laced track with a driving bass, as well as a stunning cover of the Stylistics' "You Make Me Feel Brand New."
The 2010 set includes seven songs not featured in the 2003 performance. Among these are the funk workouts, "Out On The Range" and "To Be With You" and a soulful cover of "If You Don't Know Me By Now" that includes ample audience participation. While it would have been nice to have the whole concert, Eagle Vision chose not to have any repetition between shows.
The picture and sound quality are outstanding throughout. The video is presented in 1080i high definition widescreen 16×9 (1.78:1) while there are three audio options: LPCM Stereo, Dolby Digital 5.1 and DTS-HD Master Audio.
Live at Montreux 2003 shows Simply Red at the beginning of their rebirth and at the end of the line, but the band, and particularly Hucknall, are strong throughout both shows. While Hucknall was the only original member left at Simply Red's end, the live lineup was the same for both shows, offering a sense of continuity. Hucknall's unique voice has never left him and it is a big part of why the band was so successful for so long. Better to go out on top.