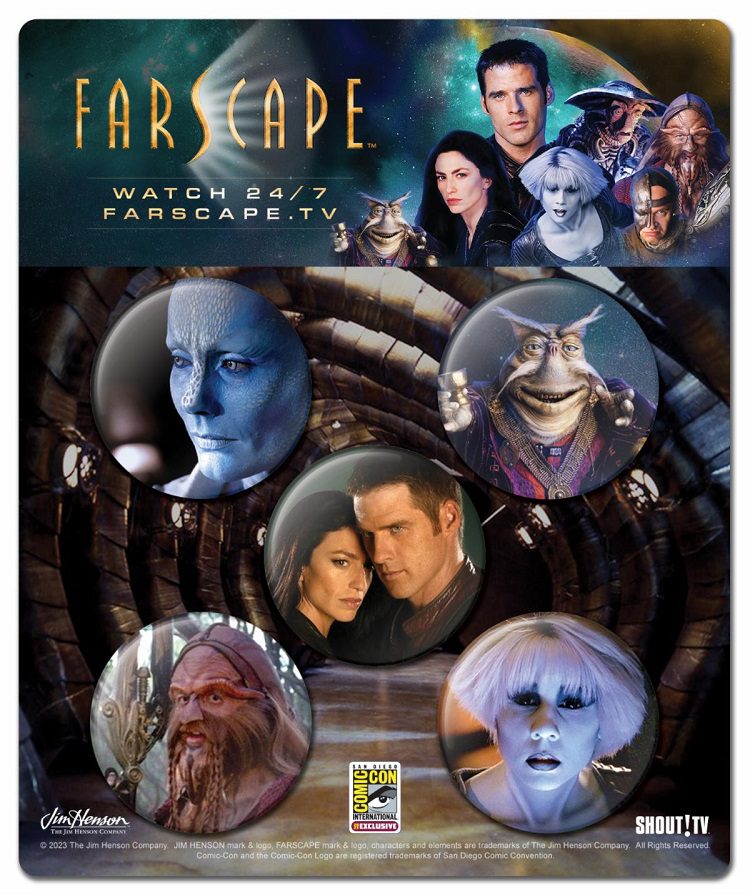 Shout! Studios is thrilled to announce its return to the convention center this summer for San Diego Comic-Con 2023! Showcasing fan favorites and the best of pop culture, this year's highlights include ALF, a photo opportunity and giveaways in celebration of the studio's new partnership with Aardman Animations, Shout! TV's Always a Sword: A Sword & Sorcery Adventure marathon, SDCC exclusive giveaways, and more! Visit the Shout! Studios booth at #4118 to check out this year's activities.  
This year, Shout! will be giving away a number of exclusive items at its booth. Everyone's favorite alien is back—in milk cap form—with the SDCC exclusive ALF Milk Cap toy, promoting the series' latest home on Shout! TV. Fans of animation classics from Aardman Animations won't want to miss Shaun the Sheep headbands or the Wallace & Gromit: The Wrong Trousers photo opportunity commemorating the 30th anniversary of beloved film. Role-playing game enthusiasts can pick up a custom SDCC exclusive Shout! Studios 20-sided die to run their own sword and sorcery adventures, and fans of the cult TV series Farscape can pick up a commemorative button pack.
Can't make it to San Diego for the convention this year? Tune into Shout! TV for an exciting lineup of magic spells and epic encounters with Always a Sword: A Sword & Sorcery Adventure. Shout! TV remixes their fan-favorite 2019 celebrity role-playing dungeons and dragons game night special by re-cutting and re-imagining it into an epic episodic series. The quest begins the first night of Comic-Con international, July 19th, at 8pm ET / 5pm PT only on Shout! TV ! Shout TV is available on a variety of platforms, live and on-demand, via both free and subscription without ads options.
Shout! Studios will be selling a variety of its Blu-ray, Steelbook and box set releases at this year's convention, from the most popular new releases to cult favorites you may have missed! This year, the studio is also selling enamel pin sets from a variety of its most popular collector's editions, available for the first time for stand-alone purchase.
For continuing updates on Shout! Studios' Comic-Con activities and news, please visit ShoutStudios.com and follow us on social @Shout_Studios.          
On Sale at Shout! Studios Booth #4118
Army Of Darkness [Collector's Edition] 4K UHD
BELLE Limited Edition Steelbook
The Burning [Collector's Edition]
Coraline [Limited Edition Steelbook]
Creepshow: Collector's Edition + poster
Ferngully: The Last Rainforest [30th Anniversary Edition]
Howl's Moving Castle [Limited Edition Steelbook]
The Jackie Chan Collection, Vol. 2 (1983 – 1993)
The Magic Flute BD/DVD combo
Motel Hell [Collector's Edition] + Exclusive Poster
My Neighbor Totoro [Limited Edition Steelbook]
Ponyo [Limited Edition Steelbook]
A Shaun The Sheep Movie: Farmageddon
Spirited Away [Limited Edition Steelbook]
Weathering With You [Limited Edition Steelbook]
Army Of Darkness Enamel Pins
Black Christmas Enamel Pins
Bubba Ho-Tep Enamel Pins
Carrie Enamel Pins
Chucky Enamel Pins
Escape From New York Enamel Pins
The Fog Enamel Pins
Happy Death Day Enamel Pins
Piranha Enamel Pins
Red Dawn Enamel Pins
Return Of The Living Dead Enamel Pins
They Live Enamel Pins