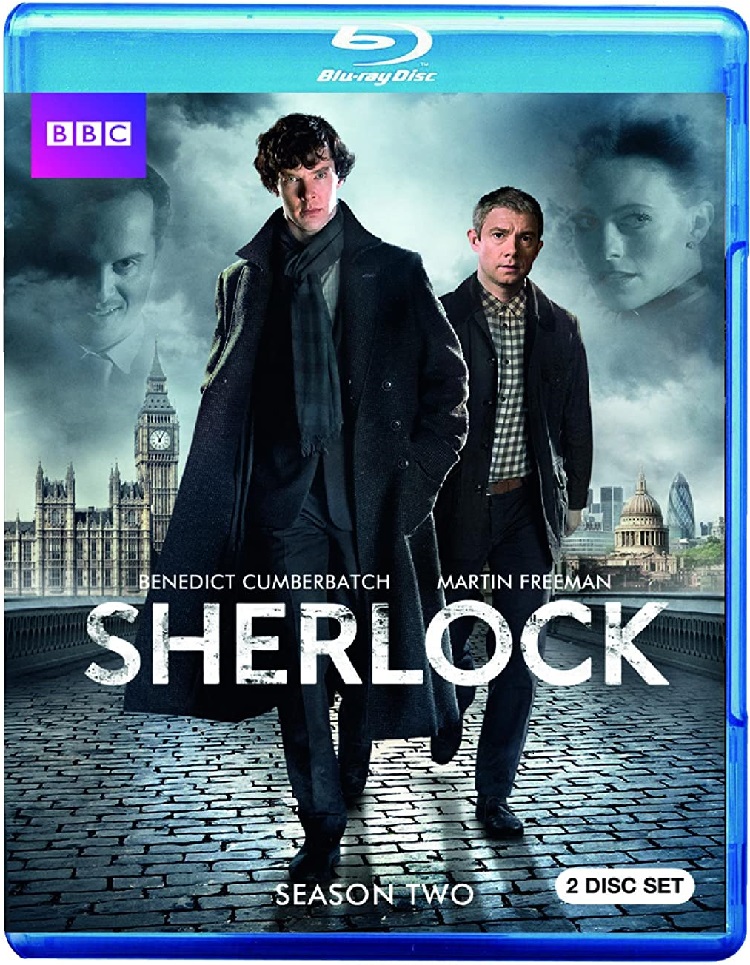 I have a very mixed relationship with Sherlock Holmes – I am both utterly fascinated with the character, and more than slightly annoyed at his God-like abilities. He's an interesting character, well drawn and utterly sunk into our culture, and yet all too often he seems to solve crimes by doing nothing more than looking intently at something. I realize that's the point, that he uses his big brain and skills of observation and deduction but it often feels like a writer's trick rather than real detecting. Still, I do enjoy reading the stories and am always ready to catch him in adaptation on the big and little screens.
Very recently he has been adapted as both. Robert Downey, Jr and Jude Law have played Holmes and Dr. Watson twice now on the big screen while Benedict Cumberpath and Martin Freeman have enjoyed two seasons of the duo on television screens. Frankly, I give the victory to the TV crew. Creators Steven Moffat and Mark Gatis have updated the detective to the 21st century and given young Sherlock every convenience of modern science and yet he still uses his mental powers to solve the case. It's intriguing, interesting, funny, and full of enough twists and differences between the original stories to both enthrall and terrorize fans.
Being a BBC series (with PBS working with them in the States) each season (or series as they say over there) is but three episodes long (each lasting approximately 90 minutes.) The last episode aired on PBS last Sunday, and I managed to miss it, but the first two episodes were excellent and I have no doubt they kept up the pace with the finale. All of which makes Sherlock: Season Two my Pick of the Week. Here's to many more years of sleuthing. Read Steve Geise's review.
Other titles out this week that look interesting:
The Secret World of Arrietty (Blu-ray): Studio Ghibli and writer/producer/director Hayao Miyazaki have created some of the most creative, imaginative, wonderful animated films in the world. For my money I'd put them right up there with Pixar and sometimes I'd let them win. In the Secret World of Arriety (which I had not heard of until moments before writing this – which is how Miyazaki films always seem to come to me, like little secret surprises full of mirth and wonder) is based upon Mary Norton's story The Borrowers about tiny humanlike creatures who live secretly beneath the floorboards and in gardens. It doesn't really matter what it's about though as I'll always be excited about a new Miyazaki film. Extras include both the original language track and a new English dub, Japanese storyboards, music videos, a making of feature about the music videos and some trailers. Read Steve Geise's review.
Whisper of the Heart/Castle in the Sky (Blu-ray): Along with the brand new Miyazaki release, these two classic releases from the same are coming out this week separately in pretty basic looking sets.
Woman in Black (Blu-ray): Daniel Radcliffe's first major attempt to shed the Harry Potter skin and become his own actor is a classic ghost story. He plays a young lawyer sent to a remote village to organize a recently deceased man's papers only to discover the ghost of a scorned woman ready for revenge. It got decent reviews, including from Sentry Will McKinley, and from the trailers it looks and feels like a classic bit of spookery. Extras include audio commentary, a couple of quick features, and a digital copy.
Certified Copy (Criterion Blu-ray): I don't know anything about this film other than it stars Juliette Binoche and Juliette Binoche is always worth watching. Amazon says it is about two people in Tuscany getting to know each other over the course of an afternoon which gradually turns into something more than just two people talking. Extras include a new high-definition transfer, an interview with the director, a documentary on the film, a new English subtitle, and a booklet. Read Steve Geise's review.