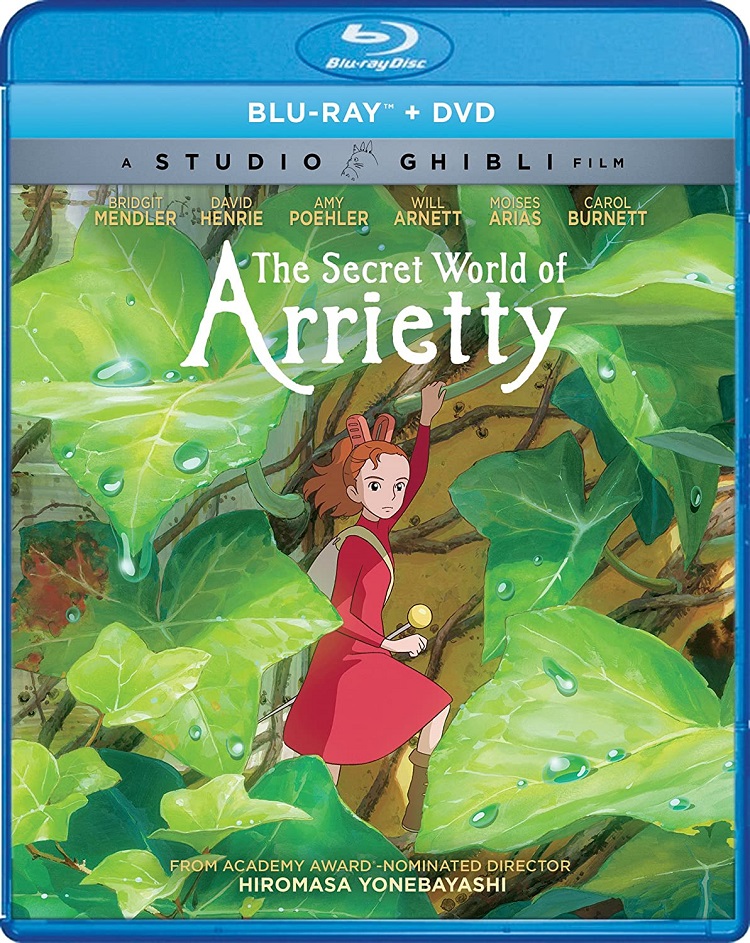 Even when legendary animation director Hayao Miyazaki isn't officially helming films for Studio Ghibli, his touch is so ingrained in their process that the results are instantly recognizable. From character designs to its plucky young female protagonist to the incredibly lush backgrounds celebrating the power of nature's beauty, Ghibli's latest work is a Miyazaki film in everything but the director's name. The master serves as writer and producer this time around, while the directing duties are held by Ghibli loyalist Hiromasa Yonebashi, filling in quite nicely in an unenviable position.
Arrietty is a "Borrower", one of a race of tiny people who survive by stealing small portions of things humans won't miss. She lives with her mother and father beneath the floorboards of a human house, and has just reached the age where she can go out on borrowing missions with her father. The parents insist on hiding from the humans, who they call "beans", fearing that discovery will lead to their destruction. Of course Arrietty quickly meets a bean, but luckily he's a compassionate invalid boy who only wants to be her friend. Unfortunately, the old lady caring for him is determined to prove the existence of the borrowers and her snooping forces the clan to start seeking a new home.
The story is based on a series of Borrowers books by author Mary Norton. Miyazaki may have benefitted from delving a bit deeper into the novels, as his plot for the film is paper-thin and unspools at an extremely languid pace, with no real antagonist aside from the temporarily threatening old lady bean, and not much emotional payoff in the relationship between Arietty and the boy. However, the artistry on display ranks near the top of Studio Ghibli's amazing library, with a bit of a big-budget Totoro feel to the insanely gorgeous and highly detailed nature surrounding the country home. Unlike most Ghibli productions, there are no magical elements at play in the story, aside from the obvious little people, but the backgrounds and hand-drawn animation are so impressive that even a fairly weak story can't derail this fantastic experience.
For the film's U.S. release, distributor Disney cobbled together an impressive vocal cast headlined by Disney Channel star Bridgit Mendler in the lead role, along with real life spouses Will Arnett and Amy Poehler as her parents, and Carol Burnett as a meddlesome old lady. With all the comedy talent on hand, one might expect a hilarious movie, but one would then be very disappointed. The cast is certainly capable in their roles, but their comic talents are completely wasted on the very straightforward and serious script. Surprisingly, Mendler is the best thing about the U.S. cast, as she nails the leading role and proves to be a great match for its demands.
Of course, none of this matters to the anime purists who will discard the English dub completely in favor of the original Japanese audio and English subs, and thankfully Disney has met the demands of the core audience by retaining those options. Even better, they have given equal Blu-ray disc real estate to the English and Japanese audio tracks, presenting both options in 5.1 DTS-HD Master Audio. There's also a French 5.1 Dolby Digital track for our French Canadian friends.
The Blu-ray image quality is phenomenal, with impeccable hi-def resolution and rich, vibrant colors from beginning to end. The cel animation artistry is breathtaking and well worth experiencing in high definition. Although the film is listed as a standard 1.85:1 widescreen aspect ratio, I got sizeable black bands at the top and bottom of my screen for some reason, nowhere near as large as 2.35:1 but still perplexing. I have no explanation for the variance, but at least for my setup, changing the TV from scan to 16×9 solved the issue if needed.
The bonus features are headlined by an enthralling storyboard presentation of the film, along with an exhaustive collection of original Japanese trailers and television commercials. Elsewhere, there's a music video of the film's original theme song, "Arrietty's Song" by Cecile Corbel, and in a crass nod to Disney cross-promotion, a music video of Mendler's "Summertime" song that has been appended over the U.S. end credits, along with a making-of/behind-the-scenes featurette of that video. If that's the small Disney tax we have to pay to keep them releasing the amazing Ghibli library, it's fine by me.
The Secret World of Arrietty arrives on U.S. 2-disc Blu-ray/DVD combo pack, single-disc DVD, and digital download on Tuesday, May 22nd. Disney is also releasing two other Ghibli catalog titles on Blu-ray at the same time: Castle in the Sky and Whisper of the Heart. Some retailers including Best Buy and Target are offering $8 off a combined purchase of two Ghibli Blu-ray titles this week, so if you're thinking of building your library this is a great week for it.