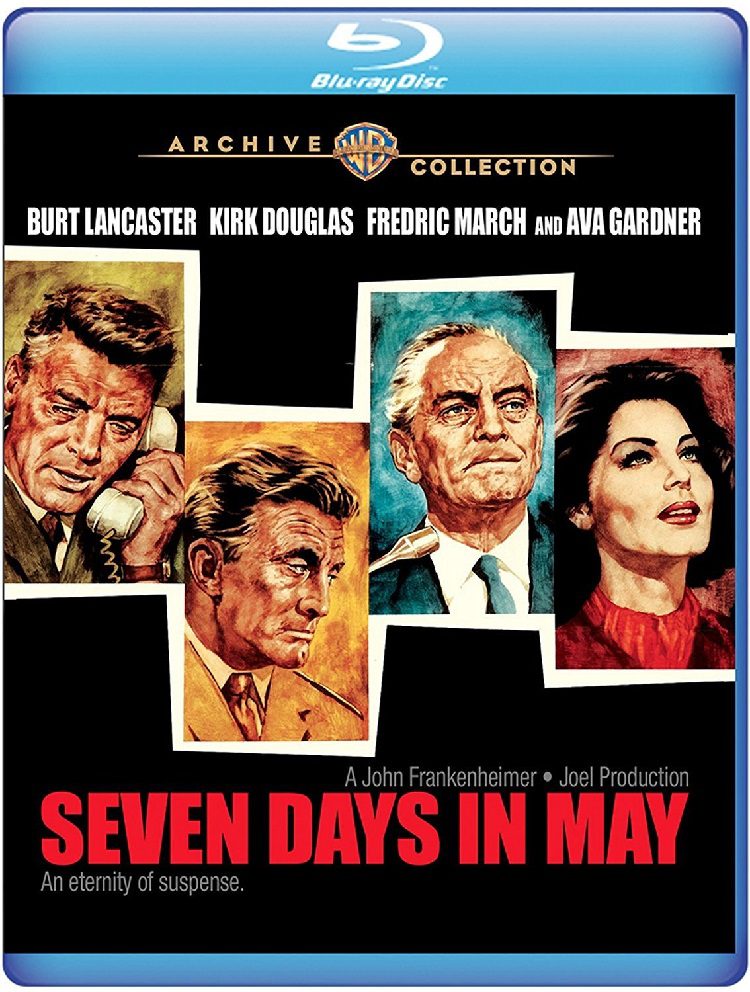 The looming threat of nuclear war. A less-than-favorable US President sporting the lowest approval on record in a heap of trouble concerning Russia. No, it's not something ripped straight from today's news; rather, it's the setting for Seven Days in May ‒ a tense 1964 political thriller from director John Frankenheimer and Twilight Zone creator Rod Serling. Released theatrically by Paramount Pictures just two years after the director's previous offering, The Manchurian Candidate, Seven Days in May reunites Frankenheimer with one of his best-known on-screen collaborators, the great Burt Lancaster.
Set in an early Cold War-era version of the '70s (as opposed to the Energy Crisis '70s we were rewarded with instead), Seven Days in May opens with the good ol' US of A in a rather peculiar predicament. While he may have had the most noblest of intentions at heart, President Lyman (Fredric March, in one of his final roles) has made a pact with the Soviet Union for a disarmament treaty. Naturally, just about everyone in America hates him now ‒ especially his many political opponents who worry them Ruskies are gonna pull a fast one on the US and blow the country off the map when no one's looking. Because Russians are a sneaky lot like that.
In fact, Lyman's biggest opponents, the highly decorated Gen. Scott (Lancaster), has quickly escalated up the ol' popularity ladder as the tough successor America needs. Once they remove Lyman from the Oval Office, that is ‒ which is where the real story of Seven Days in May comes into play. For it turns out the real enemy is Gen. Scott himself, who has been planning to take full advantage of the President's sincere gesture at making the world a better place by arranging a coup d'etat via a secret military unit he and his fellow traitors have been building out in the desert somewhere. All they have to do is wait until the right moment.
Thankfully for democracy and viewers alike, one of Scott's closest allies, USMC Colonel Casey (played to the hilt by Kirk Douglas, who also co-produced) stumbles upon the General's plan. Alerting the White House to the impending danger, Lyman quickly gathers his most trusted colleagues together in order to spare the nation from a possible preemptive strike from the bad guys on the outside in the event of a government coup. As the President's closest associates spread out to gather enough evidence to nab Scott before he royally screws everything up, Casey pursues a different source of information: blackmailing the woman between them, as played by Ms. Ava Gardner.
Co-starring on the side of the good guys in this engaging, riveting, and still terrifying (especially at the time of this writing!) paranoiac thriller are such greats as Edmund O'Brien (playing a boozing senator instead of the regular boozer he usually played), the one and only Martin Balsam, and even B-movie icon George Macready. Andrew Duggan, Hugh Marlowe, and Whit Bissell also receive memorable credited supporting roles. Eagle-eyed viewers of classic media may spot a certain character actor named Bill Raisch, who made television history several months prior portraying the one-armed man The Fugitive would chase after for four years.
Sporting magnificent cinematography from Ellsworth Fredericks (who photographed two sci-fi classics from opposite sides of the political spectrum during the previous McCarthy Era decade: Invasion of the Body Snatchers and World Without End) and tight editing by Ferris Webster, Seven Days in May looks better than ever in this new Blu-ray from the Warner Archive Collection. Scanned in 2K from a new master positive struck from the original negative, Seven Days in May is another beautiful presentation from the WAC. Framed at 1.78:1, the film arrives on Blu-ray in a MPEG-4 AVC codec with DTS-HD MA 2.0 Mono sound.
Remastered from original vault elements, the soundtrack (featuring an early score by Jerry Goldsmith!) is very clear and concise throughout, and removable English (SDH) subtitles are included. A secondary audio option ‒ that of a feature-length commentary by the late John Frankenheimer, as recorded in 1999 ‒ begins the very short list of bonus materials for this High-Definition Warner Archive offering. Wrapping up the release is the original (and surprisingly long) theatrical trailer, which has been remastered in 1080p specifically for this Highly Recommended release. Sure, the subject matter might hit a little too close to home to still be considered "fiction" today, but it's still a damn good film either way.
Highly Recommended.