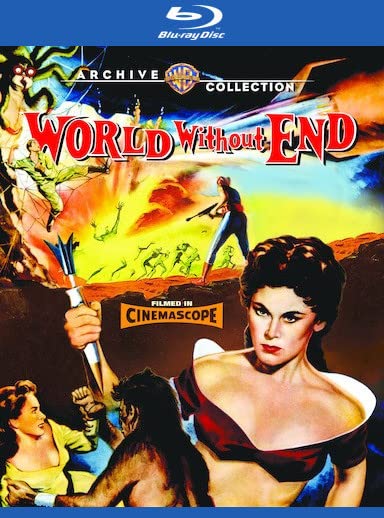 While the notion of living in a world ravaged by nuclear war may be a regular staple in motion pictures today, it was just as much of a newfangled concept in the 1950s as was the very thought of a post-apocalyptic society itself. Of course, when it's an era where the basic "science" behind surviving an atomic blast suggested hiding under your school desk would do the trick, you have to expect a fair bit of silliness from the few movies that dared to tackle the subject. Certainly, Edward Bernds' World Without End ‒ a lavish Technicolor CinemaScope production from B movie outfit Allied Artists (formerly Monogram Pictures) ‒ is one such picture. And then some.
Working hard to shed the Poverty Row image of their company's past, Allied Artists spared no expense in the making of this film. Well, in a financially conservative fashion, that is ‒ most of the costumes, critters, and even footage seen in World Without End were recycled from other productions. But that just means more money to spend on big name actors and a finely polished script, right? OK, so maybe that's not entirely the case with World Without End, but we'll certainly give them the benefit of the doubt. After all, it was the '50s, and every single American knew full well God would protect them when nuclear war eventually broke out and killed off all of the Communists.
The story begins with four astronauts ‒ including Hugh Marlowe and a recently acquired Australian import named Rod Taylor ‒ blasting off for space in the 1950s like the great bunch of fearless white, science-less pioneers they are. Encountering a freak anomaly in the speckled black velvet sky above, our heroes return to Earth some 550 years later, only to find things have changed some. For starters, everyone they know and love is dead, but that hardly affects most of them since they're astronauts and stuff. But it turns out that most of the planet's population is also suffering from a severe case of being no more, having been victims of a nuclear holocaust 320 years before.
Even without a Starbucks on every corner, our valiant protagonists move ever onward throughout the vast landscape of Iverson Ranch, eventually discovering awesome sights such as giant killer spider puppets and a race of mutants (or "mutates" as director/screenwriter Bernds prefers to call them) who don't take kindly to no strangers from this world or the previous one. And, just when things start to look like they might turn a bit grim for the boys, they happen across an underground society of (all white) humans with all the cool stuff you'd imagine such a race would have, including big screen TVs, skullcaps, Dr. Caligari architecture, and dames clad in short skirts and pointy bras.
Better still, the women of this society are not only still under the domination of men, but the men of the future are all a bunch of impotent wussies, which makes the viral manliness of the lost cosmic travelers all the more attractive. Especially when that Rod Taylor fellow takes his shirt off, partly due to the theory that the women of the future probably aren't smart enough to figure out how to unhook their own torpedo-shaped undergarments, but mostly because repressed women go nuts for manly men with manly chest hair. In fact, the late Mr. Taylor has two chicks vying for his attention, including Shawn Smith (aka Shirley Patterson) and cute young outcast Lisa Montell.
Just imagine what luck Rod would have had if he didn't try to bury his Australian accent! But, of course, it would have just been plain silly for the Americans to let a foreigner in on their space flight. Indeed, the disturbingly timeless underlying message of "America First" manages to peek out from underneath the gauze of science fiction covering it throughout. Why, World Without End even concludes with our time-traveling champions promising to make America dystopia great again. The worst is over, and the fab four from the past are undoubtedly the right folks for the job ‒ having just arrived from the very time responsible for the whole mess and all.
But don't get me wrong. These are, after all, the very elements that make World Without End so enduring and entertaining. It hails from that overly optimistic period in history where things like a nuclear apocalypse would only be a temporary hindrance upon humanity, and every single scientific inaccuracy and sexist trope contained therein will have even the world's worst pessimists (or "realists," as they prefer to call themselves) giggling with glee. When they aren't shaking their heads in disbelief, that is. It's no On the Beach, that's for sure ‒ but it definitely makes for an enjoyable 80 minutes if you either don't feel like thinking or you're just flat-out not capable of it.
What's more, World Without End marked a real beginning for several prominent names in the film industry. In addition to Rod Taylor's official big-screen debut, there's a fleeting bit part by an aspiring young character actor named Strother Martin roaming about. Producer Walter Mirisch went on to make some of the biggest hits of the '60s and '70s, including The Pink Panther. Famed Playboy artist Alberto Vargas receives his only screen credit here (strangely enough, he only sketched the films' sets, and not the ladies' outfits!); whereas dialogue director (and future inconic filmmaker) Sam Peckinpah receives no credit whatsoever.
Speaking of credit due, the estate of H.G. Wells sued Allied Artists for similarities between World Without End and The Time Machine, citing plagiarism. And while that lawsuit may not have had much legroom in court (the movie still exists and just received a stellar new Blu-ray upgrade, after all), it is nevertheless interesting to observe the same producers of World Without End would wind up making the first official cinematic adaptation of Wells' The Time Machine in 1960. And who was it that would star in that iconic, cult classic? A great beefy manly hunk from Down Under (and with chest hair) by the name of Rod Taylor, of course!
Additional credit should go to the Warner Archive Collection for their efforts in restoring and re-releasing campy cult classics like World Without End and the previously reviewed From Hell It Came. Like the aforementioned guilty pleasure, World Without End went through the WAC's usual high-standards of preservation, starting with a new 2k scan of an interpositive print which was then restored for this presentation. And said presentation is an eye-opener for sure, especially if you've only seen the film via the old Best Buy Exclusive SD-DVD it was previously issued with (on a double feature with Satellite in the Sky, which I hope will be added to the WAC's Blu-ray itinerary).
While it is definitely a 1950s sci-fi production ‒ witness the muted color palettes and soft photography from the state of the art (and now archaic) equipment of the time ‒ this Warner Archive restoration comes through as crisp, clear, and as flawless as it will no doubt ever look, and I dare say the picture is strong enough to survive an atomic blast even without hiding underneath a school desk. The original mono soundtrack receives a well-balanced DTS-HD MA 2.0 remix here, and apart from large, easy-to-read English (SDH) subtitles (for those folks who saw this one at the theater as kids, no doubt), this WAC release is a thoroughly barebones affair.
But even without so much as a trailer in tow (the old Best Buy double feature DVD didn't have any special features, either, so quit your griping), this Warner Archive release is a beautiful upgrade of a movie that makes for cheesy good fun in the present, and serves as a chilling reminder of the past as mankind ‒ all of it ‒ presses on into an uncertain future.
Highly Recommended (but definitely not for its politics or worldviews).