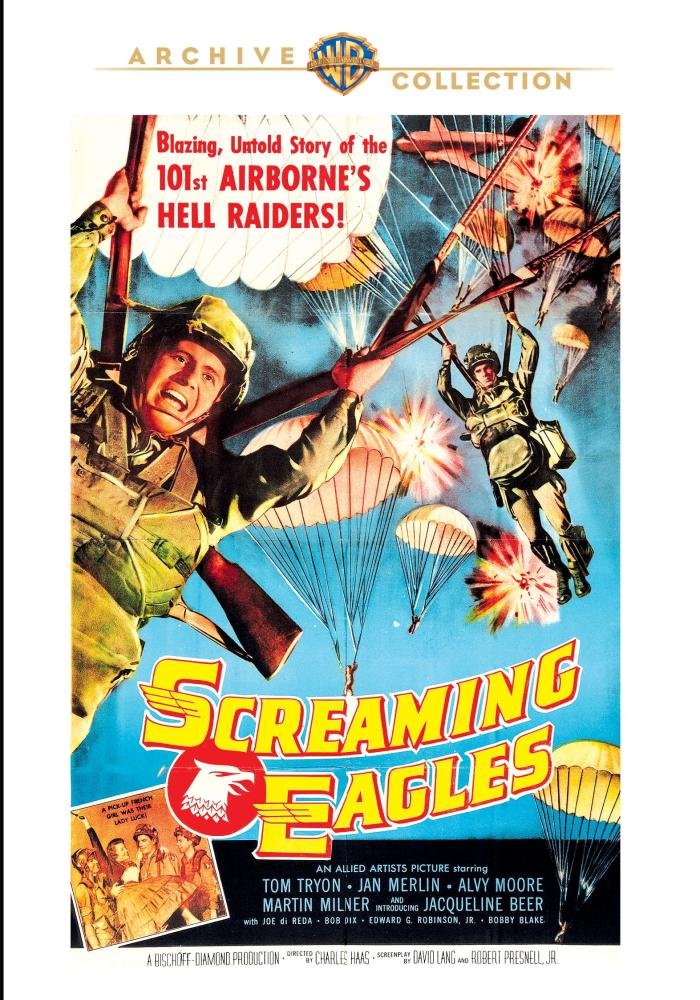 With every war that breaks out on Earth, whether it be global or regional, a high amount of controversy emerges with it. While today's highly cynical civilization usually prefers to silently and passive-aggressively protest about deadly conflict online via shared Facebook memes, the generations of the past – being far less bitter and much more patriotic about their country – simply found the current war they were involved in to be too sacred to talk about. Thus, during the decade that brought us the Korean War, filmmakers in Hollywood were cranking out a whole heck of a lot of World War II movies. You know, so as to keep it fresh, without making things taboo.
Made three years after the end of the Korean War, the 1956 low-budget Allied Artists picture Screaming Eagles is one of those charming moving picture methods of passing the time in an enjoyable way. Especially today, as modern technology has essentially eliminated all of the "fun" out of everything. You will see nary a drone, GPS system, or wireless headset at play here: just guys lost in enemy territory using nothing but a crudely drawn map and their own wits to alleviate their situation. And when you've got such a revered cast of B movie and vintage television veterans from both the past and future at play – as well as the beauty of a former French beauty contest contestant – you really can't go wrong.
While the corny opening credits might have you believe Screaming Eagles will be a comedy, all of the (intentional) humor is tossed out of the plane without a parachute as soon as the story starts – wherein Tom Tryon and Martin Milner, two new recruits for the eponymous paratrooper regiment, arrive at the friendliest gosh-darn camp in the whole bloody war. Of course, the tough Mr. Tryon is a real grumpy pants. He's way too caught up with his own anger to play nice with the others, which leaves his one and only pal in the world, Mr. Milner, to act as his "anger translator" (thanks, Obama) with the other gents in the squad – who are all ready to do to him what the movie already did with the (intentional) comedy.
It isn't long before the whole infantry is given the green light and shipped out to Nazi-occupied France to guard a bridge for the impending Allied invasion of Normandy. Sadly, the Axis powers that be riddle their ride with shells, and they are forced to bail out several many, many kilometers (because it's Europe, you see – even though it's really not) away. And so, lost in the darkness of a darkened land – with backlot Nazi soldiers all around them, all speaking the most ridiculous sounding "German" imaginable – the troop begin to feel their way around. The same goes doubly so for their commanding officer – effectively played by character actor Jan Merlin in a rare good guy role for a change – once the powders of a firing Lugar blind the poor bastard.
Also starring in this kick-your-feet-up-and-have-fun feature from the same studio that brought us some of the best Bowery Boys movies are Alvy Moore, Pat Conway, Joe Di Reda (not Curly Joe DeRita), Mark Damon, Paul Burke, the sons of Edward G. Robinson and Richard Dix, Paul Burke, Robert Roark, some guy named Robert Blake, and Ralph Votrian (who is still goin' strong in the business, God bless him). The lovely Jacqueline Beer, runner up in the French Miss Universe pageant of 1954, receives a merit for outstanding service above and beyond the call of duty as a French maiden who assists the boys in their plight while falling for the blinded Mr. Merlin in as G-rated of a way as a possible.
TV director Charles F. Haas takes a break from the boob tube to direct here, guiding his cast and crew admirably (by '50s B movie standards, that is) in a story originally written by Virginia Kellogg, who penned the stories that would also bring us movies like White Heat and Caged. Sporting fairly accurate costumes and a gung-ho sense of determination (again, by '50s B movie standards, that is), Screaming Eagles arrives on home video for the first time ever (legitimately: beware of the numerous inferior TV dupes out there) from the fine folks at the Warner Archive Collection. Presented in a matted widescreen presentation, the feature looks quite marvelous – having been well preserved within the vaults all these years.
The movie's accompanying English mono soundtrack is clear and precise, enabling you to hear just how terrible the extras' atrocious German accents are. There is no trailer included on this WAC MOD release, sad to say, but seeing that wonderfully lurid artwork preserved on the front cover makes up for that in my book. Recommended.