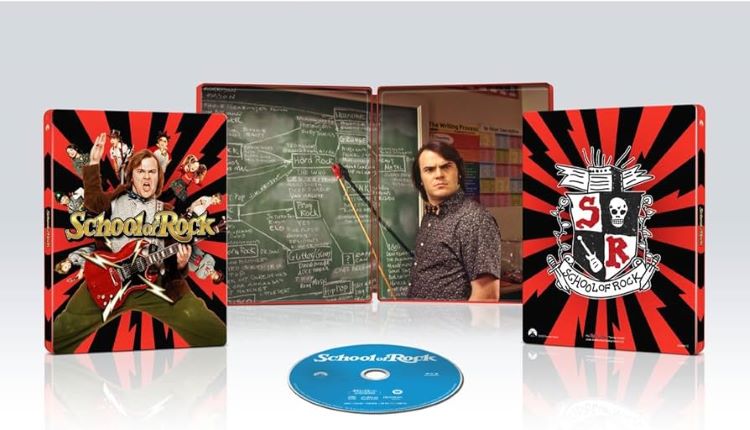 Richard Linklater's School of Rock was released 20 years ago and is still proof that a family film doesn't have to be pandering or condescending to be wholesome entertainment. This film was Linklater's first foray into that territory, after years of winning over indie crowds with Dazed and Confused, Before Sunrise, Waking Life, and other features. It was also his first big hit in the mainstream audience demographic, proving that he's not only versatile in multiple genres, but he is also able to connect to people of all ages.
Having rewatched School of Rock for the first time since its initial release, I had remembered most of the lines and scenes but had forgotten how well-crafted a film it really is. Linklater's opening scene shows the back of someone's jacket with the opening credits displayed, as the unknown man walks through a club. They then bounce off to a hanging poster in a nicely handled continuous take that so few filmmakers can pull off without coming across as pretentious.
There are several other moments sprinkled throughout School of Rock, where Linklater tracks the shot rather than edit it into multiple angles. It has a nice, smooth feel to it.
The film stars Jack Black as failed musician Dewey Finn, who still aspires to, one day, become a successful rock star. But he's way past due on his rent, and his roommate Ned Schneebly (Mike White) is coerced by his new girlfriend Patty (Sarah Silverman) to tell Dewey that he either pays up or he goes to find somewhere else to live.
But Dewey soon comes up with a plan to get the money he owes Ned, and that's by pretending to be Ned for a brief period. One day, the phone rings for Ned to be a substitute teacher at Horace Greene Prep – an extremely prestigious school. Dewey answers as Ned and accepts the job. But Dewey has never once been a teacher, especially for elementary-grade children. So, when he arrives at the school, he decides to ditch the curriculum and instead teach the kids how to rock as a way for him to get into Battle of the Bands.
Black is pitch perfect as the lazy and desperate Dewey, who has a change of heart the longer he spends with the kids. And that's where the soul of School of Rock lies. While Dewey initially comes off as bull-headed and imbecilic, he soon finds his way to be an influence and role model for the kids. As for the kids, they're a delight to watch. They all have charm in them and are hilarious when they get into certain situations.
The newly-released Blu-ray steelbook for School of Rock comes with a nice cover art and inside display. It also comes with a digital copy of the film and legacy special features from previous releases. Some of the highlights of the special features include Jack Black's pitch to Led Zeppelin to use "The Immigrant Song" in the movie and the music video for the film's main song, "School of Rock (Teacher's Pet)." The full list of special features is listed below.
Commentary by actor Jack Black and director Richard Linklater
Kids' Kommentary
Lessons Learned on School of Rock
Jack Black's Pitch to Led Zeppelin
School of Rock Music Video
Kids' Video Diary: Toronto Film Festival
MTV's Diary of Jack Black
Dewey Finn's History of Rock
Theatrical Trailer
I do kind of wish there were newer special features with this release, such as a reunion video or a "Where Are They Now?" type of profile. But that's only a minor quibble with this release. It's a definite must-own for steelbook collectors and fans of the film.
School of Rock 20th Anniversary Blu-ray Steelbook releases September 26.