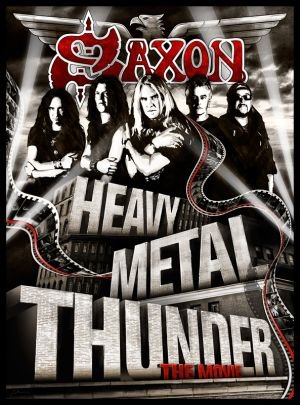 Written by Greg Barbrick
Saxon were one of the premier bands of the short-lived, but glorious New Wave of British Heavy Metal, (NWBOHM) which they helped launch in 1979 with the release of their self-titled debut album. They were already veterans of van tours throughout Great Britain by that point, but their first album was actually a flop. Their fortunes changed dramatically the following year with the release of the definitive Wheels of Steel album though. As the new two-DVD set Saxon: Heavy Metal Thunder – The Movie shows us, the band have kept at it through thick and thin ever since, and their story is about as rock and roll as it gets.
When the group were signed by Carrere Records in 1979, the only stipulation was that they change their name. Son Of A Bitch (SOB) featured Biff Byford (vocals), Paul Quinn (guitar), Graham Oliver (guitar), Steve "Dobby" Dawson (bass), and Pete Gill (drums). The label offered two options, Spitfire, or Anglo-Saxon. When Carrere agreed to Saxon, the group began working on their first long-player.
One of the many bits of trivia in Heavy Metal Thunder has to do with the band's Queen connection. Biff was so enamored with Queen's coat of arms logo that he asked a friend to come up with something as memorable as that for Saxon. When he came up with an "S" made up from two battle-axes for the name, the band were floored.
The other early Queen connection was the fact that Saxon were managed by Trident, who also managed Queen. It was when they were dropped by Trident shortly after the release of their first record which actually woke the band up to what was going on in their career. The record company had not paid Trident, because the album had only sold a few thousand copies. The sales were not even enough to cover the recording costs.
The dream was almost over before it had begun, but they soon found a new manager. David Poxon was wary of the Yorkshire lads at first though. When he went to see them, he thought it was a joke. " They looked like a gang of bricklayers who just happened to be onstage," he recalls. After the show, everyone went back to his room to talk. Poxon offered them drinks, but all they wanted was tea. He goes on to explain the rest of the evening, "What followed was a five-hour tea frenzy that lasted til dawn, with Biff telling an endless story at 100 decibels."
Poxon talked Carrere into giving Saxon one last chance to salvage their career, and they came through with Wheels of Steel (1980). When asked about it in the film, Lars Ulrich exclaims, "It absolutely blew my fucking head off!" The band were offered a slot on Motorhead's Bomber Tour that year, and it basically changed everything.
The first thing to go was the tea. Carrere had actually paid $5,000 for the group to join the tour. It was a brilliant move, as the exposure to Motorhead's fans was exactly what they needed. Since they had paid, Lemmy felt that it was only right to allow them to ride with them in the Motorhead tour bus.
Dobby's account of their first trip out is hilarious, "The bus pulls up at 10 am, and Lemmy has drinks mixed for all of us. Well, you gotta do it, because you can't say 'No' to Lemmy. Then a dagger comes forward with some powder on it. Couldn't say 'No,' even though I had never touched dope before in my life. Next thing you know, a giant spiff is handed to me. I had never even smoked before, not even a fag, but you had to do it. Then I rushed back to the bog in the back of the bus, and spent the rest of the journey 'boggin it' back there. It was a true excess-introduction to life in big-time rock and roll!"
Saxon were off and running. They played the first Monsters of Rock festival in 1980, among such metal giants as Rainbow, Judas Priest, and the Scorpions. There was such a tremendous response to Wheels, that Carrere pressured them to record a third album as quickly as possible. They came up with another all-time classic NWOBHM album, Strong Arm of the Law (1980). Besides being Lars Ulrich's favorite Saxon LP, the album opened with the song that provided the title of this movie, the anthemic "Heavy Metal Thunder."
The band were touring like mad, and the tea was back. "They didn't drink alcohol or do drugs," Poxon says, "They just drank tea and they lived their live in a kind of tea-whirlwind frenzy, moving from show to show with the aid of tea.
Saxon were relentless. The year 1981 saw the release of album number four, Denim and Leather. It was another classic, and contained what would prove to be their most popular live song of all, "Princes of the Night." Two days before the tour was set to begin, drummer Pete Gill temporarily bowed out due to what he said was a hand injury. They managed to find someone to fill his shoes in Nigel Glockler, in fact he more than filled them. After just a few gigs, he was asked to join the band permanently. Even though he was playing with New Wave pop princess Toyah Wilcox, Glockler was a huge Saxon fan. He had even purchased tickets to the first show of the tour, in Brighton. "I've never been refunded for them either," he jokes.
For their fifth album, Saxon released a live recording, Live – The Eagle Has Landed (1982), which has been called "One of the most celebrated live albums in the history of metal." Although nobody knew it at the time, the set proved to be the end of the first chapter of the Saxon story.
Sometimes success breeds contempt, and there were pressures both internal and external for the band to get even bigger. Looking back on the whole NWOBHM phenomenon, only Iron Maiden and Def Leppard were able to take it to the next level. It came at a cost though, as both wound up making big concessions to the commercial marketplace. Today, Biff admits that he most definitely wanted to crack the U.S., and was willing to do whatever was necessary to make it. Manager David Poxon saw the writing on the wall and bowed out. No doubt he was also a little peeved at the fact that Biff had brought in a second manager by the name of Nigel Thomas to help speed up the process of world domination. Thomas was now firmly in control, and he had big things in mind for the future of the band.
Thomas had contacts in Hollywood, and he thought that taking Saxon down that road might lead to something. They went to Los Angeles to help out on a film that was in development. As Graham Oliver explains, "This movie they were researching was called Spinal Tap, and all we knew about it was that it was going to be a comedy." Harry Shearer was invited to join Saxon on tour for a week, and presumably got a lot of material. Hundreds of bands have alleged that This is Spinal Tap (1984) was based on them, but if anyone can really make that claim, it would be Saxon.
This was in 1982, and while they were in town, Saxon played at the Whiskey A Go-Go. Even though it would only be their second gig ever, there was an up-and-coming band who managed to get a slot opening for Saxon. Their name was Metallica. Apparently the backstage area was an absolute madhouse, with members of the whole Sunset Strip scene paying homage, including Motley Crue. In a telling moment during the film, Graham Oliver looks back at the situation with a bittersweet remark, "Motley Crue told us that our song "Motorcycle Man" was their all-time favorite. Eighteen months later, we would be opening for them.
Following the live album, Saxon released Power & the Glory (1983). The cover art was done by Ridley Scott and is practically fluorescent. It feels as if the band have developed a taste for life in the City of Angels, and it definitely marked a new era. They even began wearing spandex and makeup. Steve "Dobby" Dawson absolutely refused to go along, and things would only get worse between him and Biff over the next couple of years.
Crusader (1984) was next, and was produced by Kevin Beamish, who had previously worked with REO Speedwagon. Dobby called it "total shit," and so did a lot of Saxon's original fans, including Lars Ulrich. "That was the time that we began tuning out," he says. Be that as it may, Crusader turned out to be their biggest-selling album ever. The commercial trend continued with Innocence is No Excuse (1985), which was released worldwide on the EMI label. It was at this point in time when Dobby simply could not take it anymore and quit.
The Saxon story continues to this day, but they slowly fell apart after the departure of Dawson. They "took a break" in the early '90s, then came back ready to rock again. But by that point they had kind of become a nostalgia act. Like so many groups before, their lineup has fluctuated, with Biff being the only indispensable member. In 1994, Graham Oliver was caught selling the rights to a bootleg tape of a 1980 show and was fired.
There was an ugly lawsuit that began in 1999 when Steven Dawson and Graham Oliver registered the name "Saxon" as a trademark. It ended in 2003, with Biff and his band victorious. They continue to release records, and play festivals. But it is always the classics such as "Motorcycle Man," "Princess of the Night," and "Heavy Metal Thunder" that get the most applause.
The second DVD of the set is sort of an odd and sods collection of extras. "Building the Labyrinth" is a 15-minute segment focusing on the recording of their 2009 album Into the Labyrinth. "The Eagle and the Bomber," is an interesting 20-minute piece. For the first seven minutes, we are backstage with Saxon and good friend Lemmy, as they toast the 30-year anniversary of the Bomber Tour. Saxon then take the stage, and launch into "Motorcycle Man." Thanks to some recently discovered footage, the 2009 show dissolves back to 1979 with Saxon playing "Motorcycle Man" on the Motorhead tour. Then we come back to 2009, with the guys finishing the tune. There are more backstage antics, with plenty of wine being poured. I kind of wish it was tea though.
"Saxon on the Beat Club 1981" features a one-hour performance by the band on a German TV show called Beat Club. "Saint Georges Day Concert 2008" was also shot live, in this case a 50-minute set from the aforementioned 2008 show. The 20-minute "On a Crusade: Interviews from the recording of Crusader," and the 11-minute "No Excuses: Footage from the Innocence is No Excuse Recording Sessions" are both behind-the-scenes looks at the recording sessions for the respective albums. Finally we come to the cute, two-minute "Big Nibbs, Little Nibbs." It is an "interview" with Saxon's current bassist Timothy "Nibbs" Carter, conducted by his son.
I guess I am what you might call an original fan of the NWOBHM bands, and have always lamented the fact that the music never really caught on in the U.S. Hence, there are not a lot of documentaries about the bands involved. Many seem lost to the mists of time. Anvil: The Story of Anvil (2009) was pretty great, but it was more of a movie about a lifelong friendship to me, more than anything else.
With Saxon, there has been plenty of personal drama to be sure. The departures of Graham Oliver and Dobby Dawson, and their lawsuit is a pretty sad chapter in this long-running tale. All in all though, this movie is more about the music, which is something I appreciate. The stories about the early years, and about how close the band were to their fans are what really drew me in. For fans of NWOBHM and Saxon in particular, Saxon: Heavy Metal Thunder – The Movie should not be missed.