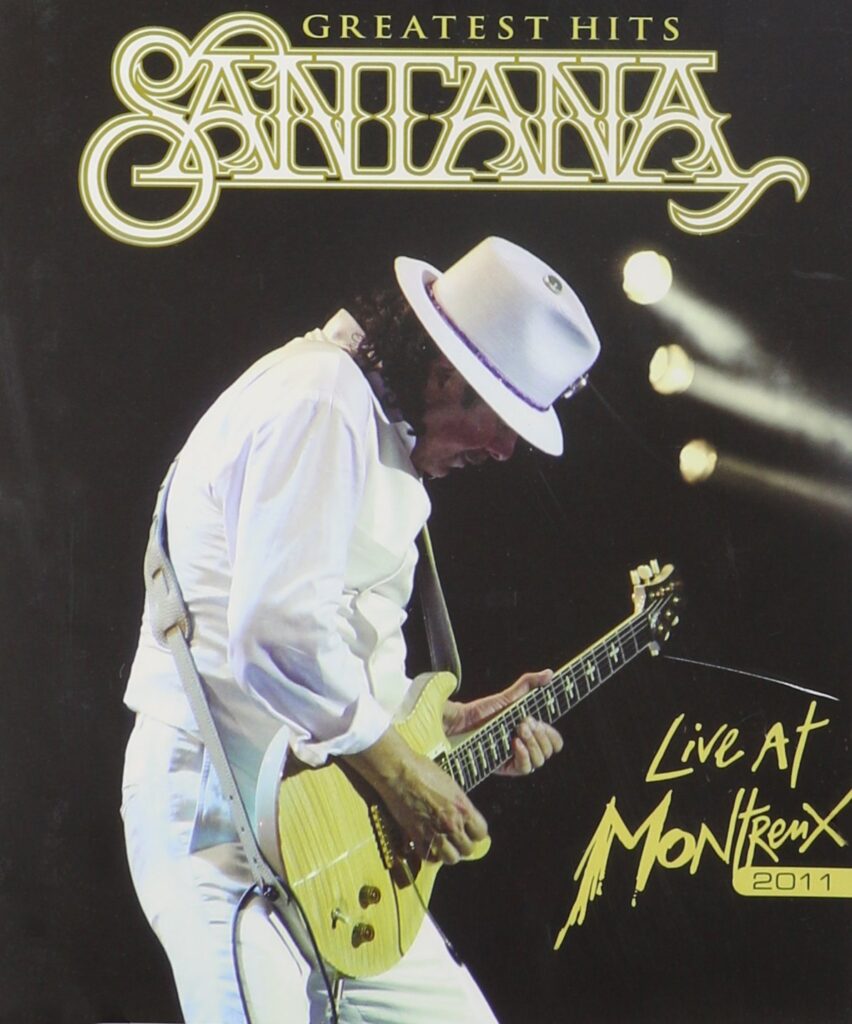 In 1970, Carlos Santana and his band, Santana, made their first appearance at the famed Montreux Jazz Festival. Nearly 42 years later, both Santana and the festival are still going strong, with Santana getting to organize his own "mini festivals" at the event for the past decade. His 2011 performance at Montreux is captured on the DVD, Santana: Greatest Hits Live At Montreux 2011.
Packed over two DVDs, the show opens with an inspired "Spark Of The Devine," with its big drums and bongos intro. Santana ably solos over a layer of trumpets and keyboards before the song breaks down into complete chaos for "SOCC," with Santana directing the madness in a nod to Frank Zappa. Up next is AC/DC's classic, "Back In Black," which is given the funk/Latin treatment with half-rap, half-singing vocals and searing solos from Santana. The mix works surprisingly well for the track.
A faithful version of "Black Magic Woman" seems to wake up the crowd, with singers Andy Vargas and Tony Lindsay splitting vocal duties. The pair shares vocals on several tracks throughout the performance. The whole band joins in on vocals for a spirited "Oye Como Va," with Santana attacking his guitar with wide bends. It is a standout performance of the old favorite.
Bassist Benny Rietveld and guest drummer Cindy Blackman Santana take a jazzy solo turn midway through the show. Cindy Blackman Santana is an accomplished jazz drummer in her own right and has played with the likes of Lenny Kravitz. She's also the wife of Carlos Santana.
Disc two begins with "Duende," a bluesy track with military style drums before going into "Open Invitation," one of Santana's more overtly rock songs. Vargas and Lindsay once again trade vocals while Santana delivers one blistering lead after another.
Another husband/wife combination, Derek Trucks and Susan Tedeschi, join in on "Make Somebody Happy/Right On Be Free." Trucks' slide playing is very lyrical throughout and is what helped him make a name for himself on his own and as a member of the Allman Brothers Band.
The band delivers a spot on version of "Evil Ways" before launching into a cover of the Cream classic, "Sunshine Of Your Love." The latter takes the original's hard rock sound and gives it a Latin edge. Santana begins the solo like Clapton before veering off into his own territory. It's a great reinterpretation and a highlight of the show. In a rendition that nearly rivals the studio version, Vargas and Lindsay once again trade vocals on "Smooth." Santana offers up some tasty leads on the former #1 smash.
The DVD offers Dolby Digital Stereo, Dolby Digital 5.1, and DTS Surround Sound audio options. In addition, it includes interviews with Cindy Blackman Santana and Carlos Santana, as well as behind-the-scenes footage.
Santana has had a long and varied career spanning more than 40 years now. Santana: Greatest Hits Live At Montreux 2011 shows an artist still on top of his game and willing to bush boundaries musically.