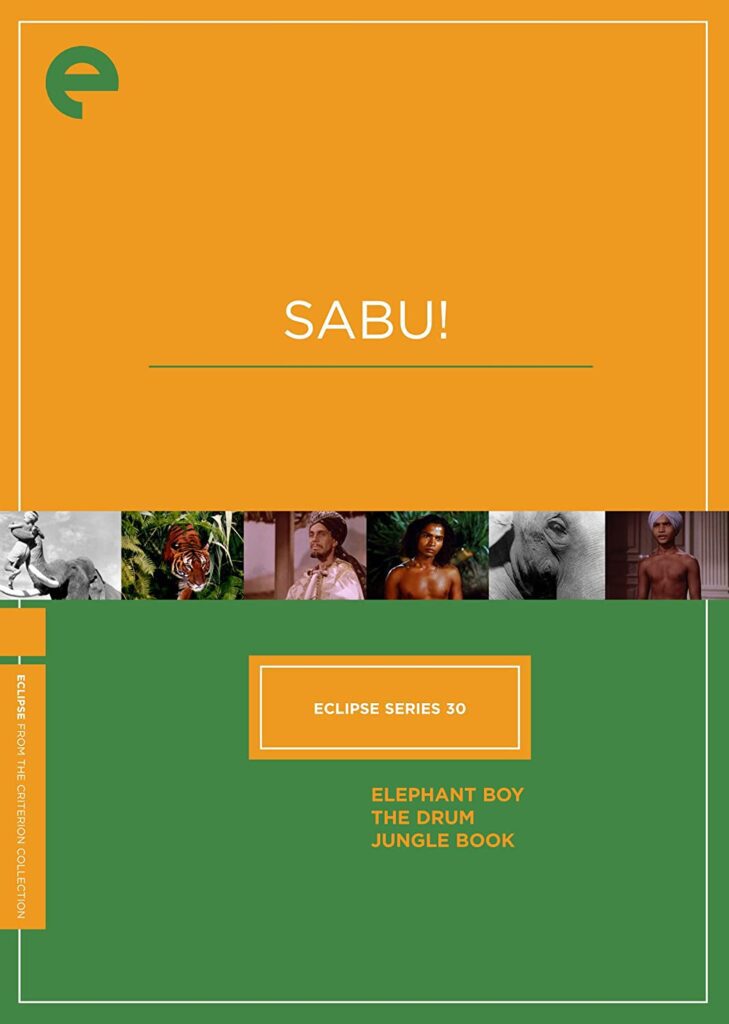 Plucked from obscurity as an elephant handler in southern India and vaulted to international stardom largely by the efforts of British producer extraordinaire Alexander Korda, Sabu was the very definition of a natural. Looking at the three early films included in Criterion's latest Eclipse set Sabu!, it's impossible not to be drawn in by the young actor's unflagging charisma.
Never mind that he hadn't even seen a movie before beginning his career or initially performed his lines in memorized phonetic English — Sabu had the intangible quality of an irresistible screen presence, and he elevates the sometimes thin material seen in this set.
Collecting three of Sabu's first four movies (the other, the lavish Korda production The Thief of Bagdad, has a separate full-fledged Criterion release), this 30th Eclipse set features Elephant Boy, The Drum, and Jungle Book.
Based on a story by Rudyard Kipling, Elephant Boy mirrors Sabu's pre-fame profession, as he stars as Toomai, an elephant driver who possesses a keen connection with the massive pachyderms. The talent comes in handy when a group of British soldiers is tasked with rounding up elephants for the government, and even though Toomai is initially dismissed because of his age, he proves his worth soon enough.
Elephant Boy is a curious hybrid of documentary-like realism and studio-bound adventure — plainly exemplified in its co-directors Robert Flaherty and Alexander's brother Zoltán Korda. Flaherty's unobtrusive, naturalistic jungle scenes, shot in Sabu's hometown of Mysore, were stitched together with Korda's scenes from Denham Studios, and the effect is more convincing than one might think. Although some scenes show an obvious discrepancy in light levels, the look is pretty cohesive throughout.
Tipping the scale toward the artificial side of things is an extended prologue featuring Sabu introducing the story directly to the camera. In all regards, this is a terrible way to start an adventure film, but the irrepressibly cheerful Sabu is charming nonetheless, and it communicates one fact clearly — when he's on screen, you'll be paying attention.
This proves especially true in the next film in the set, The Drum, a bit of colonialist pap that's more silly than offensive. Despite the presence of ultimate badass Roger Livesey, the film drags when Sabu's more secondary character, Prince Azim, is relegated to the sidelines.
In the film, Azim's father, the ruler of a Northwestern Indian kingdom, is murdered by his nefarious brother, Prince Ghul (a scenery-chowing Raymond Massey in brownface), threatening to throw the kingdom's relationship with the British out of alignment. With his uncle looking to murder him as well, Azim seeks protection from a British officer (Livesey) and his wife (Valerie Hobson), while striking up a friendship with drummer boy Bill (Desmond Tester). Based on a novel by A.E.W. Mason, The Drum is only intermittently rousing despite the typically impressive Korda production, again helmed by Zoltán.
After completing The Thief of Bagdad in 1940, the Kordas and Sabu returned to the world of Kipling, with five different stories serving as the basis for Jungle Book, the most consistently exciting and technically accomplished adventure of the set.
Sabu stars as Mowgli, the jungle savant separated from his parents at infancy and raised by a pack of wolves. After returning as an adolescent to his hometown village, Mowgli discovers that humans — especially the sinister Buldeo (Joseph Calleia) — can be even more vicious than the jungle creatures that comprise his original family. After engaging in a drawn-out conflict with mortal enemy, the tiger Shere Khan, Mowgli must deal with Buldeo and his cohorts after his discovery of a treasure-filled lost city ignites a violent sense of greed.
Shot entirely in the studio, the film features incredibly detailed production design by Vincent Korda, a cast of numerous well-trained animal actors, and stunning Technicolor images captured by director Zoltán. The overtly designed look of the film doesn't result in soundstage artificiality, but an expansive fairytale world. Sabu is once again perfectly cast, transitioning from feral wolf-boy to a wiser young adult who realizes his place is somewhere between the human and animal worlds.
Technically, Sabu! is a bit of a mixed bag. Elephant Boy is an average black-and-white transfer, presenting adequate detail amid a bevy of print damage. But it looks stunning next to The Drum, which is an utter travesty and was obviously sourced from very poor elements. Technicolor degradation is rampant, and detail has been washed away in a sea of muddy, bleeding colors in nearly every shot. The transfer also exhibits strange VHS-like banding, and the overall poor condition makes the film pretty close to unwatchable. Fortunately, Jungle Book finishes up the set on a high note, delivering a boldly colorful transfer that is often breathtaking in its clarity. While color fluctuation and some print softness reveal themselves occasionally, the transfer is quite nice.
As is the custom with Eclipse releases, no extras are included, save for some brief liner notes by Michael Koresky, who mostly focuses on biographical information about Sabu and his career.