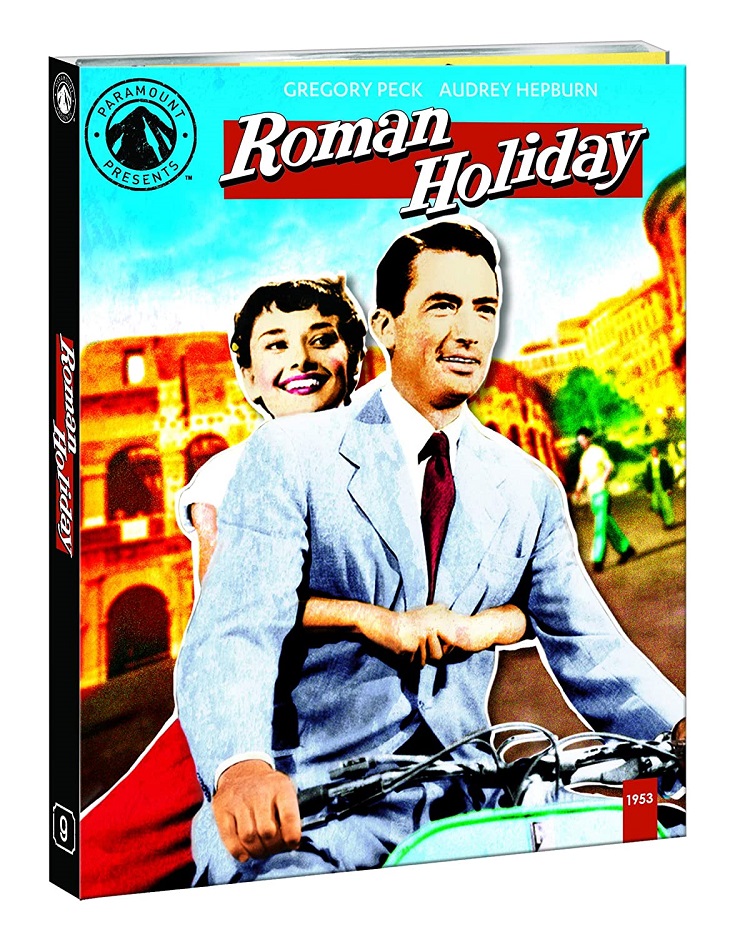 Paramount Home Entertainment has released the 1953 Hollywood classic film Roman Holiday for the first time on Blu-ray and it's about time. But the firsts don't stop there. Roman Holiday was the American debut of iconic actress Audrey Hepburn, who won the Best Actress Oscar for her role as the runaway European princess Ann. She is so poised and lovely it is hard to believe this is her first Hollywood starring role – she easily steals every scene she is in with veteran actors Gregory Peck and Eddie Albert. It's one of the best and most memorable romantic comedies of all time.
Director William Wyler (Ben Hur, The Best Years of Our Lives) wanted to film in Rome, so Roman Holiday became one of Hollywood's first films shot almost entirely on location, with familiar landmarks like the Colosseum, Piazza Bocca della Verità (Mouth of Truth), Pantheon, Castel Sant'Angelo, Piazza di Spagna (Spanish Steps), and the Trevi Fountain providing gorgeous backdrops for the meet-cute and burgeoning romance between Hepburn and Peck, an American reporter living in Rome who at first sees Ann's AWOL sightseeing as the scoop that might finally get him sent back home. Interiors were filmed in the famed Italian Cinecittà Studios.
Audrey Hepburn wasn't Wyler's first choice for the role of Ann (luckily Jean Simmons and Elizabeth Taylor were unavailable), but he was soon thrilled with his discovery, "It's a rare quality [stardom], but boy, do you know when you've found it." (Audrey Hepburn: The Paramount Years, Tony Nourmand, Chronicle Books, 2007, p. 16.) Hepburn and Wyler would go on to work together on two more films, The Children's Hour (1961) and How to Steal a Million (1966).
Roman Holiday also won Oscars for best costume design for Edith Head and best story for Dalton Trumbo, although he couldn't officially receive it, as he had refused to cooperate with the House Un-American Activities Committee (HUAC) and was blacklisted from officially working in Hollywood through the 1950s. British writer Ian McLellan Hunter stood in for him in the original credits (Hunter was himself blacklisted later in his career). Trumbo's name has since been reinstated and his widow received his Oscar for Roman Holiday in 1993. This Blu-ray release is the first to correctly credit Trumbo for both screenplay and story.
For this Blu-ray release, the film has been meticulously restored, remastered from a 4K film transfer, as the original negative had sustained damage over the years. The original mono track was also remastered to meet current 5.1 standards. The Blu-ray also includes access to a digital copy of the film and some great bonus features: "Filmmaker Focus: Leonard Maltin on Roman Holiday;" "Behind the Gates: Costumes, Rome with a Princess;" "Audrey Hepburn: The Paramount Years;" "Dalton Trumbo: From A-List to Blacklist;" "Paramount in the '50s: Remembering Audrey;" theatrical trailers; and four photo galleries (production, the movie, publicity, the premiere). The Roman Holiday Blu-ray is part of the series "Paramount Presents," which includes films: Fatal Attraction, King Creole, To Catch a Thief, Flashdance, Days of Thunder, Pretty In Pink, Airplane! and Ghost.
The film is not rated. Running time is 118 minutes. The resolution is 1080p with an aspect ratio of 1.37:1 (original aspect ratio of 1.37:1). Audio is English Mono Dolby TrueHD, French Mono Dolby Digital. Subtitles in English, English SDH and French.