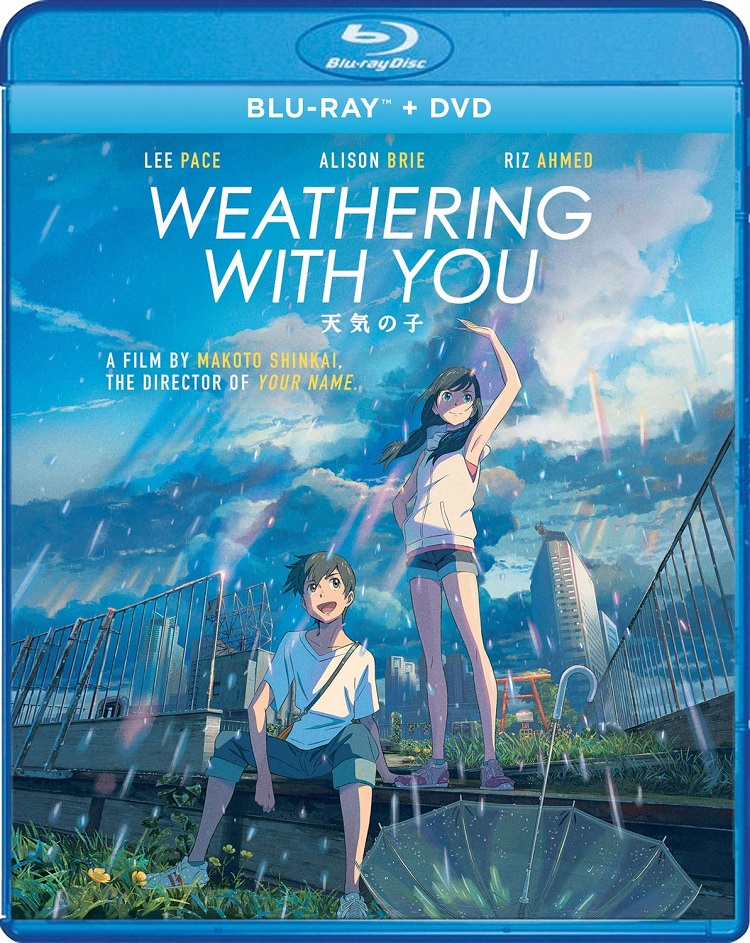 In a 2021 Tokyo that is drenched with constant rainfall, there's a rumor going around about a so-called Sunshine girl: a successor to an ancient tribal shamanic figure, the Weather maiden, the Sunshine girl can use the powers of her prayers to part the clouds in the skies and allow the sun to shine through. It's something that anyone would want, when weeks of rain with no end in sight practically drown the city.
The story is being followed by a pair of reporters from a little yellow journal of the occult. One is a pretty girl, Natsumi, who listens to every insane story with fascinated credulity. The other is a teenage runaway, Hodaka, who can't understand how anyone can believe this crap – but he needs the job. It keeps a roof over his head and gives him some money for food. More than that, it keeps him in Tokyo, where he's run from his remote island village. He can't find a legal job and if he gets the attention of the authorities, it would surely mean being sent back home. And so he works, cleans up the newspaper office and keeps a low profile until he sees a pair of nightclub sleazoids pushing a girl around, a girl who had taken pity on him when he was alone on the streets and gave him a free Big Mac. He rescues her, gets into a fight, gets out of it with the timely (though non-deadly) use of a very illegal firearm, and runs off.
But she wasn't being kidnapped. She was going with them for a job, because she's on her own as well, and was fired from McDonalds. And she reveals that she also happens to be a Sunshine girl. She prays, and suddenly the skies part and sun shines down from the heavens. All that crap Hodaka had to write about was real.
Weathering with You, then, is the follow-up to Makoto Shinkai's massively successful Your Name, and it lives in the same thematic wheelhouse: another love story of mismatched teenagers caught in a world of strangeness, both from supernatural events and the society that they have to navigate and grow up into. Your Name had an elliptical science fiction plot about body swapping, time travel, and causality. Weathering with You is at once more magical and, in its depiction of the life on the streets for the young and desperate, a little more grim. Or it attempts to be.
The girl, Hina, has a younger brother to look after and she needs to do something to keep money flowing in, since neither of her parents are in the picture. Resourceful Hodaka has a plan: sell her sunshine services. There are businesses and events and people all over Tokyo who would pay good money for a guarantee of sunshine, so they should be able to turn over a tidy profit.
Weathering with You attempts a balance of tones throughout the film, with the somewhat dystopic nature of the city constantly drowned in the rain and the children facing a largely indifferent system, and the essentially optimistic, upbeat attitudes of the characters. The world may have some meanness in it, by Hina and Hodaka do not allow it to touch them… at first. But there is a price to pay for everything, especially playing with the weather, and the more Hina makes spots of sunshine the more the weather seems to react, creating huge deluges and plunging temperatures down elsewhere, until it's snowing in Tokyo in August. Eventually, she learns that part of the duty of a Weather Maiden may entail a human sacrifice… and she might be willing to do it.
While it has a more straightforward plot than Your Name, Weathering with You shares a lot with that film, including the refined Makoto Shinkai aesthetic. Shinkai seems to have as much aesthetic reverence for the man-made parts of Japan as he does for his nation's natural beauty, and it shows in the way he depicts the city. Even in the darkest points where Hodaka is at his most desperate, Tokyo has a glow and a life to it, without the sterility that you can find in a lot of other mostly computer animated cityscapes.
His characters, too, have an effervescence, which at times can conflict with the story's tension. These are a group of mostly pleasant (or only apparently gruff) characters who do not fly into passions, and their conflicts are low-key. The existence of the Sunshine girl is accepted by most people without a blink, and though Natsumi keeps following up on research for her report, it's a little too off-hand. The story doesn't want to risk heavy handedness, so it becomes too feather-light. It's almost jarring near the end of the film when the stakes become raised incredibly high, and there's some rough blood and violence, mostly directed against Hodaka.
Sometimes, though, it's all a little too slick. Maybe too pretty. There's a heavy reliance on pop songs (written by the film's composers RADWIMPS who also scored Your Name) which tend toward the too sweet. At the center of the film is an elaborate fireworks scene (the clear sky the result of Hina's Sunshine work) that's attractive, except that the enormous camera movements going through the cityscape are a little too smooth and uniform, as are the fireworks themselves. It temporarily ruins the illusions of the animation, and feels more like a tech demo than a scene in a movie. It's a rare misstep, though. Shinkai has been using computers to make films since his very first solo work, Voices of a Distant Star. His entire aesthetic is built around it, and Weathering with You is as graphically beautiful as Your Name.
Does the story pack as much of an impact, though? In Your Name, I was thoroughly involved in the multi-layered story of body swapping and impending disaster. Weathering with You doesn't feel as impactful. It's a constant pleasure to watch, briskly paced and beautifully presented. But it gently touches the heart when I think it wants to squeeze it.
Weathering with You has been released on Blu-ray and DVD by GKIDS. The extensive video extras (nearly two hours' worth) include an "Interview with Director Makoto Shinkai" (12 min); "Exploring Makoto Shinkai's Filmography" (13 min), which contains edited clips from his previous films; "Weather Front" featurette (24 min), a cute promotional documentary about the film's release and success starring and narrated by Hina's Japanese voice actress Nana Mori; "Talks show with Makoto Shinkai and Yumiko Udo" (70 min), which is an extensive TV interview with director Makoto Shinkai and RADWIMPS lead Yojiro Noda by TV presenter Yumiko Udo; and a collection of trailers and TV spots.