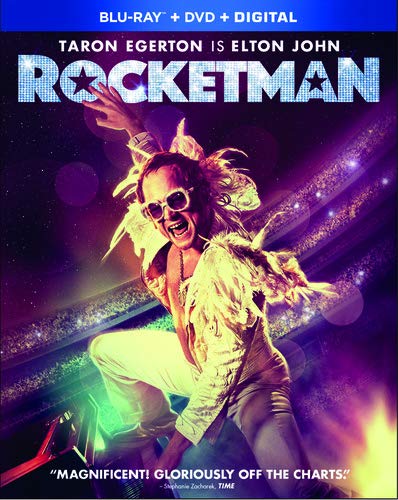 It feels like it's been a long, long time since we've seen a biopic depicted with as much gusto and ambition as Rocketman. Not only is it a powerful illustration of Elton John's life, but it also has the unique structure of an escapist movie musical with his classic songs being used as musical numbers to demonstrate his life story. Even in the opening sequence, the film's potent mix of style and substance becomes quite evident.
The film opens with Elton John (Taron Egerton) attending a group therapy session at a rehab center. While there, he reflects on his turbulent childhood with his mother (Bryce Dallas Howard), his friendship with songwriter Bernie Taupin (Jamie Bell), his struggles with addiction, and his relationship with his controlling manager John Reid (Richard Madden).
Rocketman makes a strong effort to show us Elton John, the man, and not just Elton, the star. It even shows some of the selfish personality traits he possessed. However, Taron Egerton still plays him with wondrous three-dimensionality. His eyes act as a window into John's tortured soul and showcase his feelings of sensual euphoria along with his petulant abandon. Taron Egerton has shown early promise in the Kingsman films, but this performance is further proof that he's a definite star. From his infectious charisma to the way he infuses his singing voice with gravitas, Egerton is a continuous whirlwind of emotion.
That being said, Richard Madden impresses in equal measure as John Reid. Madden's performance is quite fiery since he expresses a burning, opaque charm used to mask the abusive demon beneath all that allure. Initially, the audience falls for Reid the way John does, but once Reid switches gears between being the Reid that swept John off his feet and who he actually is, it's clear that he sees John as a business opportunity rather than a genuine partner. Anyone who knows Madden as Prince Charming in Cinderella or from his master class, Golden Globe-winning turn on the series Bodyguard will be rather stunned by his revelatory work here.
Meanwhile, Jamie Bell and Bryce Dallas Howard impress as well. As Elton John's songwriter and long-time friend, Bell has wonderful brotherly chemistry with Taron Egerton. With her savage pragmatism, Howard's portrayal of John's mother, Sheila, provides shades of Laura Linney from Nocturnal Animals except her role is more extensive.
Besides the acting, the musical numbers are also a major highlight. They're not used overtly and are jaw-dropping feats in musical performing, writing, and editing with the colorful costumes from Julian May adding to the reverie they possess. The best sequence that combines all those elements is the one where Egerton and Madden perform a duet of the song "Honky Cat." Both men are singing to each other while relishing in the expensive possessions they've attained, indicating how Elton has become successful and seemingly found love. Yet, the extravagant set designs and cheery song-and-dance help mask a sad undercurrent because after that sequence, Reid's betrayal becomes more imminent.
Since the film is a portrait of a queer musician, it's also worth noting that Elton John's sexuality is handled with a fair amount of dignity. As opposed to Bohemian Rhapsody which stigmatizes the sexuality of Freddie Mercury, Rocketman portrays Elton John as a man more comfortable with being gay even as he faces acceptance, indifference, and neglect from those around him.
Due to its exploration of Elton John's powerful backstory, Rocketman does its job at making fans appreciative of his music while applauding him for overcoming heavy obstacles. It's a majestic ode to the beloved icon with directorial flair and a show-stopping lead performance from Taron Egerton. It's easily one of the best performances of the year and helps Rocketman soar.