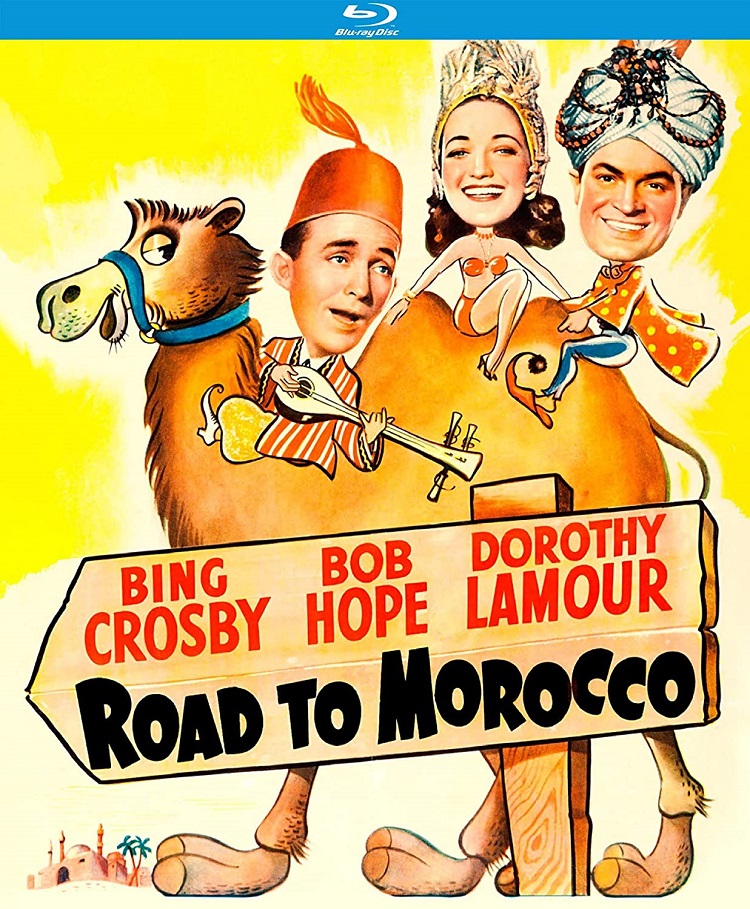 Kino Lorber Studio Classics has added to their roster Special Edition Blu-ray releases of the first four Road pictures starring Bing Crosby, Bob Hope, and Dorothy Lamour, making the first six of the seven movies now available from them.
Road to Morocco (1942) is the third in the series and not only sees the return of the acting trio but screenwriters Frank Butler and Don Hartman with an original screenplay and Anthony Quinn back playing their nemesis. Director David Butler joins them for his only time as the franchise returns to the African continent.
A freighter explodes off the coast of North Africa and two stowaways, Jeff Peters (Crosby) and Orville "Turkey" Jackson (Hope), one of whom was responsible, are adrift. The two may be cousins since they appear to share an Aunt Lucy (Hope), but later Jeff says they were classmates. However, with all characters they play in the Road pictures, they are playing fictional versions of themselves.
During the climatic sequence, there's a ridiculous cutaway to a camel, who, through a bit of animation, tells the audience Road to Morocco "is the screwiest picture I was ever in." And that's certainly easy to believe as the plot takes some wacky turns. Shortly after they get into the city, Jeff sells his "pal" Turkey into slavery. Turkey is appalled but comes to find out he was purchased to marry the beautiful Princess Shalmar (Lamour). Turkey is delighted by the prospect but it's a scam as she only wants to marry him because the stars indicate "the first husband of the Princess Shalmar will die a violent death within a week of the marriage" and "her second husband will be blessed with long life and happiness." She was originally betrothed to Sheikh Mullay Kasim (Quinn) but falls for Jeff upon meeting him and he seals the deal with a song, which Kasim does not take lightly.
Also screwy is the humor with even more meta jokes than before. As Hope and Crosby sing the theme song aboard a camel, the latter has the lyric, "I'll lay you eight to five we'll meet Dorothy Lamour" and they refer to the censors. There's an amusing number between the main trio where their voices don't always come out the right body. At 69 minutes in, Turkey gives a recap, and Jeff replies, "I know all that." Turkey points out the people who came in the middle of the picture don't, which leads a concerned Jeff to ask, "You mean they missed my song?"
There is an unfortunate bit of humor where Turkey poses as someone with some type of mental difficulties in order to gain free food, which would understandably upset some folks nowadays, but he gets his comeuppance for doing so.
The video has been given a 1080p/MPEG-4 AVC displayed at an aspect ratio of 1.37:1. Blacks are inky, whites are bright, and there's a good spectrum of grays. Contrast, depth, and texture details are solid. The picture has a cleaner appearance than Zanzibar, but there is vertical black line down the right side when Shalmar and Turkey talk at the pool. The audio is available in DTS-HD Master Audio 2.0. Dialogue is clear. When Jeff woos Shalmar with "Moonlight Becomes You", there's a little distortion in his vocals from being too loud.
The extras include:
Audio commentary by Jack Theakston, who goes back to the beginning of the film series before focusing on Morocco.
Bob Hope and the Road to Success (14 min) is from the 2001 DVD release. It starts with Hope's career and then talks about he and Crosby working on the film together. This is available on all four releases.
Command Performance (5 min) is clips from a show recorded in Hollywood and sent to the troops. Jerry Colonna makes an appearance.
Trailers from Hell with John Landis (3 min)
Road to Morocco" Sing-along
Trailers for the first four Road movies.
Road to Morocco is not only as entertaining as the previous films in the series, but it's arguably the most entertaining so far. The makers clearly knew what worked when creating a delightful musical comedy with these stars and made sure to stick to the formula. It's wonderful that Kino Lorber Studio Classics is making these films available in high definition for fans to enjoy and new viewers to discover.