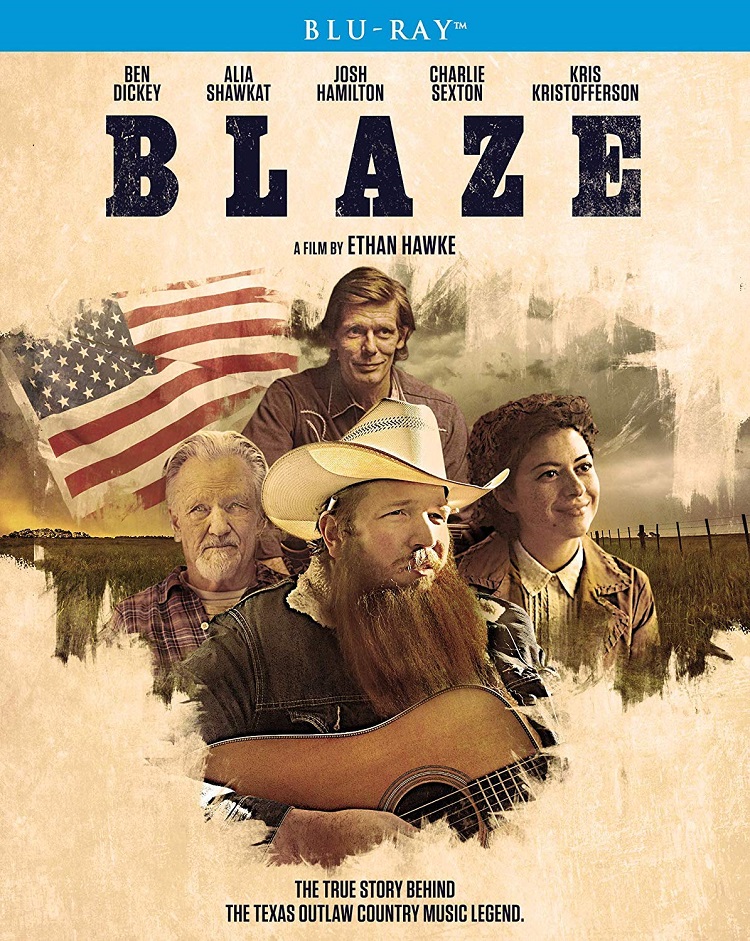 You may not know the name Blaze Foley, and that's OK. A lot of other people – myself included – had never heard of the late singer-songwriter until Ethan Hawke decided to bring his story to the big screen. And while he may not have the same name recognition as someone like Willie Nelson or Merle Haggard, some popular songs by those artists and others were initially sung and/or written by Foley. It's doubtful that Foley will become a household name now with this movie, but those unaware of his musical prowess can now experience the true story of the country singer and see how he contributed to the scene during the 1980s.
Blaze doesn't follow conventional trappings by having certain characters go in the usual direction, and it never feels mawkish or looks glossy. What Hawke gives us is a raw look at the rise and downfall of an artist who is creative and yet troubled. Sure, that sounds pretty standard, but it rarely comes across that way. Ben Dickey, making a terrific acting debut after years in the music business, does double duty by also performing the songs of Foley and excelling at them.
The film is showcased in a non-linear format, bouncing back and forth between Foley's younger years to his time in trying to hit it big to even after his death, when two close friends, Townes Van Zandt (Charlie Sexton) and Zee (Josh Hamilton) are being interviewed by a DJ about Foley's life.
Some of the best moments of the movie come when Blaze meets his significant other, Sybil Rosen (Alia Shawkat). Dickey and Shawkat display a tremendous amount of chemistry together, and even the quietest moments featuring the characters come off as the most impactful. You may think that, with the two of them working so well together, Blaze would change his drinking habits and focus not just on his music but also on his muse. The thing is, though, like a lot of other celebrities out there, their desire for fame gets in the way, and it can sometimes lead to their career going in a downward spiral.
For Blaze, that exact thing happens on more than one occasion. He seems to have struck gold, only to let it slip away – whether it's a record deal or a healthy, happy relationship. And while the outcome and other events are discussed during the interview segments before being shown, they still land like a punch to the gut.
The Blu-ray for Blaze comes in a 1080p high definition presentation with a 2.39:1 aspect ratio. It's a terrific-looking image quality, capturing the Austin atmosphere and the music scene of the time quite well. The audio track is 5.1 Master, which comes across clearly and aids in us falling in love with Dickey not just as an actor but also a musician. His singing is wonderful to hear. The special features include a commentary track with Hawke, a behind-the-scenes featurette, and the film's original trailer.
Those who were already fans of Foley's work may be pleased with what Hawke has done in capturing his story and celebrating his life. Those unfamiliar with it may find a new artist to listen to if country music is their thing. Either way, there's no denying that Dickey is truly magnificent in the performance, and has a bright future ahead in the acting business.