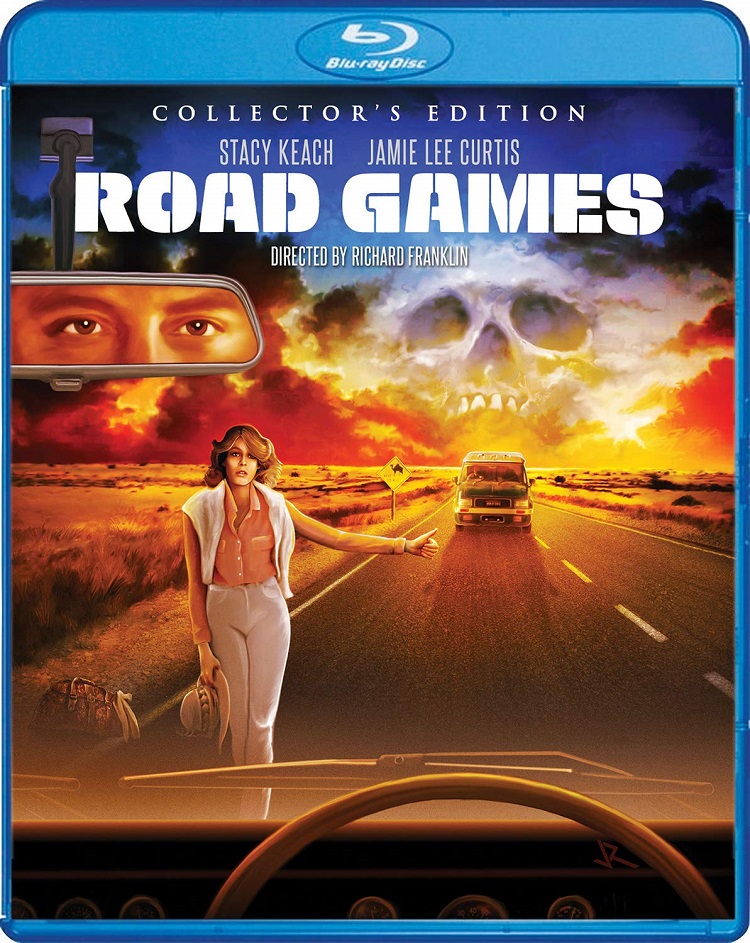 The Ozploitation era during the early '70s throughout the '80s had unleashed films with modest budgets, horror/comedy/action elements, nudity (mostly female), graphic violence, and cartoonish villians. This was a category of the Australian New Wave that isn't usually discussed nowadays, and that's unfortunate, because there were some really great films from the period, such as Mad Max, Long Weekend, and The Chant of Jimmie Blacksmith. But if there is one that definitely deserves rediscovery, it is director Richard Franklin's 1981 quirky suspenser Road Games.
In the obvious vein of Hitchcock, it is a Rear Windowesque road movie starring the always fantastic Stacy Keach as Quid, a lone truck driver who is transporting a large load of meat through the vast and desolate Australian outback. Along with his trusty pet dingo Boswell, he makes up games to retain his sanity on the isolating road. One day, during break, he stops off a cheap motel and sees a mysterious man and woman getting the last available room. The next day, he sees garbagemen picking up an oversized black bag, which causes him to alert the police. He instantly becomes a suspect, especially after reports of a series of murders of female hitchhikers. During this situation, he picks up Hitch (Jamie Lee Curtis), a beautiful, free-spirited drifter with some games of her own. While Quid is trying to clear his name and notify everyone about a killer, Hitch gets drawn into the investigation where she helps him look for clues. This eventually gets her kidnapped, and this sends Quid into a tailspin, which leads him to a final confrontation with the killer. In this case, the games aren't much fun anymore, and someone is going to lose, with their lives.
It's clear that Franklin has a soft spot for Hitchcock, especially with the many references to Rear Window. Bascially, Keach is James Stewart, as they're both confined to a certain area of isolation. Stewart is stuck in his wheelchair in his claustrophobic apartment. Keach is confined to his truck in the middle of the Outback. Both men see things they shouldn't, deal with the gorgeous woman in their lives, and defend themselves against malicious murderers. Curtis is Grace Kelly, as they are drawn into dangerous circumstances while trying to impress their leading men. And villian Grant Page is Raymond Burr, as they both murder to keep their secrets. However, Burr is more sympathetic in Rear than Page is in Road. I don't think Franklin has ripped off Hitchcock; he has made a clever tribute to him.
Scream Factory has definitelly pulled out all the bells and whistles for this 1981 sleeper with these amazing special features:
NEW interview with Keach
NEW Commentary with cinematographer Vincent Monton, production coordinater Helen Watts, and costume designer Aphrodite Kondos, moderated by Mark Hartley
NEW 1980 script read with Franklin, Keach, and co-star Marion Edward
NEW composer Brian May Music demos accompanied by stills and poster gallery
Archival director's commentary with Franklin
Kangaroo Hitchcock: The Making of Road Games– featuring interviews with Franklin and Keach
Extended/Uncut interviews from Hartley's 2008 documentary Not Quite Hollywood featuring Curtis, Keach, Franklin, stunt coordinator and actor Page, screenwriter Everett De Roche, Monton, and assisstant director Tom Burstall
Lecture on the making of the film with Franklin, co-producer Barbi Taylor and Brian May, introduced by critic Tom Ryan
2001 audio interview with Franklin
1981 profile on Franklin
2016 audio interview with Keach
2016 audio interview with Page
Promotional materials, which includes large galleries of production stills, storyboards, articles, and other vintage material
Theatrical trailer
As with most titles from Scream Factory, there is a cool new slipcover with the original poster on the inside Blu-ray keepcase.
Despite some minor flaws involving character inconsistencies and a few rough edges, it is still a terrific and smart shocker that has a gritty energy that is clearly absent from today's action flicks. I was pretty impressed with how well-directed and moody it is. If you ever get the chance, add this amazing Blu-ray to your collection.