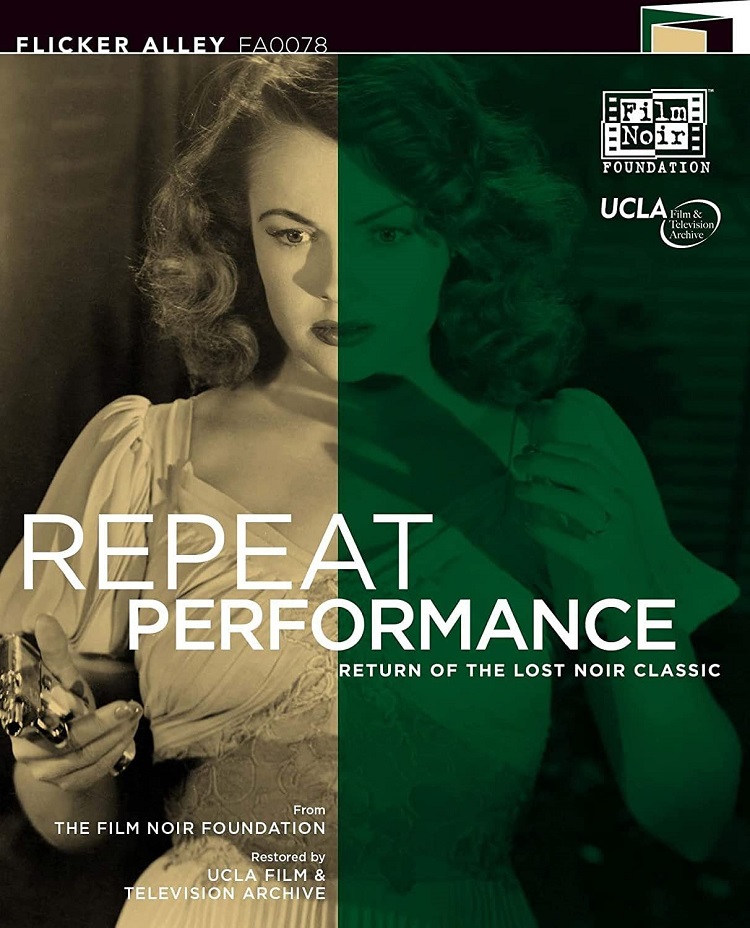 All film noirs are not created equal. This means that a lot of them completely miss the boat. For every classic, such as Double Indemnity, Out of the Past, The Big Sleep, and Laura, you're going to get some serious clunkers. And I'm sorry to say that Alfred L. Werker's almost obscure 1947 Repeat Performance, based on a novel by William O'Farrell, is one of those movies. Non-stop campiness and misplaced hysterics ruin an otherwise solid plot.
The film opens with Joan Leslie (in her first adult role after years of teenage ingenuity at Warner Bros.) as Shelia Page, a Broadway actress, who has murdered her husband Barney (Louis Hayward) during New Years' Eve. She leaves the scene of the crime to get help from her good friend, poet William Williams (the great Richard Basehart, in his movie debut, giving one of the first thoughtful and subtle portrayals of a gay man ever seen at the time). He takes to Sheila to see her mentor, stage producer John Friday (Tom Conway), who could also help sort this whole event out. On the way there, she wishes that she could relive the previous year of her life, where she could do things differently (and prevent the murder). When she gets to John's place, she turns around and William is gone. John gives a drink and helps take her coat off, where she is wearing a dress (instead of the nightgown she wore at the beginning of the film). She tells him about a new play that she's starring in, but John has no recollection of it. Because of this, she eventually figures out that her wish came true, and that she has a chance to relive her previous year all over again.
At first, everything is all fine and dandy. She has a great career, good friends, and a loving husband. But she finds out that fate doesn't like to be toyed with, so all hell breaks loose. Barney becomes a bitter and vengeful drunk and falls in love with Shelia's rival Paula Costello (Virginia Field), William is sent to an insane asylum (possibly because of his sexuality), and Shelia herself starts to lose her grip on reality.
After Barney falls off a theater balcony while drunk and getting caught kissing Paula, Shelia still decides to devote herself to his recovery, even after he grows increasingly unstable. When she returns home, she finds that he is gone, and reads a letter saying that he is going to London with Paula. It doesn't work out that way, because Paula basically gives him up and doesn't want to be involved in their drama. This makes Barney even more insane, especially thinking that Shelia is trying to destroy his dreams and future. So, he comes back home to kill her, but is shot dead by William (the real shooter). He saves Shelia's life and willingly gives himself up to the police. Well, so much for a Happy New Year.
I wanted to like this; I really did. The element of time travel in a film noir has never been done before, so it makes the film original, but only in that regard. That, the opening and ending, are solid, but the rest of the film never lives up to that. Once the story unfolds, so does the melodrama. The music never lets up; the narrator tells us what we have come to already start to know; the performances are all over the place (especially from Hayward, who is as unsubtle as all get out); and it becomes a little too much. Leslie tries to give a decent portrayal of Shelia, but it doesn't always work. Her facial movements and reactions are unintentionally funny. But I give her credit for trying. There's also a weird supporting turn from Natalie Schafer as Eloise Shaw, the shrewd woman who becomes William's mentor.
Basehart is the MVP of the film. He makes it tolerable, and you miss him when he isn't on screen. In fact, he becomes the hero at the end. His William Williams is clearly homosexual, but he gives the role dignity and doesn't delve into cliches. But ironic enough, he is written to be mad (although he isn't the most insane character in the film), which makes Repeat Performance a little less progressive than it thought it was. In the novel, Williams was a cross-dresser, but censorship definitely wouldn't allow that, despite the aspect of men dressing up as women would begin in the '50s. So, this was a missed opportunity.
I'm not saying that Repeat Performance is a terrible film or film noir; it just didn't impress me like I hoped it would. I would call it a curiosity more than anything. It's really for film noir completionists mostly.
The Flicker Alley release includes a new introduction by author, film historian/expert Eddie Muller (host of TCM's Noir Alley/); a profile of Joan Leslie by author and film historian Farran Smith Nehme; "Eagle-Lion: A Noir-Stained Legacy" – a documentary by Steven C. Smith about the now-defunct production company, narrated by author and film historian Alan K. Rode; audio commentary by film historian Nora Fiore; and the original 1947 promotional pressbook. There's also a booklet featuring original photos, lobby cards, posters, and writer Brian Light's book-to-film comparison of the O'Farrell novel with screenwriter Walter Bullock's script.