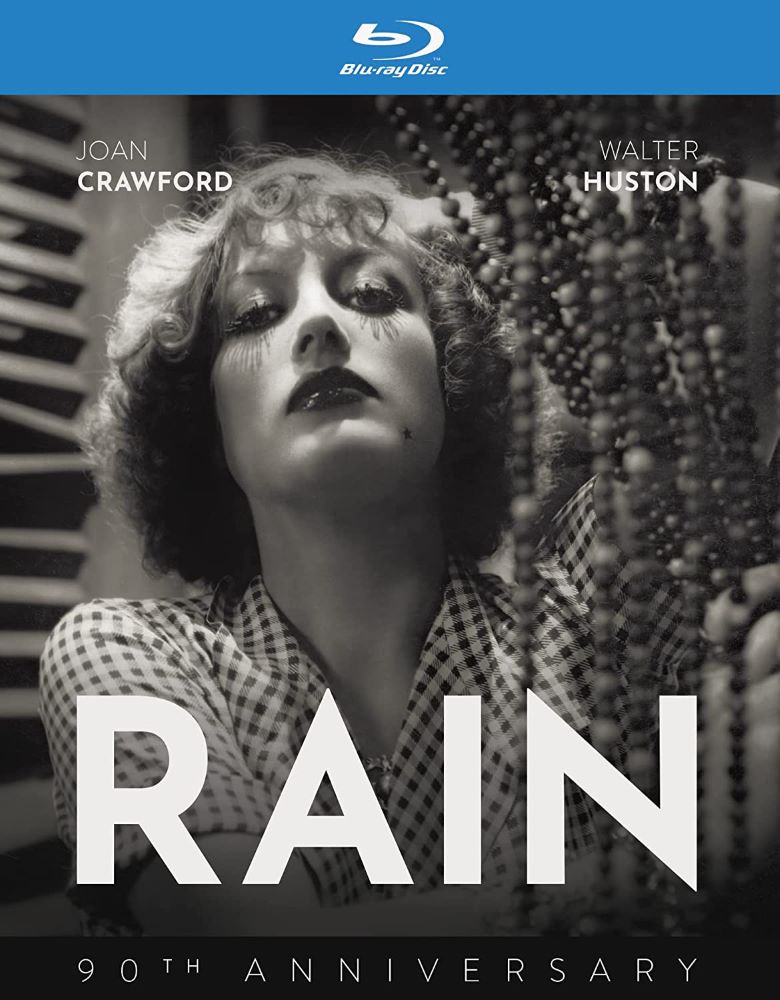 When a massive monsoon wallops the tiny South Pacific location of Pago Pago, it traps an assortment of colorful travelers in a hotel. With nothing else to do while they wait out the week-long storm, the individuals inevitably get up in each other's business to disastrous results. That's largely due to the incendiary presence of a boisterous young call girl named Sadie (Joan Crawford) on the run from a U.S. prison sentence. While she's naturally quite popular with the Marines also stranded there, she's a thorn in the side of a devout minister (Walter Huston) who determines to either condemn her or force her to salvation, and to send her back to prison regardless of the outcome.
Crawford is mesmerizing in her role, all brassy attitude and expressive eyes as she embodies a flapper girl gone wrong. Huston's preacher is brusque and seemingly principled, making his shocking final act feel unearned. While other minor characters flit about in their orbits, the story is effectively a two-hander showdown between good and evil.
The film sports some lively camera work, especially impressive considering that most of it is set inside the hotel. While there are some exterior shots, mostly to establish the existence of natives and the omnipresent rain, everything of note takes place inside. The film was shot off the coast of California on Catalina Island, but could have just as easily stuck to a soundstage.
Surprisingly, the plot already had a lengthy production history by the time of this film. The original story was written by famed novelist W. Somerset Maugham, appearing in short story form as Miss Thompson. That work was then adapted for Broadway, where it garnered great multiyear success, leading to a crowd-pleasing silent film adaptation starring Gloria Swanson in 1928. Even the exotic South Seas setting wasn't all that unique, as Maugham had traversed those same waters in his powerful novel The Moon and Sixpence, his thinly veiled fictionalization of painter Paul Gauguin's real-life abandonment of English society and family for hedonistic pursuit of his art in Tahiti.
The 90th Anniversary Blu-ray is the result of a brand new 4K digital restoration produced from the original uncut 94-minute release. The film elements were made available by the Mary Pickford Foundation from their collection at the Library of Congress. The restoration presents a remarkably crisp image with superb contrast, but still shows some specks and wavering brightness in certain scenes. The mono soundtrack is clear with minimal hiss, while optional subtitles are presented in yellow font to really pop over the black and white film. It's a fine restoration, perhaps not quite at Criterion level but still remarkable given the age of the film.
The primary bonus feature is the inclusion of the alternate 76-minute "cut version" of the film from a 1936 theatrical reissue. The disc also includes two optional commentary tracks recorded by film historians. Other bonus features are an extensive gallery of stills and posters, the original trailer, and an amusing Betty Boop cartoon adaptation of Cinderella, apparently included due to its concurrent era and Betty's similarity to Crawford's character. The cartoon is uniquely colored, with a palette limited to only red and blue hues making it even more distinctive.
Although Crawford wasn't fond of the film and it was a critical and commercial disappointment at the time, this new restoration shines a light on a fascinating project anchored by Crawford's spellbinding performance.
Rain 90th Anniversary Blu-ray is available on September 27th.