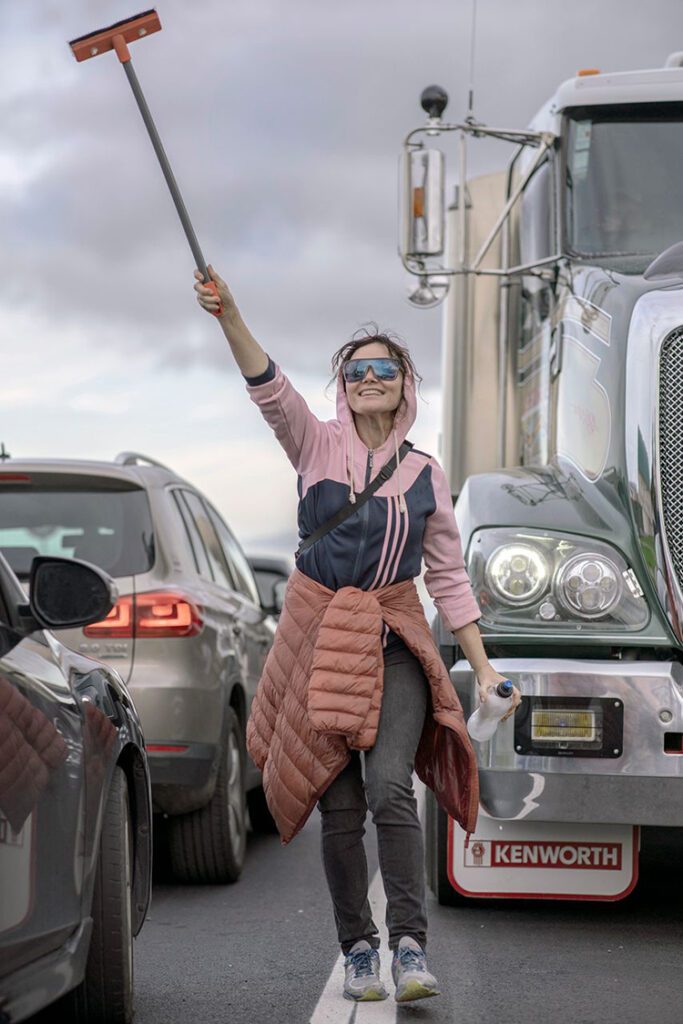 Gaysorn Thavatt's The Justice of Bunny King premiered at 2021's Tribeca Film Festival and is finally making its way to theaters this year. From the start, the movie has the feel of a festival-type movie that focuses on a real-world subject and how it impacts certain individuals. In this case, it's homelessness and how certain government programs seem to be a bit overreaching. It's the type of film that aims to elicit an empathetic and emotional response, and, to a degree, it does work. But it's also the type of film that wanders through previously-covered territory and doesn't attempt to stand out from others that have done it before and have done it better.
Essie Davis plays Bunny King, a homeless window washer who is trying to get back on her feet and regain custody of her kids. Bunny has a criminal past, hence why she does not have custody of her kids. But Thavatt's movie doesn't make her character into a victim, nor does it demonize her for the wrongs she has committed that ultimately placed her in her present situation. We're introduced to someone who is cheerful and fun to be around, despite having a lot of internal turmoil about how she's going to get her kids back.
At this current point in her life, Bunny is living with her sister Grace (Toni Potter) and sister's new husband Bevan (Errol Shand). When her niece Tonyah (Thomasin McKenzie) is inappropriately touched by Bevan, Bunny steals her away and the two escape the toxic environment to restart a new life.
The mission continues for Bunny to regain full custody of her kids, despite now having to restart her living situation. She wants to ensure the custody battle is completed before her daughter Shannon's (Amelie Baynes) upcoming birthday. Her son Reuben (Angus Stevens) isn't quite sure if their life will turn out the way Bunny intends. Government-supervised visits are all they are allowed at the moment, and with the way Bunny's life is, the hope of that dream being fulfilled seems far out of reach.
It would be easy for Thavatt to make a true villain out of the government workers involved, but the film portrays them as people who are only just doing their job. Even when difficult circumstances arise, there's never a moment where the viewer feels like they should be hissing at someone who is only doing what they're told.
Sophie Henderson's screenplay, however, doesn't allow the film to tread new waters. Most of the scenarios are familiar and the impact that they're meant to have don't feel as powerful as intended. Even when it gets to a somewhat abrupt ending, the shocking moment that leads up to it feels too predictable. But, no matter how familiar a lot of it feels, Davis cuts through it all with a powerful performance. As a mother who's lost it all and trying her best to get everything back to the way she wants it, she is a dynamite stick on the verge of exploding. McKenzie, another great actress who has seen her star power rise with JoJo Rabbit and Last Night in Soho, is exceptional but also feels underutilized.
The Justice of Bunny King has a lot going for it with its performances. It just doesn't feel as groundbreaking or as impactful as it should be. If anything, it's worth watching for Davis' performance alone. It'll make you see that she needs more recognition in the entertainment industry.