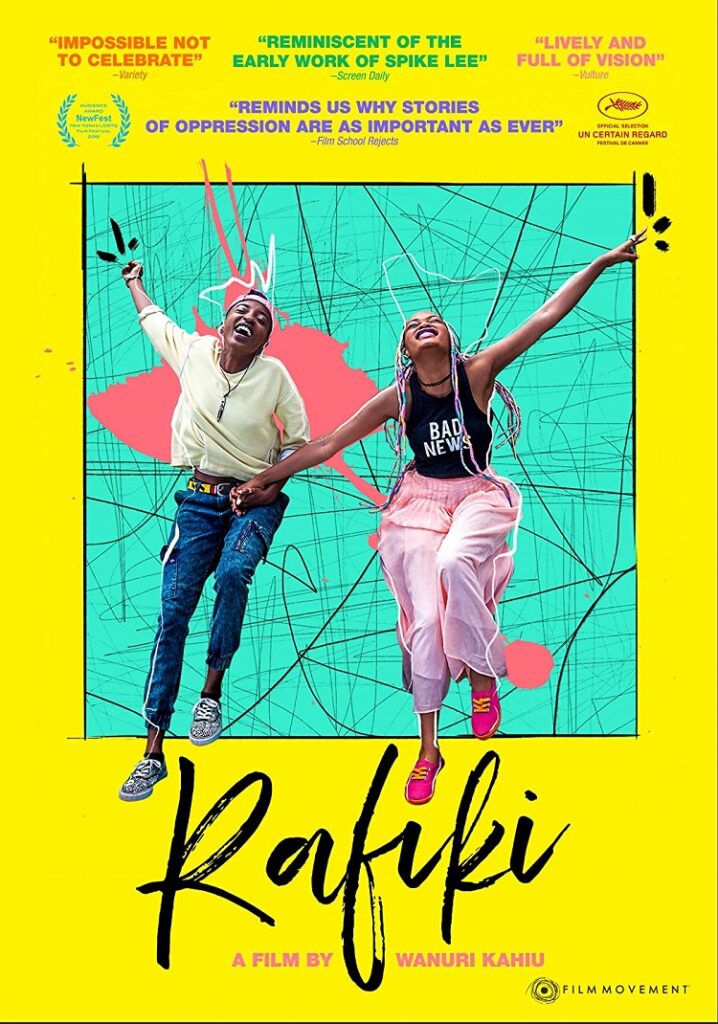 One way to describe Rafiki is that it feels triumphant. Partially because it was able to overcome its country-wide ban that nearly prevented it from being eligible to compete as Kenya's submission for the Best Foreign Language Film Oscar last year. Another reason is because it's a harmonious story about love overcoming adversity. A love between two women that defies the homophobic community where they reside.
The love that Kena (Samantha Mugatsia) and Ziki (Sheila Munyiva) have faces its fair share of hardships and enters political territory. But for the most part, the film feels breezy in its execution. Particularly, because of the emphasis on the blissful nature of the relationship between the two women. Also, the film's use of color manages to symbolize the optimism of their journey.
Throughout the movie, the women are either wearing pink or are encased in pink lighting. Because pink is meant to represent love and peace, the color being used as a motif shows that even as Kena and Ziki are being faced with hate, even physical hatred at a few points, their love will find a way. It might still be a rocky road for the both of them. However, love will manage to keep them together.
In addition, the actresses who play the women in love have very naturalistic chemistry. Samantha Mugatsia portrays Kena with an opaque reserve as her character struggles to keep her guard down. When she first lays eyes on Ziki, she becomes immediately infatuated. Yet, because of fear out of damaging her father's political campaign, she's reluctant to act on her feelings before she slowly gives in to them.
As for Sheila Munyiva as the whimsical Ziki, she is quite charismatic with the colorful braids in her hair capturing her otherworldly nature. While Ziki happily shares her feelings for Kena, there is still searing vulnerability underneath that comes to the surface as the film progresses. Similar to Kena, Ziki is a pretty difficult person to pinpoint but Munyiva brilliantly illustrates her mystique.
That being said, one actor who remains the film's unsung hero is Jimmi Gathu as Kena's father, John Mwaura. Given how his character is a politician, John could've easily been a walking cliche. Since the country of Kenya has strict anti-gay laws and criminalizes any homosexual activity, it would've been easy to portray John as an embodiment of the awfulness of those laws. But both Gathu and writer/director Wanuri Kahiu take him in a different direction. Gathu portrays John as a fatherly figure of self-awareness and gradual acceptance. John may have an idea of how his campaign may turn out if he comes to terms with his daughter's sexuality. However, he still will not set his daughter aside in her time of need.
Despite having a short running time of 82 minutes, Rafiki still is a story about love with grand impact. Whether it depicts the two women accepting themselves or John accepting his daughter, Rafiki deals with the themes of love and acceptance. Even if the message it showcases about how love will persevere seems cliche, it still proves to be quite effective. It thrives thanks to its wondrous cinematography, solid acting, and sense of optimism in the face of hatred. It may not have been Kenya's selection t compete for the Oscars. However, it still doesn't lessen the film's quality or its message.