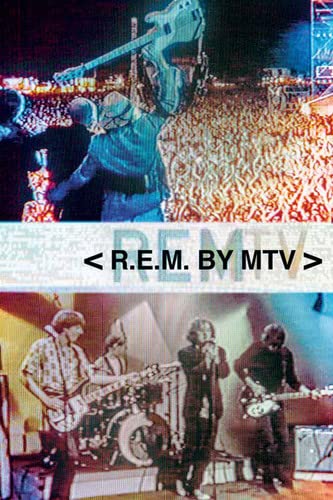 Previously a part of the REMTV boxed set, the documentary R.E.M. by MTV is now available as a separate release on Blu-ray and DVD. It presents the history of the band through archival interviews and clips of news and performances, much of it, but not limited to, material from MTV.
The band (Peter Buck, Mike Mills, Michael Stipe, and Bill Berry) and associates tell the story chronologically through interviews conducted over their decades-long run. The viewer witnesses R.E.M.'s career arc going from a cult favorite and critical darling to a force on the pop charts with hit songs and albums and then finding their place once the spotlight, and Berry, moved on.
After revealing how they met, the documentary moves through each album and most of the signifigant events in their careers, starting with the recognition they received from the single "Radio Free Europe," which was listed as a top ten song by The New York Times. The entire time they pursued their passions and ideas, compromising for none but each other. It's interesting to see them respond to questions about the creation of their music. They not only don't want to explain their choices they want to analyze them either.
Moving from I.R.S. Records after Document to the larger label Warner Brothers caused expectations to increase and they met them by staying true to themselves even when the "experts" predicted failure for what became their greatest success. Deciding not to go on tour in support of Out of Time and releasing "Losing My Religion," a single that runs for five minutes, features a mandolin, and, according to Mills, "doesn't really have a chorus" shouldn't have worked and yet it did.
They returned to the road for the Monster tour and barely survived as three of them had to be hospitalized with Bill Berry collapsing during a concert with a brain aneurysm being the most serious. After New Adventures in Hi-Fi, Berry wanted some new adventures of his own and left the band in October 1997; however, he says he would have stayed if they weren't going to continue without him because he loved the guys and the band, which is pretty cool.
Now a trio, the band soldiered on, putting out five more albums. Six months after the release of Collapse Into Now, their fifteenth studio album, they announced they would be "calling it a day as a band." Strangely, there's no mention of this even though the documentary was made three years after it occurred.
There are two extras on the Blu-ray. There are five Deleted Scenes (18 min) that can be played together. "Peter" gets his own segment, half the band does during "Golf," and they all do during "Politics." "The Hornblower Affair" occurred when a costumed Beastie Boy took the stage in protest of Spike Jonze not winning the MTV Video Award for Best Directing. "The Year 2000" was a throwaway remark made about lasting until the new century and they were dogged by it.
Bonus Performances (19 min) are from European concerts that are all available in the REMTV box set. The five songs are all from post-Berry concerts and two are from his time in the band. They are "Find the River" from Automatic For The People, "Imitation of Life" from Reveal, "Bad Day" previously unreleased until In Time: The Best of R.E.M. 1988-2003, "Man-Sized Wreath from Accelerate, and "(Don't Go Back to) Rockville" from Reckoning with Mills on lead vocals.
R.E.M. by MTV should satisfy fans, most of whom likely already know the story, but it's great to hear it directly from the band members. Also a marvelous treat is getting to see their performances from over the years, although that does have the drawback of leaving one yearning for longer clips, so REMTV might be the better investment.