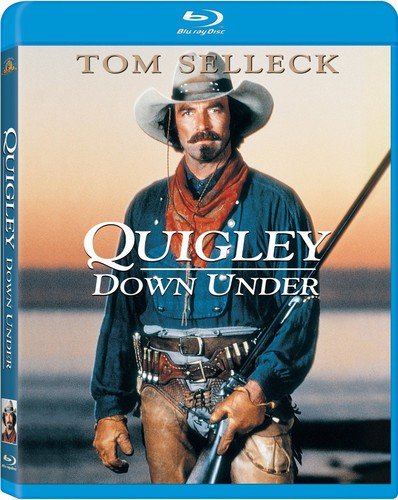 "This ain't Dodge City — and you ain't Bill Hickok." – Matthew Quigley (Tom Selleck) confronts his former one-time employer, Elliott Marsden (Alan Rickman), in a dramatic showdown.
The history of the American western in film has experienced a fair share of instability over the years. It seems that, once we reached out into the starry void of outer space, we gave up giving a rat's ass about cowboys, Indians, and the genocidal war that took place between the two. Several western flicks have surfaced over the last 30+ years — many of which attempted to revive the sleeping genre in full — but few of these pictures ever made all that much of a lasting impression with critics and filmgoers. It's a bit ironic, too, since all those old cowboy movies laid a lot of groundwork for the entire film industry in general.
Quigley Down Under pioneered the short-lived Western movement of the '90s, although it never quite received the mainstream success it should have obtained. Written by John Hill as far back as the mid '70s, the story here finds American sharpshooter Matthew Quigley (Tom Selleck) traveling to Australia to work for rancher Elliott Marsden — who is having a bit of a critter problem, and wants Quigley to exterminate the vermin. Unfortunately, our classic cowboy hero discovers that said "vermin" are the Australian Aborigines who roam the land near and far, and promptly shows his objection to such a malevolent request by tossing his new employer out of his own window.
Beaten and left for dead alongside a psychotic prostitute (Laura San Giacomo) who keeps calling him "Roy," Quigley is rescued by the same indigenous people he was hired to slay, and he is shown the true, peaceful nature of these Outback natives — giving him all the more reason to seek out a little good ol' fashioned American vengeance against the immoral Marsden and his ragtag team of hoodlums, outlaws, Irishmen, and other undesirable heavies. Tom Selleck is at his finest here, and Lonesome Dove director Simon Wincer keeps his actors in check throughout this enjoyable western — which possesses a lot of the charm and heart of its cinematic ancestors.
While the type of film stock used in the production of Quigley Down Under may not have been the utmost best that was ever manufactured, MGM's 1080p/AVC transfer of this oft-neglected classic is still a grand one. Detail is very fine, as is the film's rather (deliberately) sun-drenched color palette. The soundtrack included here is a rather nice DTS-HD Master Audio 2.0 mix, which — more than anything — benefits from not being a 5.1 remix. Additional audio selections consist of a French 2.0 and a Spanish mono mix, and optional subtitles are provided in English (SDH), French, and Spanish.
Like many of MGM's recent catalogue releases, there is no main menu to be found here, but you can access a handful of bonus materials from a pop-up menu while the movie is in play (the film is set to "loop" from the moment the disc is inserted). All of these features have been ported over from earlier DVD releases, and include a seven-minute featurette entitled "The Rebirth of the Western" (yeah, nice try), two TV spots (which are in Standard Definition), and a theatrical trailer (which is presented in High-Def).
In short: Quigley Down Under is a joyful feature, and this catalogue release is well worth the low purchase price.